Rufus King was a prolific novelist, playwright, and short story writer in the Van Dine school, whose career stretched from the 1920's to the 1960's. King had a vivid writing style, with colorful characters, events, and images. The star of this tale is King's series detective Reginald De Puyster, who is clearly related to Philo Vance. It is hard to tell at this date, who came first, Vance or De Puyster. The first Vance book appeared in 1926, the same year as De Puyster apparently appeared in magazines. Both men are verbally witty sophisticates. King's later series detective, Lt. Valcour, is much more down to earth, but similar sophisticates appear as suspects in some of the Valcour novels, such as Dumarque in Murder by Latitude (1930).
After De Puyster, King created New York police Lieutenant Valcour, and starred him in a series of 11 novels from 1928 to 1939. Some of King's stories show a tendency to degenerate from mystery tales into thrillers, for example, Murder by the Clock (1928-1929). Valcour is French Canadian, and the son of an émigré French police officer. The biography states that Valcour was trained in the "brilliantly" intuitive methods of the French police. It explicitly contrasts these with the "plodding detailed routine" of British police officers.
During the 1940's, King published a number of mystery and suspense novels without continuing series characters.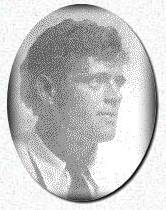 Jack London John Griffith London (1876-1916) was born in San Francisco of an unmarried mother, Flora Wellman. His father may have been William Chaney, a journalist, lawyer, and major figure in the development of American astrology. Because Flora was ill, Jack was raised through infancy by an ex-slave, Virginia Prentiss. Late in 1876, Flora married John London, a partially disabled Civil War veteran. Although The Call of the Wild (1903) brought him lasting fame, many of his short stories deserve to be called classics, as does his critique of capitalism and poverty in The People of the Abyss (1903), and his stark discussion of alcoholism in John Barleycorn (1913).
London's first marriage (1900) was to Bess Maddern, with whom he had two daughters, Joan and Bess. Following an affair with "New Woman" Charmian Kittredge, five years his senior, he divorced Bess. In 1905 he married his "Mate Woman," who became the persona for many of his female characters he also encouraged her own writing career.
Often troubled by physical ailments, during his thirties London developed kidney disease of unknown origin. He died on November 22, 1916 on the ranch of renal failure. His writings became translated in several dozen languages, and he remains more widely read in some countries outside of the United States today than in his home country. He remains a key figure for examining the contradictions in the American character, and key movements and ideas prominent during the Progressive era.
Following London's death, for a number of reasons a biographical myth developed in which he has been portrayed as an alcoholic womanizer who committed suicide. Recent scholarship based upon firsthand documents challenges this caricature. But its persistence has resulted in neglect of his full literary oeuvre and his significance as a seminal figure in turn-of-the-century social history.
(bio based on article by Dr. Clarice Stasz, used by permission)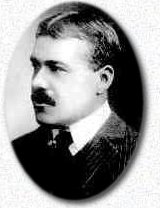 Robert W. Chambers (b.26 May, 1865 Brooklyn, NY- d.16 December 1933 NY, NY) .American novelist and short-story writer, the son of William Chambers and Caroline (Broughton) Chambers. As a writer he exhibited his ability to handle crowds, invent exciting incident, and exercise his painter's dexterity in painting vivid landscapes.
In his first twenty years as a popular writer Chambers produced forty-five volumes, "veering in accordance with the breeze of popular demand." The period of 1915-1919 had its quota of war novels. In 1924 he returned to historical fiction, with the same easy fluency but small critical acclaim, although magazines continued to pay high prices for his serials. At a New York office, whose address was unknown even to his family, he wrote from ten to six. Fishing and hunting were his relaxations. The novelist was a well set-up man, with square shoulders and chin and a gray mustache. His manner was cordial and genial. On July 12, 1898, he married Elsa Vaughn Moller. A son, Robert Husted Chambers, attained some success as a writer. Chambers had 14 of his works turned into movies in his lifetime. One of his books, The Common Law, was filmed 3 times. Chambers has always traveled with the rich and powerful, we see that in his books. That he knew Rupert Hughes, the uncle of Howard Hughes, is a fact. Rupert Hughes wrote the 1938 introduction to the re-issue of The King in Yellow. He died in 1933 following abdominal surgery.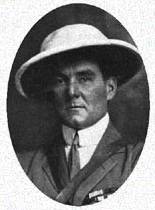 Richard Harding Davis, (1864-1916), American writer and journalist. He was born in Philadelphia. He served as war correspondent for the London Times and the New York Herald during the Greco-Turkish (1897), Spanish-American (1898), South African (1899-1902), and Russo-Japanese (1904-1905) wars. During World War I (1914-1918) he was correspondent with the French and British armies in Serbia. Among his most popular writings are Gallegher and Other Stories (1891), Soldiers of Fortune (1897), The Bar Sinister (1903) and The Man Who Could Not Lose (1911).
George Barr McCutcheon (July 26, 1866-October 23, 1928), novelist, eldest of three sons of John Barr and Clara (Glick) McCutcheon, was born in Tippecanoe County, near Lafayette, Indiana.
Graustark, written at the editorial desk and sold for $500, brought McCutcheon his first fame and is said to have cleared $250,000 for publishers and theatrical producers. The publishers later voluntarily paid him royalties. This tale of a mythical Balkan country, whose name was a combination of the German words grau and stark, with its capital Edelweiss and its Princess Yetive, actually deceived many readers who wrote to ask McCutcheon for the best route to Graustark. To test the sales value of his name, McCutcheon published Brewster's Millions under the pseudonym Richard Greaves. It became a best seller while The Sherrods had only moderate sales.
McCutcheon wrote with zest and lived for the time in his own romances. For Graustark he prepared a complete geographical and genealogical plan. He wrote only one draft, with pencil, from an elaborate outline, and produced about a thousand words a day. He worked best in the afternoon, be he frequently wrote in the evenings. Though his success was in the realm of romance, he much preferred realism. With an output of almost two books a year, he published much that was hasty and slight. Even at his best, he can hardly be called a great romanticist, but he furnished wholesome, not too extravagant, romances to a public weary of extreme realism and materialism. On September 26, 1904, he was married to Mrs. Marie Van Antwerp Fay. They made their home in New York City. He died suddenly, at a luncheon of the Dutch Treat Club at the Hotel Martinique in New York City, and his ashes were buried in Lafayette, Indiana.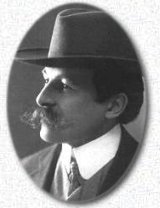 Maurice Leblanc, (1864-1941) was born in Rouen as the son of a wealthy shipping owner. He was educated in France, Germany (Berlin) and Italy, and worked for the family film. He studied law but abandoned his studies then to become a pulp crime writer and police reporter for French periodicals. His first works appeared in newspapers, such as Echo de Paris. In 1887 Leblanc published his first novel, Une Femme, a psychological study that enjoyed only moderate success. French author and journalist, known as the creator of Arsène Lupin, French gentleman-thief turned detective. Leblanc was very prolific writer - he published over 60 novels and short stories which have been translated into several languages. Arsène Lupin appeared first time in a crime story L'Arrestation d'Arséne Lupin, which was written for periodical Je sais tout in 1905. Although he had long career as a writer for periodicals, it was not until the creation of Arsène Lupin, when he gained in his forties international fame. Lupin, the ultimate gentleman criminal, kept Leblanc busy for the next twenty-five years. The character was born by an accidental assignment from the editor of a new journal, Je Sais Tout. Leblanc eventually became a member of the French Legion of Honour. He died in Perpignan on November 6, 1941.
The first Lupin novel, Arséne Lupin, Gentleman Cambrioleur, appeared in 1907. Lupin is a master of disguise, whose criminal activities have more or less "unselfish" grounds. His opponent is inspector Ganimard from the Sûrete. Leblanc himself became a consultant on the staff of the Paris Prefect of Police, and this shift reflected in the stories about Lupin. Among the best novels are 813 (1910), in which Lupin, accused of murder, heads the police investigation to clear himself by finding the true killer, and L'Aguille Creuse (1910), in which Lupin is shot by a beautiful girl and falls in love with her, vowing to give up his life of crime. The Seven of Hearts (1908) is considered below the normal level of the series. - Arsene Lupin's adventures have been also basis for several movies and television series. In Japan the gentleman burglar has inspired a series about Lupin's grandson, Lupin III. Leblanc's sister, the singer and actress Georgette Leblanc, was the companion of the Belgian author Maurice Maeterlinck.