Frederick Irving
Anderson (1877-1947) U.S. journalist and mystery writer, his approach to storytelling was slow-moving but subtle, with clues more implied and suggested than obviously planted. So intricately plotted were his stories that he abandoned one of his most popular characters, the Infallible Godahl, after just six short stories simply because (according to some sources) he had run out of ideas.
Anderson's criminous universe revolved around four characters. The linchpin was writer Oliver Armiston, whose crime plots were so perfect that the underworld used them as blueprints for real-life jobs. He finally retired in disgust after Godahl tricked him into providing the plan for an historic crime. Not that Godahl needed that much help. He arranged his capers so that his name never crossed the minds of the police (represented by the decidedly fallible Deputy Parr). No one would know about him at all except for the fact that Armiston was made privy to some of the great criminal's secrets before the final betrayal. The Godahl stories were collected in 1914 as The Adventures of the Infallible Godahl.

Parr was equally inept in his attempts to arrest Sophie Lang, a beautiful young woman who led a gang of jewel thieves. Her stories were issued as a 1925 fix-up, The Notorious Sophie Lang, published only in England. Parr had greater success in a 1930 collection, The Book of Murder, primarily because he brought his cases to Oliver Armiston, who proved as skillful at unraveling criminal plots as he had been at putting them together. No further Anderson collections appeared, although his stories were published sporadically in publications edited by author Ellery Queen
until his death.


R(ichard) Austin Freeman (English physician and mystery writer, 1862-1943) Freeman's place in the history of the crime story hangs on two very different pegs. First, he was the creator of Dr. John Evelyn Thorndyke, the genre's first thoroughly authentic scientific investigator. Freeman, a trained scientist himself, and a stickier for accuracy, would have murder devices built and tested (short of killing someone, of course) before he would allow himself to publish stories depicting their use. Second, with a Dr. Thorndyke story entitled "The Case of Oscar Brodsky" (1912, in The Singing Bone), Freeman invented what has come to be called the inverted detective story, wherein the reader sees the crime committed and knows who the killer is; the suspense comes from wondering if the culprit will be caught. This technique had been hinted at by Fyodor Dostoyevsky, and its locus classicus is in the Columbo TV series, but it was Freeman who brought it firmly into the genre.
Melville Davisson Post (1869-1930) U.S. lawyer, politician, and mystery writer. Post, the most successful magazine writer of his day, is remembered now for the creation of two diametrically opposed series characters: unscrupulous legal genius Randolph Mason, and the nearly biblically righteous Uncle Abner, who solved baffling mysteries in the pre-Civil War western counties of Virginia.
Among the characters appearing in series of Post short stories were Englishman Sir Henry Marquis (1920, The Sleuth of St. James Square, and The Bradmoor Murder, 1929), a Frenchman (Monsieur Jonquelle, Prefect of Police of Paris, 1923), and a young man who throws off a checkered past and becomes a top agent (Walker of the Secret Service, 1924).
He returned to old Virginia to write about Colonel Braxton, a lawyer who is convinced that there is a physical clue that can undo the most ingenious crime. His adventures were collected in The Silent Witness (1930), the last of his books published in his lifetime. Post died that year, at the age of sixty-one.

Post felt that his main contribution to the mystery story was in the manner of its telling. He came up with the idea of developing the solution simultaneously with the problem, thereby avoiding the necessity of recapitulating what the reader already knew.
Raymond Chandler (1888-1959) Many people consider Raymond Chandler to be the greatest mystery writer of all time. He was certainly among the most influential. Even today, there are writers earning vast sums of money and building entire careers writing nothing but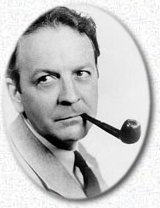 their versions of Raymond Chandler.
Chandler's own life was full of contradictions.
Contrary to most mystery writing advice of the day, he wasn't especially interested in plot - to him, "the best plot was the one that would make the best scenes." He taught himself plotting, he said, by taking a story by Erle Stanley Gardner, making a detailed outline of it, and then rewriting it completely in his own style. Chandler wrote twenty novelettes for Black Mask and other mystery magazines. During this apprenticeship, he developed two things: his portrait of Los Angeles, which has become the standard hard-boiled take on that city, and his hero, who has become an even more slavishly imitated template.
Chandler's wisecracking, honest, enduring narrator/sleuth appeared in all the stories. He was known variously as Carmody, Dalmas, Malvern, or Mallory before crystallizing at last as Philip Marlowe. The name continued a trend, started by Dashiell Hammett (who had a protagonist named "Beaumont") of naming private eyes after literary figures (see Fletch, Mallory, and Spenser). All of the novelettes were eventually published in collections, with the name of the hero changed to Marlowe.
Unlike most mystery writers, Chandler left a manifesto, a magazine article called "The Simple Art of Murder" (1944). Its most famous passage begins, "Down these mean streets a man must go who is not himself mean, who is neither tarnished nor afraid. . . . He is the hero, he is everything." He must be, the piece continues, "the best man in his world, and a good enough man for any world." It was simple enough for his hero to be the best man in Chandler's fictional world because that world was populated almost exclusively by the corrupt rich and the conniving poor, treacherous women and back-stabbing friends. After several successful Marlowe novels, Chandler did some screenwriting, an occupation he detested despite the fact that he was twice nominated for Academy Awards: in 1944 for Double Indemnity, which he and Billy Wilder adapted from James M. Cain's novel, and in 1946 for The Blue Dahlia, a Chandler original, published in book form in 1976. He also worked on adapting Patricia Highsmith's Strangers on a Train to the screen for Alfred Hitchcock.
Chandler had served as president of the Mystery Writers of America in the last year of his life. He had won Edgar Awards from that organization, in 1946 for best screenplay, and in 1954 for best novel. Chandler biography and criticism has virtually become a genre in itself.