rury Lane's Last Case

(1933)

Ellery Queen challenges you to solve these clues to death. A thin envelope--worth a man's life. A shattered display case--whose stolen contents a thief replaced with a strange manuscript. The murder symbol: 3HS wM-...the queer cipher found to be an old mark of death. These are but a few of t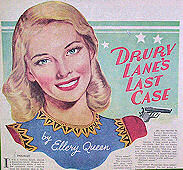 he baffling signs Drury Lane follows down a path of deception and murder to one of the most startling climaxes in mystery fiction!
Cornered! The roadster screeched to a halt. A Cadillac was blocking the road. Suddenly a masked figure leaped from the big car, a gun in its hand. Patience Thumm screamed, then struggled to open her car door. But the gun came down sharply on her knuckles. "Give me the letter," the masked figure commanded.
When Inspector Thumm was given a thousand dollars to guard a letter, he thought that someone was playing a practical joke. But when a masked stranger threatened his daughter, the inspector knew he had been handed a case loaded with intrigue and death.

Above right: Patience Thumm in art work from the Toronto Star Weekly dated Sunday November 16, 1946.
"A highly original and fascinating story, full of exciting episodes, with a delightful love affair and some excellent scholarship thrown in for good measure."
--
Elizabeth C. Moore
, The Philadelphia Inquirer

.
"They should have left open a little lane for a comeback."
--
W.C. Rogers, The Niagara Falls Gazette.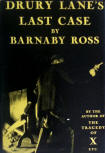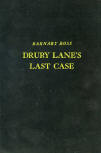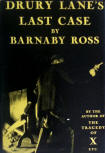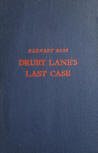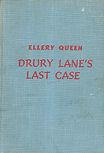 Above left to right: Both dust cover and hard cover for Viking Press, Grosset & Dunlap and
Little, Brown & co.
(Click on the covers to see the differences) *
Schenectady Gazette, "The Literary Guide Post" by John Selby, September 26. 1933

"NEW YORK — Even more than plausibility, a mystery tale should have suavity; It Is meant to amuse, not instruct, and a slick surface is far to be preferred to verisimilitude. But when one may also have plausibility within reason and the pleasant concomitant of logic well developed, he is doubly lucky.
Barnaby Ross, who continues to hide his face behind a mask even though there is no need therefore, has again done a mystery that conforms to the foregoing specifications, and perhaps betters them. This time the tale is called 'Drury Lane's Last Case,' and how ever charming the reader may have found that deaf old actor, he probably will feel relief that Drury is finished off while he still is interesting, and not left to drag through a long series of books, each progressively less interesting than its predecessor. This time, also, the mystery goes far back into history —back to Shakespeare, indeed. William himself is a figure, in the only way possible after this lapse of years; there also is a group of elderly Indiana school teachers in a motor bus, a mysterious gentleman, in a violently colored beard who is not at all who you think he is, and heaven only knows how many others of more or less portent in the story. It would be dastardly to betray much of the plot; the mysterious Mr. Ross has quite outdone himself, be it remarked, and has managed in particular to take his mystery outside the channel in which most others flow. There is a curious paper having to do with the reputation of one long-dead gentleman and the fate of another. The paper becomes tangled in the threads of a modern plot. People become tangled in the threads as well, and the result is in doubt up to the last part of the last chapter.
And if someone says this all sounds very Barnaby Ross-like, all one can answer is that it is."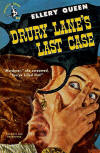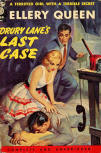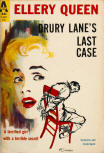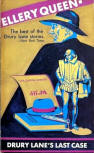 Reverting to a third-person narrative, possibly the most intriguing and gripping plotline of the series, full of surprise twists, reverses, and inexplicable events. Although a key clue is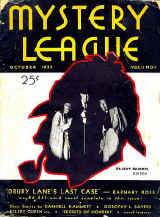 dropped rather unsubtly but nobody in the story picks up on it until long after the reader catches on. There are loose ends and unexplained developments here and there that never do get dealt with. And the "startling" identity of the murderer, in the back of the alert reader's mind from the first chapter, becomes less and less startling as the story proceeds. It's a tricky matter to the solution logically rather than through mere guesswork, and the logical clues are all there to be read. EQ's writing is here at a peak--the notion that characterization and emotion in his early work were shortchanged is neatly demolished by this tome. Great climax!

Above right: Mystery League - N°1 October 1933.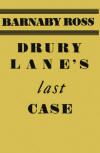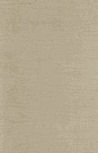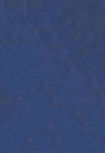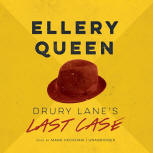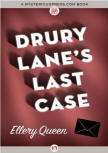 New York Evening Post,

"Post Mortem" by Norman Klein, 1933



"What a pity. Folks, you've got to write, telegraph or telephone Barnaby Ross and scold him. No more Lane, that noble old Shakespearean?
Eh-hu. .. . At any rate, morbid ones, fill your bosom with heartbeats and let spasms quiver on the back of your neck while you read this, 'the tragedy of 1599.'
Scene: Mostly around New York. Plot: zigzag. Suspense: Gloriously sustained. The crime: You see it as you read. A honey: Honey-haired Patience Thumm."


Drury Lane's last case Translations:
Chinese:哲瑞.雷恩的最後探案
Danish: Drury Lanes sidste sag
(aka Bogen der dræbte)
Dutch/Flemish: Een spelletje patience
French: La Dernière Affaire du Drury Lane
German: Drury Lanes letzter Fall
Hebrew: האיש שגנב את שקספיר
Indonesian: Djasa Terachir (aka Tugas Terkhir)
Italian: Cala la tela
(AKA L'Ultimo Caso di Drury Lane)
Japanese: レーン最後の事件 (dorurii.reiensaigonojiken)
Korean: 최후의 비극
Russian: Последнее дело Друри Лейна
aka Тень Шекспира
Portuguese: A última tragédia
Spanish: El último caso de Drury Lane
(aka Drury Lane Abandona La Escena)
Vietnamese: Bi kịch cuối cùng



Other articles on this book
(1)
Reading Ellery Queen - Drury Lane's Last Case Jon Mathewson (Jan 2014)
(2) A Battle of Bibliophiles Ho-Ling (Feb 2016)
(3) The Tragedy of Zzzzzzz Brad Friedman (Oct 23. 2018)
* Interested readers should know that the icons/covers of books, used throughout the website have extra descriptions/information not included in the text on the same page. Pointing your cursor at the icon/cover used to reveal this extra information.
To achieve the same effect Firefox users can install an add-on called '
Popup ALT Attribute
'. When installed pointing your cursor at an icon/cover results in showing you the details or additional information.