rury Lane's Last Case (1933)
Ellery Queen challenges you to solve these clues to death. A thin envelope--worth a man's life. A shattered display case--whose stolen contents a thief replaced with a strange manuscript. The murder symbol: 3HS wM-...the queer cipher found to be an old mark of death. These are but a few of t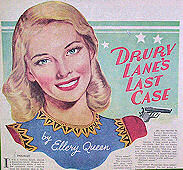 he baffling signs Drury Lane follows down a path of deception and murder to one of the most startling climaxes in mystery fiction!
Cornered! The roadster screeched to a halt. A Cadillac was blocking the road. Suddenly a masked figure leaped from the big car, a gun in its hand. Patience Thumm screamed, then struggled to open her car door. But the gun came down sharply on her knuckles. "Give me the letter," the masked figure commanded.
When Inspector Thumm was given a thousand dollars to guard a letter, he thought that someone was playing a practical joke. But when a masked stranger threatened his daughter, the inspector knew he had been handed a case loaded with intrigue and death.

Above right: Patience Thumm in art work from the Toronto Star Weekly dated Sunday November 16, 1946.


Reverting to a third-person narrative, possibly the most intriguing and gripping plotline of the series, full of surprise twists, reverses, and inexplicable events. Although a key clue is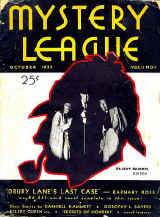 dropped rather unsubtly but nobody in the story picks up on it until long after the reader catches on. There are loose ends and unexplained developments here and there that never do get dealt with. And the "startling" identity of the murderer, in the back of the alert reader's mind from the first chapter, becomes less and less startling as the story proceeds. It's a tricky matter to the solution logically rather than through mere guesswork, and the logical clues are all there to be read. EQ's writing is here at a peak--the notion that characterization and emotion in his early work were shortchanged is neatly demolished by this tome. Great climax!

Above right: Mystery League - N°1 October 1933.


Drury Lane's last case Translations:
Chinese:哲瑞.雷恩的最後探案
Danish: Drury Lanes sidste sag
(aka Bogen der dræbte)
Dutch/Flemish: Een spelletje patience
French: La Dernière Affaire du Drury Lane
German: Drury Lanes letzter Fall
Hebrew: האיש שגנב את שקספיר
Indonesian: Djasa Terachir (aka Tugas Terkhir)
Italian: Cala la tela
(AKA L'Ultimo Caso di Drury Lane)
Japanese: レーン最後の事件 (dorurii.reiensaigonojiken)
Korean: 최후의 비극
Russian: Последнее дело Друри Лейна
Portuguese: A última tragédia
Spanish: El último caso de Drury Lane
(aka Drury Lane Abandona La Escena)
Vietnamese: Bi kịch cuối cùng



Other articles on this book
(1)
Reading Ellery Queen - Drury Lane's Last Case Jon Mathewson (Jan 2014)
(2) A Battle of Bibliophiles Ho-Ling (Feb 2016)
(3) The Tragedy of Zzzzzzz Brad Friedman (Oct 23. 2018)