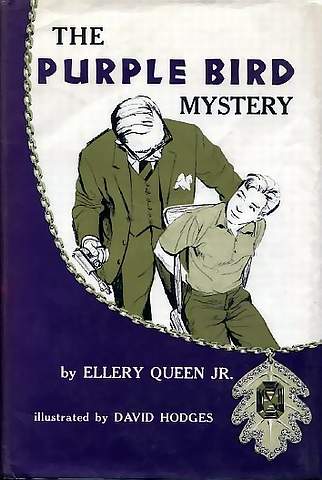 he Purple Bird Mystery (1966)
What is the connection of Fowl Relief and an English golf-playing king? Does the nickname of Jimmy Douglas's great-great-grandfather have any significance? Tie these answers with the other clues and the mystery of the purple bird is solved, but not until Djuna, the brilliant young sleuth, and his pal Jimmy go through an ordeal that almost takes their lives. The boys tangle with an antique dealer and a tiger skin diary - just to name a few of the events - in their struggle to solve the mystery. In Ellery Queen, Jr., the young mystery reader finds a master at sleuthing as well as storytelling.


"Djuna finds lost valuables in a sort of pun-it-who-dun-it technique." Kirkus Reviews



In the 60s James Holding (James Clark Carlisle, Jr.) took over as Ellery Queen, Jr. The author of these 3 juveniles aroused the ire of Lee by farming out the writing of at least one book to a "sub-ghost". Which has made establishing authorship even worse.
Chronologically the final Junior book, but since it featured Djuna, it belongs in the Djuna series.