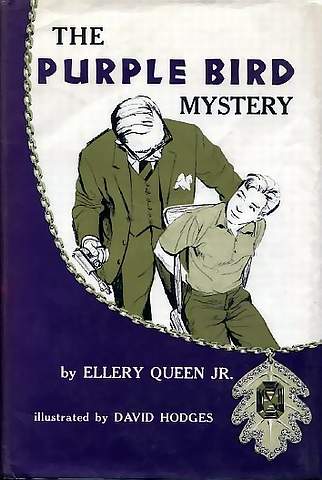 What is the connection of Fowl Relief and an English golf-playing king? Does the nickname of Jimmy Douglas's great-great-grandfather have any significance? Tie these answers with the other clues and the mystery of the purple bird is solved, but not until Djuna, the brilliant young sleuth, and his pal Jimmy go through an ordeal that almost takes their lives. The boys tangle with an antique dealer and a tiger skin diary - just to name a few of the events - in their struggle to solve the mystery. In Ellery Queen, Jr., the young mystery reader finds a master at sleuthing as well as storytelling.
"Djuna finds lost valuables in a sort of pun-it-who-dun-it technique.
"
Kirkus Reviews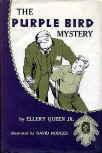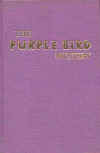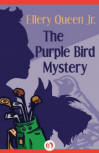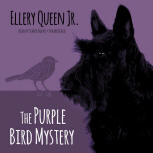 Above: dust and hardcover G.P. Putnam's Son (1965); cover Open Road Media Teen & Tween (2015); cover audiobook Blackstone Audio, Inc. (2015).*
The Djuna series was reprised by Holding in 1966 with The Purple Bird Mystery. The interruption in the series between 1954 and 1966 probably explains why the ninth (and last) title is harder to find. The copyright entry for
The Purple Bird Mystery
mentions "
David Hodges & others
" (aside from Lee and Dannay). However David Hodges was responsible for the drawings in this book. Most likely this last book in the series is the only writing Holding contributed to the Junior series aside from the manuscript for
The Silver Llama Mystery,
which, although Dannay revised it, was never published.
(More on the authorship can be read here...)

Chronologically the final Junior book, but since it featured Djuna, it belongs in the Djuna series.
The Purple Bird Translations:
Chinese: 俱乐部紫鸟谜案
Japanese: 紫の鳥の秘密 (murasakiiro no tori no himitsu)



* Interested readers should know that the icons/covers of books, used throughout the website have extra descriptions/information not included in the text on the same page. Pointing your cursor at the icon/cover used to reveal this extra information.
To achieve the same effect Firefox users can install an add-on called '
Popup ALT Attribute
'. When installed pointing your cursor at an icon/cover results in showing you the details or additional information.