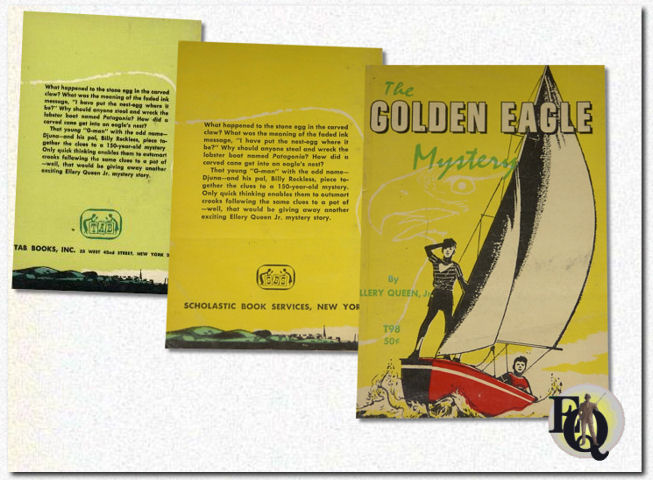 he Golden Eagle Mystery (1942)
What happened to the stone egg in the carved claw? What was the meaning of the faded ink message, "I have put the nest-egg where it be?" Why should anyone steal and wreck the lobster boat named Patagonia? How did a carved cane get into the eagle's nest?
That young "G-man" with the odd name - Djuna - and his pal; Billy Reckless, piece together the clues to a 150-year-old mystery. Only quick thinking enables them to outsmart crooks following the same clues to a pot of - well, that would be giving away another exciting Ellery Queen Jr. mystery story.
"Djuna does as masterly a piece of deduction as any small boy can imagine himself doing." New York Times

Djuna and his dog Champ, go to Stony Harbour to spend what he thinks will be a quiet and uneventful holiday in a seaside village. But little does Djuna know what is in store! First he meets Billy Reckless and his "dog" Alberto. (And we are sure you can't fail to be amused by Alberto!) Then there is the mystery which enshrouds Djuna's Aunt Patty. Things begin to happen! Djuna has a grand time with his new-found friend, lobstering, sailing and exploring, till Aunt Patty's motor boat the Patagonia mysteriously disappears. Ellery Queen Junior has created a likeable character in Djuna the Junior Sleuth, not forgetting, of course, his black Scotty, Champ.
"Nine to twelve is not too young for the craving for mystery stories to show itself, so start them with worthwhile ones. The Ellery Queen Jr. mysteries fill this bill." Kirkus Reviews