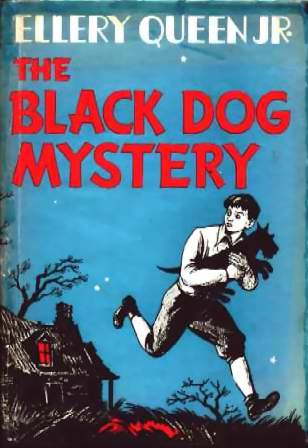 he Black Dog Mystery (1942)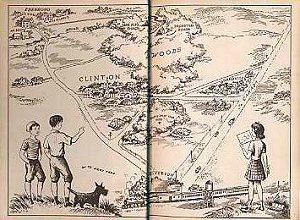 The first in the Ellery Queen Junior Mystery Stories for boys and girls. Two boys, a girl, and one small dog, as a detective gang, make this a jolly and exciting mystery yarn for boys and girls. When there's a bank robbery in the country village where Djuna lives, and one of his dog's best friends gets shot in the escape, the boy makes up his mind he'll find out who did it. His chum and his dog Champ are in on the hunt and two heads and a keen nose are better than one. The boys remember something queer they noticed about a truck with a covered load that passed them on the road when they were going fishing. Clue follows clue, and when the Scottie gets himself all smeared with fresh paint, and Clarabelle spoils a picture, Djuna emerges as a regular Ellery Queen! Every boy and girl who likes dogs or mysteries will enjoy every page of this story, and fathers and mothers who follow the great Ellery Queen will enjoy starting their children right on Ellery Queen, Jr.!
"Intelligent and deftly knit…There is danger enough and plenty of clues to pique the curiosity." New York Times, 1941

Pulp fiction writer Frank Belknap Long (1901-1994) has admitted writing at least two, unfortunately, without mentioning the titles. Mike Nevins, and in his wake half the internet, identified them as The Golden Eagle Mystery and The Green Turtle Mystery.
We know Samuel (Duff) McCoy (1882-1964) had a contract with the Lee/Dannay for each of the first eight juveniles from The Black Dog Mystery until The Blue Herring Mystery. But he didn't write them...
Whilst researching his new book on Ellery Queen Jeffrey Marks found a first edition of The Red Chipmunk Mystery with the following inscription "Rhinebeck, N.Y. Aug. 31/48 For Karen Rose from the only real ghost who had anything to do with this book - Harold Montanye". He looked into this and found proof in correspondence between McCoy and Montanye that all final six books before 1954 beginning with The Green Turtle Mystery were written by Montanye.

Which throws a different light on the Frank Belknap Long admission to writing two or three in a letter to August Derleth. The identification of two books was based on Nevins identification and the third volume one may have been The Mystery of the Golden Butterfly which was apparently never published. (Without reference to EQ jr this "elusive" volume is mentioned as Long's on the rear panel of The Horror from the Hills, 1963 and on the rear flap of The Rim of the Unknown, 1972). Long's two remaining volumes can only be the two remaining first volumes: The Black Dog Mystery and The Golden Eagle Mystery. (More on the authorship can be read here...)
Illustrated with beautiful drawings by William Sanderson.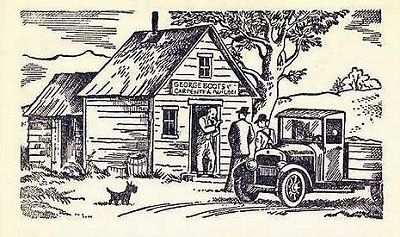 Above: Illustrated with beautiful drawings by William Sanderson.