nspector Queen's Own Case (1956)
"A quarter of a century's requests from many thousands of Ellery Queen fans all over the world have finally borne fruit. At long last, here is a full-fledged murder mystery investigated and solved by Inspector Richard Queen without so much as a single deduction's help from his celebrated son. But 'Inspector Queen's Own Case' is far more than a baffling murder mystery. It is also a tender, understanding story of middle-aged people everywhere who find themselves put out to pasture on a pension to face an empty old age. Ellery's father was spending the summer with friends at their beach house on the Connecticut shore. It should have been a golden summer, but all the Inspector could think about was his enforced uselessness. The old pro had been retired – the Administrative Code made no exceptions when a New York police officer reached the age of 63. How was he to occupy the endless days? He was still vigorous, still useful. A man needed more than security. He needed something to do. Richard Queen found one man's answer on Nair Island, and he was soon plunged into the most challenging and dangerous case of his long career. And he found something else, too – that life can even be sweet at 63. Her name was Jessie Sherwood, a registered nurse in her late 40s, lonely, still pretty, and all woman. Jessie had been hired by the blueblood Humffreys to take charge of their newborn infant. When queer, frightening things began to happen in that multimillionaire home… A helpless baby, a unique romance, and a tensely plotted tale of multiple murder mounting to a shocking climax make 'Inspector Queen's Own Case' one of the most superb novels to come from Ellery Queen's typewriter."


The first Inspector Queen retirement case, it really isn't up to the level of the best of the rest--but makes quick, entertaining read nonetheless. Introduces the future Mrs. Richard Queen.
This novels is more Lee contribution as it in large measure an exploration of Lee's feelings about growing older. He told his son (Rand B.Lee) that he based the character of Richard Queen from memories of his father, Benjamin Lepofsky and his maternal grandfather, Robert Hugh Brinker, of whom Lee was fond.
Ellery Queen fans might also be interested in reading TC's article "Like a rolling thunder chasing the wind" TC draws our attention to a typical piece of EQ symbolism in this book.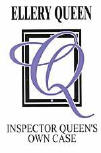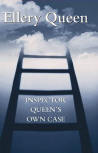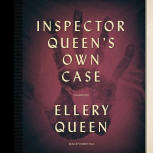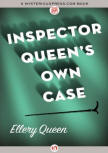 Inspector Queen's Own Case
(aka November Song)Translations:
Danish: Inspektør Queens eget mysterium
Dutch/Flemish: no translation
Finnish: Kämmenen jälki
French: Le cas de l'Inspecteur Queen
German: Inspektor Queen greift ein
Hungarian: Queen felügyelő önálló esete
Indonesian: Rahasia Djutawan Kedjam
Italian: Complimenti Mr.Queen!
Japanese: クイーン警部自身の事件 (kui-nkeisijisinnojiken)
Norwegian: Inspektør Queen tar en sjanse
Portuguese: O último caso do Inspector Queen
Russian: СОБСТВЕННОЕ ДЕЛО ИНСПЕКТОРА КУИНА
Spanish: El caso del inspector Queen
(aka Un caso dificil para el inspector Queen)
Swedish: Kommisarie Queens eget fall