nspector Queen's Own Case

(1956)

"A quarter of a century's requests from many thousands of Ellery Queen fans all over the world have finally borne fruit. At long last, here is a full-fledged murder mystery investigated and solved by Inspector Richard Queen without so much as a single deduction's help from his celebrated son. But 'Inspector Queen's Own Case' is far more than a baffling murder mystery. It is also a tender, understanding story of middle-aged people everywhere who find themselves put out to pasture on a pension to face an empty old age. Ellery's father was spending the summer with friends at their beach house on the Connecticut shore. It should have been a golden summer, but all the Inspector could think about was his enforced uselessness. The old pro had been retired – the Administrative Code made no exceptions when a New York police officer reached the age of 63. How was he to occupy the endless days? He was still vigorous, still useful. A man needed more than security. He needed something to do. Richard Queen found one man's answer on Nair Island, and he was soon plunged into the most challenging and dangerous case of his long career. And he found something else, too – that life can even be sweet at 63. Her name was Jessie Sherwood, a registered nurse in her late 40s, lonely, still pretty, and all woman. Jessie had been hired by the blueblood Humffreys to take charge of their newborn infant. When queer, frightening things began to happen in that multimillionaire home… A helpless baby, a unique romance, and a tensely plotted tale of multiple murder mounting to a shocking climax make 'Inspector Queen's Own Case' one of the most superb novels to come from Ellery Queen's typewriter."
"Incredible, but Ellery isn't missed in this excellent and charming story which is, indeed Inspector Queen's very own."
--
Buffalo Evening News


"The Inspector piles up laurels for himself and a great deal of enjoyment for the readers of this super yarn from one of the best and typically American writers of our day."
--
The East Hamptom Star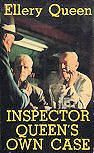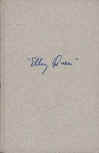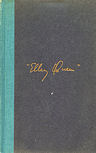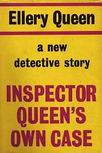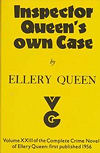 Above left to right:
dust and 2 hardcovers for Simon and Schuster;
dust covers for Gollancz (1956, 1976).
(Click on the covers to see the differences) *

Note: there is also a Mystery Guild edition Feb 1957 (Not known how it looked)
Lewiston Evening Journal by F.P.
September 29. 1956

"The latest Inner Sanctum mystery is another in the many first rate mystery yarns concocted by Frederic Dannay and Manfred B. Lee, that writing duo better known under the name of Ellery Queen. The story entitled 'Inspector Queen's Own Case,' a most appropriate title in view of the fact that Inspector Queen, Ellery's father, is entirely on his own in this instance.

We find Inspector Queen retired when the tale opens. He is retired and somewhat bored by it all. He wishes he could find something to do. Before he knows it, he is in the center of a murder mystery which starts on Nair Island, the summer home for six millionaires. The trouble starts at the summer place of Alton K. Humffrey when a baby adopted through the assistance of a shyster lawyer mysteriously is killed.

Prior to this terrible incident, Inspector Queen met the baby's nurse, Jessie Sherwood, a registered nurse in her 40's. Their acquaintanceship eventually evolved to romantic proportions, but not before both of them experienced trials in seeking to track down the wanton killer of the Humffrey baby.

Readers will be engrossed from start to finish with this smoothly moving story. As usual, the characters in this Ellery Queen book are real flesh and blood people, with the happenings completely believable. There is lots of suspense too, particularly during the time of the dramatic climax."


The first Inspector Queen retirement case, it really isn't up to the level of the best of the rest--but makes quick, entertaining read nonetheless. Introduces the future Mrs. Richard Queen.
This novel is more Lee contribution as it in large measure an exploration of Lee's feelings about growing older. He told his son (Rand B. Lee) that he based the character of Richard Queen from memories of his father, Benjamin Lepofsky and his maternal grandfather, Robert Hugh Brinker, of whom Lee was fond.
Ellery Queen fans might also be interested in reading TC's article "Like a rolling thunder chasing the wind" TC draws our attention to a typical piece of EQ symbolism in this book. ".
"On the one hand we have Michael, smothered at infancy, and on the other Richard, a (re)tired police officer of 63, who finds a completely new life in the home were a very young life was cut short. Or am I over thinking this?"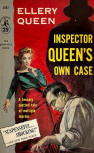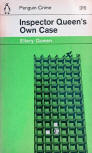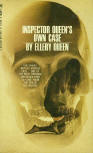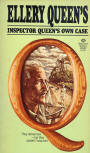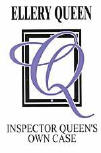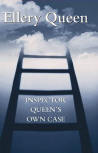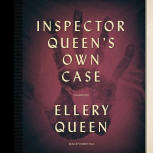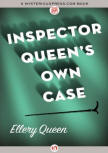 Inspector Queen's Own Case
(aka November Song)Translations:
Danish: Inspektør Queens eget mysterium
Dutch/Flemish: no translation
Finnish: Kämmenen jälki
French: Le cas de l'Inspecteur Queen
German: Inspektor Queen greift ein
Hungarian: Queen felügyelő önálló esete
Indonesian: Rahasia Djutawan Kedjam
Italian: Complimenti Mr.Queen!
Japanese: クイーン警部自身の事件 (kui-nkeisijisinnojiken)
Norwegian: Inspektør Queen tar en sjanse
Portuguese: O último caso do Inspector Queen
Russian: СОБСТВЕННОЕ ДЕЛО ИНСПЕКТОРА КУИНА
aka Расследует инспектор Квин
aka Дело о кружевной наволочке
Spanish: El caso del inspector Queen
(aka Un caso dificil para el inspector Queen)
Swedish: Kommisarie Queens eget fall

Other articles on this book
(1)
Reading Ellery Queen - Inspector Queen's Own Case
Jon Mathewson (Dec 2015)
* Interested readers should know that the icons/covers of books, used throughout the website have extra descriptions/information not included in the text on the same page. Pointing your cursor at the icon/cover used to reveal this extra information.
To achieve the same effect Firefox users can install an add-on called '
Popup ALT Attribute
'. When installed pointing your cursor at an icon/cover results in showing you the details or additional information.