he Finishing Stroke

(1958)

The most baffling mystery ever encountered by Ellery Queen, the one he couldn't solve even though he knew the answer. On the 8th night of Christmas your true love sends to you a head with one closed eye--a warning you will die...
A gay Christmas party in a snowbound mansion turns grim when a guest begins sending anonymous gifts to his hosts. The presents are mysterious, the messages accompanying them cryptic, but the meaning behind it all is very clear. It is a slow, deliberate warning of murder--scheduled to arrive on the 12th night with the final gift--the finishing stroke.
"Queen has combined memory and research to create a detailed and delightfully accurate picture of America at the end of the 1920's ... and how good it is to be back there and then."
-- The New York Times



"A neat baffler."

--

The Saturday Review


"TRICKS AND A TREAT -- for the Queen's quorum."
-- Virginia Kirkus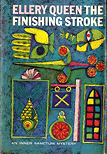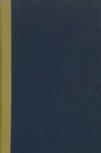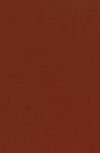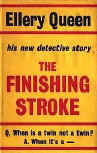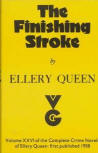 Above left to right:
dust and 3 hardcovers for Simon and Schuster;
dust and hardcover for Gollancz (1956) and dust cover Gollancz (1976).
(Click on the covers to see the differences) *
The East Hampton Star, "What's New in New York" by Dorothy Quick
February 27, 1958

"Ellery Queen has written a book, 'The Finishing Stroke'. This is one of the best Inner Sanctum books and certainly one of the best of Ellery Queen's, I have ever read, which is high praise for this pair of writers who have turned out some splendid ones.
I couldn't be more enthusiastic about this mystery. It grips the reader at once, keeps piling suspense on suspense in, adroit and compelling fashion. It deals with the 12 days of Christmas and a series of fantastic gifts which intrigue and frighten Ellery. There is also a dead man nobody knows. Twelve people in the house and many other associations with that number and a whiplash surprise ending that is truly arresting. This is a book to own because it's going to make a place for itself in the history of mysteries and will someday be a collector's item.
This is most unusual in the time element as well as every other facet. It has meat and brilliance. Congratulations. Mr. Queen."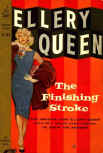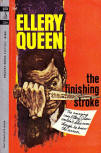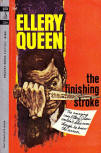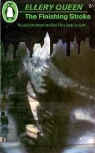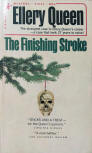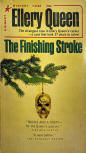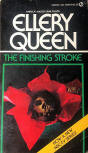 Lee and Dannay almost certainly intended their 30th novel, The Finishing Stroke, to be their last (as even the title suggests). They had both begun to feel that with the advance of technology in the science of criminology the traditional sleuth was no longer a necessity. It would be more difficult now to come up with plots where Ellery's reasoning process would be needed. It reached back to his "second" case (actually his third).

One of my personal favorites since we've been served a much more likeable (fallible) Ellery. The first story I got to read and thanks to the playfulness of the plot, the many clues and the way all characters seemed suspect my addiction became a fact. One of my personal favorites only surpassed by some of the earlier works. I got to re-reading it and it didn't quiet live up to my expectations. Sure, the playfulness still is there and the way the

"

number 12-theme" is interwoven with all suspects is very enjoyable... But the plot is very straightforward. Without the 30 years-span it surely would have lost some of its appeal. One wonders how John Sebastian could expect his guests to remain for twelve-days in a house stricken by so much bad luck and other "unpleasantness", I really can't imagine. The fact that a body was found and everyone had to stay made the plot come to bloom. The climax is thoroughly Queen and lifts this story out of the ordinary. The final solution does stretch the rules of fair-play a bit and the way the initial body is explained leaves me somewhat unfulfilled. Still for Queen-fans several other things make this a remarkable book. The book contrasts to most of the other works by using exact dates (years) and references to recognizable "historic" occurrences. Beginning in Ellery's youth in 1929 and ending with his finally solving the case in late middle age in 1958. This gives the story some "epic" proportions.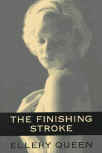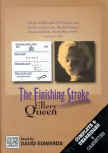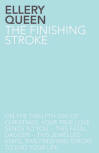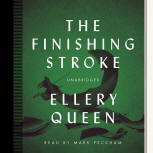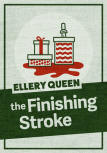 It not only describes the birth of the male protagonist in 1905 but the cousins must have included some hints to their own background. The first part takes us to Rye. In the second part Ellery passes to Westchester, Mount Kidron, Mammaroneck, White Plains to Alderwood. (White Plains where Frederic Dannay died). This is done even more clearly when we are introduced to their first publisher and some aspects of this profession are explained.

Some critics are mentioned and the writers eagerly provide some recommendations of other writers and their books throughout the story. As best-sellers of 1905 : The Crossing by Winston Churchill, John Fox Jr.'s The Little Shepherd of Kingdom Come, Rebecca of Sunnybrook Farm by Mr.Wiggins and other modern young writers (Jack London, Barr McCutchean, Lincoln Steffens and Joseph C. Lincoln). Different other figures from the movies, theater, music, sport... are mentioned (Clara Bow, Elisabeth Rethberg and Lauri-Volpi, Babe Ruth, Notre Dame,...). Basically the interests Djuna shared. We find Ellery reading Anthony Berkeley's The Case of the Poisoned Chocolates enjoying "his skillful elaboration's".


Ellery whistles Greensleeves and frequently quotes in Latin.
The Inspector only sideways enters the story as he is involved in the Arnold Rothstein-murder. Is this anniversary-issue the Duesenberg reappears. (Ellery's car was serviced in a garage situated in West 87th street. He had American snow chains installed
).
The Finishing Stroke Translations:
Bulgarian:Последният удар
Danish:ABC-mordet
Dutch/Flemish: De dertiende gast
German: Der dreizehnte Gast
(aka Das zwölfte Geschenk)
Finnish: Surmanisku
French: La mot de la fin
Italian: Colpo di grazia
Japanese: 最後の一撃
Korean: 최후의 일격
Norwegian: Den tolvte gaven
Persian: کتاب آخرین ضربه خنجر
Portuguese: O Golpe de Misericórdia
aka O Caso dos Gémeos Desconhecidos
Romanian: Lovitura De Gratie
Russian: Последний удар
Spanish: El golpe final (aka El Golpe Fatal)
Swedish: De tolv julklapparna



Other articles on this book
(1)
Reading Ellery Queen - The Finishing Stroke Jon Mathewson (Jan 2016)
(2) Beneath the Stains of Time TomCat (December 23. 2021)
(3) My Reader's Block Bev Hankins (December 13. 2014)
* Interested readers should know that the icons/covers of books, used throughout the website have extra descriptions/information not included in the text on the same page. Pointing your cursor at the icon/cover used to reveal this extra information.
To achieve the same effect Firefox users can install an add-on called '
Popup ALT Attribute
'. When installed pointing your cursor at an icon/cover results in showing you the details or additional information.