llery Queen's International Case Book (1964)
BUENOS AIRES: A dismembered body with no identification.
JAPAN: The most astounding bank robbery in the history of crime.
INDIA: Murder by curse.
RUMANIA: The beautiful woman who swindled a whole town...
And 16 more tales of mystery and detection, each of them unique and challenging to the daring imagination.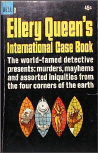 All short stories were originally published in The American Weekly during 1954 and 1955. The stories are framed so that Ellery appears to be asking others about "true" situations in their countries as he travels around. One of the two true crime books Lee wrote credited to Ellery Queen from material gathered by researchers. The Woman in the Case (1966) being the other.