he Woman in the Case (1967)

aka

eadlier Than the Male
From the files of Ellery Queen
Here is a hair-raising collection of stories about women who killed...who killed for money...who killed out of jealousy...who killed for the sheer love of killing. Mothers. Daughters. Wives. Girl friends. Schoolgirls. Hardened gun molls. Murderers all!
Read about: The mother who murdered her son's wife. The beautiful pistol-packing hillbilly who made Dillinger look like Casper Milquetoast. The schoolgirl killers who even went Leopold and Loeb one better. And dozens of other horrifying tales.
Contents:

Above: The first of the series in American Weekly of February 16, 1958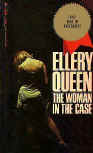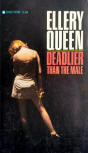 These stories were all published originally in The American Weekly during 1958 and 1959.