he Madman Theory (1966)
Madman or murderer? That was the question and it was Police Inspector Omar Collins who had come up with the answer. All he had to go on was: the victim - Earl Genneman, wealthy president of Genneman Labs; the scene- right in the middle of a busy state park; the murder weapon - a shotgun that was still missing; the witnesses - Myron Retwig, Red Kershaw, Bob Vega, and Buck James, all friends or employees of the deceased; the motive - unknown; the suspects - everyone! Then he got a lukewarm tip from a real cool corpse, and a few clues started to click into place. But it wasn't till the third party turned up that the inspector was sure he was hot on the killer's trail. And by then, Collins knew he had very little time left to stop his madman from murdering again...!
At first it seemed as though only the Madman Theory could explain the brutal shotgun slaying which lay in wait for the friendly group of back-packing hikers. But Inspector Omar Collins, lean, gloomy-eyed, black-haired, was a painstaking man. The more he pursued it, the less he believed in the Madman Theory.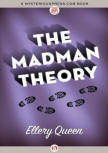 List of Characters at the beginning. Ghost-Written by Jack Vance. Why did he write the books? "Because Ellery Queen gave me a flat fee of 3000 dollars for each book. Which was then a lot of money ! I did have to sign a contract never to reveal I actually wrote the books. Theoretically I never took his name. In a way he took my good prose and did everything to let it pass as his own." Vance was forbidden by his contract to sign copies of books written under the Ellery Queen pseudonym. As Vance developed a following in his own right (he was an elaborate sci-fi-writer), he did eventually sign the Queen-books as "Jack Vance" or "Ellery Queen" and initialed "JV". Recently the manuscripts of the three Vance Queens were partially recovered. They were restored and made available. So this story was published under its original title The Man who Walks Behind as a supplemental volume to the Vance Integral Edition in 2006.