hadow of the Thin Man US (1941)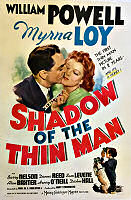 Director: W.S. Van Dyke II
Screenplay: Irving Brecher and Harry Kurnitz
Production: Hunt Stromberg

Cast includes:
Nick Charles: William Powell
Nora Charles: Myrna Loy
Lt. Abrams: Sam Levene
Paul Clarke: Barry Nelson
Molly Ford: Donna Reed
97 min, Black & White
(Source Trailer YouTube)

"One thing about a murder case" says Nick Charles to a room crammed with suspects, "If you let people talk long enough, sooner or later someone will spill the beans. Well someone just has!" And he points to...the last person you'd ever suspect, unless you've been paying close attention.
And you will be, because you won't want to miss a word of the delicious, witty, outrageous bickering between William Powell and Myrna Loy.
In this breezy outing, Nick and Nora get involved with jockeys and gamblers and characters with names like Rainbow Benny. There's a body in the shower, another hanging from the chandelier, and a diamond bracelet in the radiator. Asta, the terrier causes a full scale brawl in a restaurant. But the biggest surprise comes when Nick Jr. forces his martini-soaked father to drink a glass of milk, as maid Louise Beavers watches bug-eyed!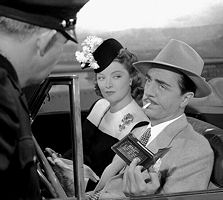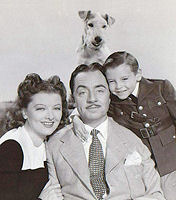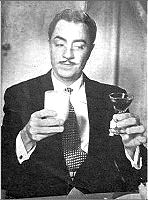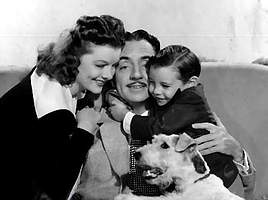 Above left: "Thank goodness neither of us was driving," Nick quips as he's pulled over.
Above en below right: Asta oversees Nick Jr. and the proud parents.


Not an EQ film in any sense, however it makes our list because Dannay and Lee worked on the script. They didn't do enough to warrant screen credit, but we think we've spotted their contribution to the story: the scene where Nick finds a gun in a drain: pure EQ logic!
The fourth entry in MGM's Thin Man series could just as well have been titled "Nick and Nora Charles Go to the Races". Officially retired from sleuthing, Nick Charles does his best to be a dutiful husband to his lovely wife Nora and a good father to his young son Nick Jr. But when murder rears its ugly head at the local race track, Nick is called in by Major Jason I. Sculley, head of the New York athletic commission, to help solve the case. As usual, there is no shortage of suspects: This time the "rogue's gallery" includes high-rolling gamblers Link Stevens and Fred Macy; Link's hoity-toity girlfriend Claire Porter; two-bit tout "Rainbow" Benny Loomis reporters Whitey Barrow and Paul Clarke; and Clarke's sweetheart Molly Ford. Highlights include a zany episode on a department-store merry-go-round, an outsized brawl at a fancy sea-food restaurant, and the inevitable gathering together of suspects in the offices of police lieutenant Abrams (Sam Levene). One of the highlights is in the familiar final showdown with all suspects present - Nora, who can't stand the suspense any longer, finally cries: "Nick! Who is it? Is it me??".The flippant nature of Shadow of the Thin Man can be attributed to screenwriters Irving Brecher and Harry Kurnitz, both longtime friends and associates of comedian Groucho Marx.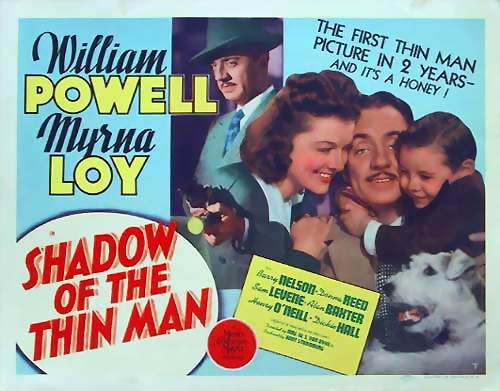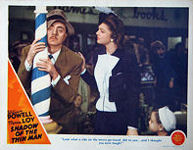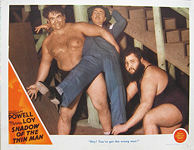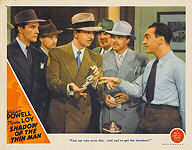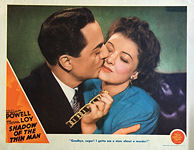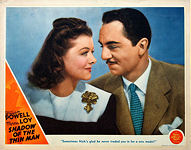 Above: six of a set of eight lobby cards