llery Queen and the Murder Ring US (1941)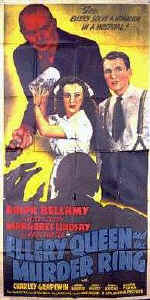 Director: James Hogan
Cast Includes
EQ: Ralph Bellamy
Inspector Queen: Charley Grapewin
Nikki Porter: Margaret Lindsay
Sgt. Velie: James Burke
Miss Tracy: Mona Barrie
Page: Paul Hurst
Thomas: Tom Dugan
Dr. Janney: George Zucco
John Stack: Leon Ames
Blanche Yurka, Tom Dugan
Source: novel The Dutch Shoe Mystery
65 min, Black & White

Ralph Bellamy made his fourth and final appearance as literary sleuth Ellery Queen.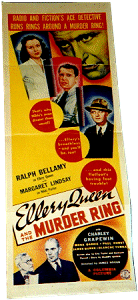 On this occasion, Ellery and his police-inspector father are summoned to a private hospital by its owner, philanthropist Mrs. Stack. There've been some very weird goings-on at the hospital as of late, and Mrs. Stack wants to get to the bottom of things. Soon after Ellery's arrival, however, the old woman is injured in a suspicious motor accident, then strangled to death on the operating table. Suspects include Mrs. Stack's avaricious son John, head nurse Miss Tracy and medical director Dr. Janney. Despite the fact that Ellery seems to be as dumb as a stone, he manages to solve the mystery.
Bellamy's final appearance in this disappointing series. Loosely adapted from
The Dutch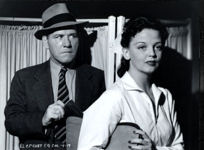 Shoe Mystery
, this bastardization is painful to watch. Slapstick comedy, with Hurst and Dugan as a couple of incompetent hit-men, switched bodies, broken legs, and other knee-slapping idiocies. It's no wonder Ralph Bellamy called it quits after this one.

(Source YouTube - Sorlien9)