Desperate Chance for Ellery Queen
(1942)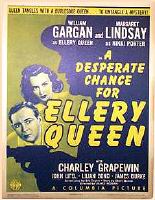 Director: James Hogan
Cast Includes
EQ: William Gargan
Inspector Queen: Charley Grapewin
Nikki Porter: Margaret Lindsay
Sgt. Velie: James Burke
Norman Hadley: John Litel
Adele Belden: Lilian Bond
Ray Stafford: Morgan Conway
Mrs. Norman Hadley: Charlotte Wynters
Jack LaRue
Source: EQ Radio play "The Good Samaritan" 06-09-40
70 min, Black & White
Before this movie could enter production, Larry Darmour died. His widow, Alice Darmour, announced that she intended to carry the two Ellery Queen films scheduled that year. Gargan's second shot as Queen is no better than the first. This entry in the series follows Queen as he investigates the case of a woman's missing husband, a banker. Together with Nikki, Ellery travels to San Francisco to check out the man, thought dead, who is seen alive. Before long, someone is dead, and that's about as surprising as this film gets. Lilian Bond as a burlesque queen is the only lively thing in this entry.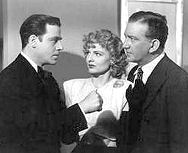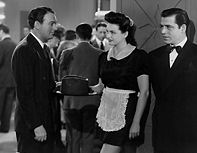 Above left: Gargan with Lilian Bond and Jack LaRue.

Desperate chance for Ellery Queen was at best a routine picture.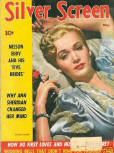 Although Dannay in his last decade condemned the Gargan films as much as those with Bellamy, at the time he and Lee were quite pleased with the series and even wanted the number of annual entries increased from three to four. Columbia balked at this demand and, following the two entries still to be filmed in 1942, closed down production all together, replacing the series with The Crime Doctor. For pretty much the same reason as Nikki was introduced in the Queen-series it also featured Margaret Lindsay. This venture did become a success, but Lindsay's contract came up for renewal and it was decided to drop her.

Above right: Cover Silver Screen edition of May 1942 with a fictionalized version of A Desperate Chance for Ellery Queen.