nemy Agents Meet Ellery Queen US (1942)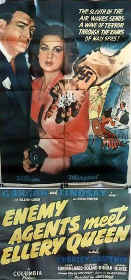 aka

he Lido Mystery UK (1942 )
Director: James Hogan
Screenplay: Eric Taylor

Cast Includes
EQ: William Gargan
Inspector Queen: Charley Grapewin
Nikki Porter: Margaret Lindsay
Sgt. Velie: James Burke
Mrs. Van Dom: Gale Sondergaard
Paul Gilette: Gilbert Roland
Heinrich: Sig Rumann
Commissioner Bracken: John Hamilton
Reece: Ludwig Donath
Morse: Ernst Doetsch

64 min, Color

Columbia's "Ellery Queen" series called it quits with this timely 1942 entry The eponymous enemy agents are on the lookout for a cache of precious diamonds, which are being smuggled from Holland to the United States by way of Egypt. The gems are hidden in a mummy case, the better to throw the Nazis and the American authorities off the track. When smuggler Paul Gilette is murdered upon arriving in the US with the diamonds, Ellery Queen and his police-inspector father try to solve the killing. The villains lead Ellery on a merry chase through a jewelry shop, art gallery, athletic club and cemetery, with Ellery's secretary Nikki Porter ending up in the Nazi's clutches at one juncture.


Boasting a formidable lineup of "heavies" (Gale Sondergaard, Sig Ruman, et. al.), Enemy Agents Meet Ellery Queen is easily the best of the undistinguished series. This isn't even a mystery plot per se, at one time intended to be named Ellery Queen Across the Atlantic they changed it to a title which gives away most of the story! Still, the guest cast is full of entertaining character actors who give delightfully hammy performances and it's a fast 64 minutes.
The story required a collection of jewels, that are stolen, so James Hogan, the director, got busy and rented them. Marlene Dietrich got a break- she just borrowed the gems and wore them in The Lady is Willing. (1942)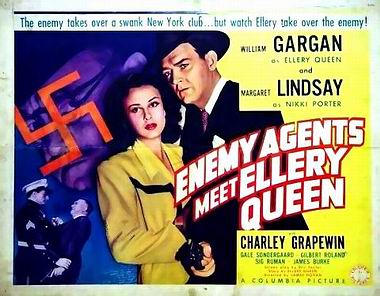 In 1943 Gargan and Lindsey also made No Place for a Lady again directed by Hogan. The theme in this movie is again "Queenesque" but no Ellery appears. Instead Gargan takes on the role of private eye Jess Arno and Lindsey is cast as his faithful fiancé June Terry. In this story a valuable collection of tires is been stolen (vital for the war effort!) by a rich widow. Shortly thereafter she's been murdered and suspicion falls upon Dolly Adair (Phyllis Brooks), Arno has reasons to disagree and sets out to find the real murderer.