a Decade Prodigieuse

aka

en Days' Wonder
Italy- France (1972)
aka

u
rder by Deceit
Director: Claude Chabrol
Produced by Films La Boetie; Parafrance
Screenwriter: Paul Gégauff, Paul Gardner, Eugene Archer
Cinematographer: Jean Rabier
Editor: Jacques Gaillard

Cast Includes
Theodore Van Horn: Orson Welles
Helen Van Horn: Marlene Jobert
Paul Regis: Michel Piccoli
Charles Van Horn: Anthony Perkins
Guido Alberti
Source: novel Ten Days' Wonder
105 min, Color.
(Source Trailer YouTube)
In this ponderous French crime thriller, based on an Ellery Queen story, blackmail would seem to be the least of the problems of Charles. His adoptive father Theo has a madwoman for a mother, and a gorgeous woman of Charles' age for a wife. In fact, Charles is deeply attracted to her. In addition, his father encourages the whole family to dress in '20s clothing, which makes them all feel out of place. However, when he wakes in a strange bed with blood on his hands and no memory of anything the night before, he gets a little bit frantic. He calls Paul, his old professor of philosophy, one of the few non-family members he can trust for discreet help. Theo has made his country estate into an eerily independent universe, not like anyplace else. Paul accompanies Charles to the father's strange home, and uses his philosophical training to try to solve the mystery of the bloody hands.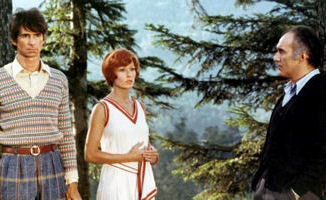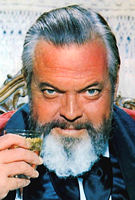 Above left: Anthony Perkins, Marlène Jobert and Michel Piccoli.
Above right: Orson Welles.

Ellery Queen meets Claude Chabrol in erratic but moody mystery. The film doesn't work, but is often fascinating to watch. Possibly the weirdest EQ adaptation of all, this one wrenches the tale out of Wrightsville and into French wine country. Ellery isn't in the film at all, replaced by "Paul Regis", and the whole thing is an bizarre, incoherent miss-mash. Costumes suggest the 1920s, but the time is the present. The plot of the book is fairly well duplicated (with one or two significant alterations that are not beneficial) but the many obscurities and the atrocious dubbing make this a disastrous farewell to the big screen for Ellery (who's probably glad he wasn't even in it!)