Study in Terror
aka

he Fog
(1965)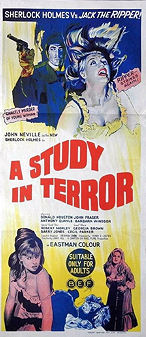 Written, directed and produced by James Hill
Executive producers: Henry E. Lester; Herman Cohen
Screenwriter: Frederic Dannay (Donald Ford), Derek Ford (1933-1995)
Cinematography: Desmond Dickinson
Music: John Scott
Cast Includes
Sherlock Holmes: John Neville
Mycroft Holmes: Robert Morley
Dr.Watson: Donald Houston
Lord Carfax: John Fraser
Dr.Murray: Anthony Quayle
Annie Chapman: Barbara Windsor
Angela: Adrienne Corri
Inspector Lestrade: Frank Finlay
Sally: Judi Dench
Prime Minister Cecil Parker
Singer: Georgia Brown
Duke of Shires: Barry Jones
Cathy Eddowes: Kay Walsh
Mary Kelly: Edina Ronay
Chunky: Terry Downes

While Conan Doyle never addressed the problem of the Ripper in any of his Sherlock Holmes stories (despite many letters asking him to do so), his followers have done it several times. Holmes appears in center stage in Ellery Queen's A Study in Terror. The story was also published in Argosy (Aug '91) as the Adventure of the Surgeon's Kit. The "Holmes" story of the movie was rewritten by Paul W. Fairman and then Ellery Queen added a second solution! In our 2002 interview Edward Hoch stated that just prior to Face to Face, Lee collaborated with Dannay on the framing sections of A Study in Terror added to Paul W. Fairman's novelization of the film.
In A Study in Terror the ever popular Sherlock Holmes, his brother Mycroft and his companion Dr.Watson search for the Victorian serial killer.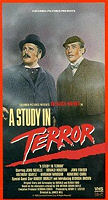 Mycroft, Holmes brother at the behest of the Prime Minister, intercedes with his brother to help solve the crimes, in a manner favorable to government. Sherlock, though, is more interested simply in the joys of detection. Jack the Ripper in a well-made and exciting mystery produced, written and directed by James Hill. This film combines all the elements beloved by fans of Sherlock Holmes resulting in a satisfying and well-acted mystery. John Neville is good as the cool, logical Holmes and Robert Morley adds a nice dash of humor to liven up the story. A Study in Terror is highly recommended for fans of Sherlock Holmes and should be enjoyed by any viewer who loves vintage mysteries. As to the writing credits of this movie the answer was clearly given by Herman Cohen (producer) in an interview he gave Tom Weaver's for his book Attack of the Monster Movie Makers (Jefferson, North Carolina: McFarland & Co. 1994) "Donald and Derek Ford get screen credit for the writing but they didn't write it, although the idea of combining Holmes and Jack the Ripper was theirs. Michael Klinger and Tony Tenser had signed them for "their" Sherlock Holmes movie, but they didn't execute their script properly and I didn't like it. I hired Harry Craig, a writer that Adrian Conan Doyle (Arthur's son) and Henry Lester liked very much. He worked closely with me and James Hill, the director, on the final screenplay, which was based on the original story and screenplay by Donald and Derek Ford. Harry Craig didn't want a credit because he was doing a big picture for Columbia at that time."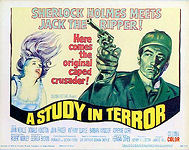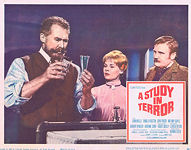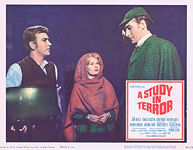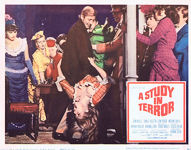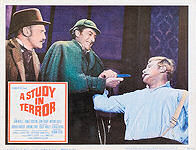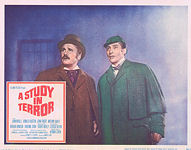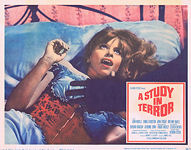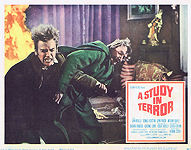 Above: full set of eight lobby cards

Recommended reading/viewing
(1) A Study in Terror by Ellery Queen Nathaniel Poggiali
(2) Watch movie online (external link)