he American Gun Mystery (1933)

In the arena of a vast New York sports palace, a man lay dead, murdered during the opening scene of a spectacular rodeo.
Can you, as Ellery Queen does, follow these clues to the murderer? - A dead man's belt. What was the meaning of the deep ridges in the leather?
An ivory handled revolver. - How could the "feel" of the gun-butt provide a clue? The broken locks on a green box.
Did the way the locks had been bent point the way to murder? These are the big points in one of the toughest mysteries ever tackled by Ellery Queen. It was a murder witnessed by 20,000 people, but only Ellery solved it.
Do you think you can, too?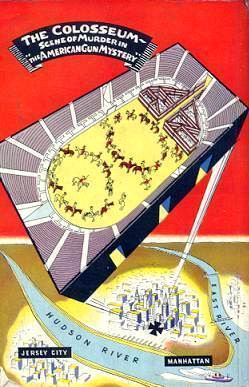 This mystery is about...
A $5000 horse
Glass balls shot in mid-air
A horrible scar
A thirsty horse that would not drink
A $3000 check
Ivory inlays on an old six-shooter
A search of 20,000 suspects
A small bank balance
A newsreel scoop of a murder
A $42,000 gambling debt
The 41st cowboy who wasn't a cowboy

Above right: Backcover of the Dell pocket book,, Dell Books 4 Published 1943, 2nd edition 1946 with mapback.
Ellery Queen again offers a problem in deduction which might, so far as its personnel and its action is concerned, have propounded itself for solution back in the pioneer days of Texas or Wyoming, but which actually projected itself into the present day in no less wild and woolly west a location than New York City.
Gathered in the great Colosseum of Tony Mars, promoter of various sorts of entertainment, twenty thousand people were yelling themselves hoarse in approval of the usual stunts which constitute a first-class rodeo performance. Included in that immense throng of humanity were Inspector Queen, his son Ellery and the faithful Djuna, to whose urgent pleas that they take him to see the rodeo they had succumbed.
Sitting in the box of the great Tony Mars were other guests besides the Queens and Djuna, among whom were Mara Gay, actress, of Hollywood, and Kit Home, adopted daughter of Buck Horne, one-time fancy rider and shooter, who was being given a chance at a comeback, supposedly by the farseeing and box-office knowing Tony.
The time arrives for Buck Horne's appearance in the arena and he is heralded by his old and tried friend, Wild Bill Grant, yelling to the multitudes that the great Buck Horne, followed by forty riders, will furnish the biggest stunt ot the rodeo. Buck rides in, with forty-one instead of forty horses and men beating the sawdust into a cloud behind them, shooting simultaneously at a signal from their leader. An instant after the shooting Buck falls from his horse, shot through the heart.
Forty-one riders and twenty thousand spectators, and every one of them a suspect! Not an easy task ahead of the Inspector and his inquisitive son, but they tackle it. A week or so later the rodeo resumes its performances, though the mystery of Buck's death is still un solved. On the opening night, with twenty thousand people again on hand and the same group of guests in the box of Tony Mars, in the identical performance in which Buck lost his life, and at the identical spot in the arena, another rider is shot through the heart with the same revolver which killed the first man.
The reader is given an opportunity to identify and to convict, the killer. It is a right big dare even for the most avid of mystery story fans. ("New Books at Random", Margaret Germond in The Evening Star, Washington D.C., Tuesday, June 13. 1933)


The American Gun Mystery (1933) has a solution that is far fetched even by the standards of the Golden Age. The solution is a cheat, violating Golden Age standards of fair play. The solution is also unusual in that it involves a whole complex, public enterprise behind the crime, one involving both the rodeo and other aspects of show biz. So many Golden Age novels involve one solitary criminal dashing around the bushes of some country house, that it is interesting to see its exact opposite here. The final chapters, however goofy, have a grandeur of conception. However "unfair", they show the wild imagination at work in the Golden Age detective novel. They also show the surrealism that EQ brought to his work. There is also a good deal of interesting logic and deduction in Queen's finale; the whole thing hangs together as a unified and internally logical plot, however implausible. The book also suffers from the fact that the storytelling leading up to the finale is stiff and uninspired. This is a common problem in EQ; many of the early novels have much better solutions than the narrative between the crime and its solution. The business of the disappearing gun is well done by any standards. (Michael E.Grost)