he American Gun Mystery (1933)

In the arena of a vast New York sports palace, a man lay dead, murdered during the opening scene of a spectacular rodeo.
Can you, as Ellery Queen does, follow these clues to the murderer? - A dead man's belt. What was the meaning of the deep ridges in the leather?
An ivory handled revolver. - How could the "feel" of the gun-butt provide a clue? The broken locks on a green box.
Did the way the locks had been bent point the way to murder? These are the big points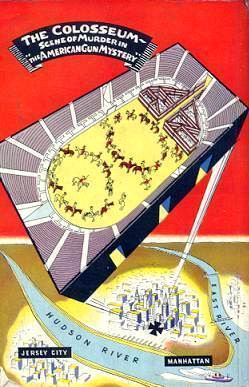 in one of the toughest mysteries ever tackled by Ellery Queen. It was a murder witnessed by 20,000 people, but only Ellery solved it.
Do you think you can, too? (Cover)
This mystery is about...
A $5000 horse
Glass balls shot in mid-air
A horrible scar
A thirsty horse that would not drink
A $3000 check
Ivory inlays on an old six-shooter
A search of 20,000 suspects
A small bank balance
A newsreel scoop of a murder
A $42,000 gambling debt
The 41st cowboy who wasn't a cowboy
Buck Horne is shot with a .25 automatic in N.Y's new Colosseum on Broadway. Dr.Prouty reappears and from the N.Y.P.D. we get assistance from Thomas Velie, Hesse (blond and stolid), Pigott (thin and shy), Ritter (burly member), Johnson, Inspector Knowles, Hagstrom and Flint. Ellery wearing his pince-nez receives a telegram from Hollywood and sends them a story. With plan and challenge to the reader.
"The American Gun Mystery (1933) has a solution that is far fetched even by the standards of the Golden Age. The solution is a cheat, violating Golden Age standards of fair play. The solution is also unusual in that it involves a whole complex, public enterprise behind the crime, one involving both the rodeo and other aspects of show biz. So many Golden Age novels involve one solitary criminal dashing around the bushes of some country house, that it is interesting to see its exact opposite here. The final chapters, however goofy, have a grandeur of conception. However "unfair", they show the wild imagination at work in the Golden Age detective novel. They also show the surrealism that EQ brought to his work. There is also a good deal of interesting logic and deduction in Queen's finale; the whole thing hangs together as a unified and internally logical plot, however implausible. The book also suffers from the fact that the storytelling leading up to the finale is stiff and uninspired. This is a common problem in EQ; many of the early novels have much better solutions than the narrative between the crime and its solution. The business of the disappearing gun is well done by any standards."(Michael E.Grost)