he Egyptian Cross Mystery (1933)
On Christmas Eve, an eccentric schoolmaster in the little town of Arroyo, W. Va., was brutally murdered. He was found with his head cut off, crucified on a signpost at a crossroads near his house. In the course of the next year, three other men, in various places, were found with their heads cut off, crucified likewise in the form of a T. Everyone working on the case, including Ellery Queen, was completely baffled. But Ellery had the feeling that there was one clue he didn't possess which would suddenly bring the whole tangled and eerie puzzle into line and give him the solution. That clue came to him with the fourth murder.
This novel has justly been called "Ellery Queen's weirdest adventure." A good many fans have gone further; they consider it his very best story.

Another masterfully constructed series of clues, although here one or two ideas that have been used since by lesser writers will be familiar and possibly guessed by the astute reader.
Some resemblances to Carr's Three Coffins since both involve three brothers of Eastern European background who committed a crime many years ago, fled their country, and took up other identities -- and are now facing revenge from a past enemy with a grudge. (Grobius Shortling)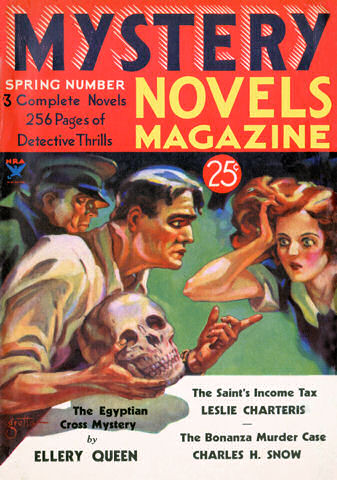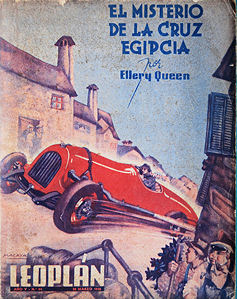 "Proof" of the keen commercial brain of the cousins. Pictured left: the publication of the story in the Spring of 1934 in Mystery Novels Magazine. Pictured right: the publication in Argentian Magazine Leoplan (March 1938)

A mass murderer who is truly insane and fiendishly clever. Beheads his victims (it turns out, for a very good reason). This contains nearly all the classic elements of an Ellery Queen novel, without the presence of Inspector Queen or Djuna.
One of the "national whatsis" series, which EQ gave up to go to Hollywood. It was only later that he got back into really bizarre situations, without an excess of whimsy - and those were sometimes ghostwritten by Avram Davidson (And on the Eighth Day is mind-blowing, and in a way complements this book). A conclusion not that far fetched as it becomes more and more clear that religious elements are more than abundant in all the great Ellery Queen classics. Still difficult to choose between this one and The Greek Coffin. It may come second ... but it great second it is!
Again with a challenge to the reader...


The Egyptian Cross Mystery Translations:
Chinese: 埃及十字架的秘密
Czech: Egyptský kříž
Danish: Det ægyptiske kors
Dutch/Flemish: Het Egyptische Teken (aka Het Egyptische Kruis)
French: Le mystère égyptien
(aka Le Mystère des trois croix)
German: Das Ägyptische Kreuz (aka Das Rätsel des Ägyptischen Kreuzes)
(aka Das geheimnis des Ägyptischen Kreuzes)
Greek: Το μυστήριο του Αιγυπτιακού σταυρού
aka Το μυστήριο του Αιγυπτιακού Σταυρού
Hungarian: Az egyiptomi kereszt titka
Indonesian: Rahasia Salib Mesir Kuno
Italian: Il mistero delle croci egizie
Japanese: エジプト十字架の謎 (ejiputojyuujikanonazo)
Korean: 이집트 십자가 미스터리
Portuguese: O Mistério da Cruz Egípcia
Romanian: Misterul Crucii Egiptene
Russian: Тайна египетского креста
Spanish: El misterio de la cruz egipcia (aka La Cruz Egipcia)
Swedish: Det egyptiska korsmysteriet
Thai: ปริศนากางเขนอียิปต



Other articles on this book
(1)
Reading Ellery Queen - The Egyptian Cross Mystery Jon Mathewson (Jul 2013)
(2) Mysteries Ahoy - The Egyptian Cross Mystery Aiden Brack (Jul 2018)