he Blue Herring Mystery (1954)
Mysteries have a way of finding Djuna, and this time a missing page from an old ship's log and the dead captain's haunted house start the ball rolling. Djuna has learned that Capt. Beekman brought a treasure from his whaling trips. Who can have an interest to let the boy get lost? Was he close to the answer of the mystery?


''A fast-moving adventure, colorfully told.'' New York Times

"Young Djuna of The Yellow Cat Mystery and others, is on the hunt again, this time in his own Atlantic seaboard home town of Edenboro, to solve the mystery of the belongings old Capt. Jonas Beekman left behind him…Lively hide and seek." Kirkus Reviews



Samuel McCoy (1882-1964) wrote The Blue Herring Mystery as well as 5 other Djuna stories. This was his last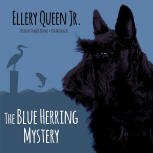 contribution to the series. The Princeton University Library still has correspondence, notes, and selected manuscripts of McCoy (Class of 1905), ranging from his writings as an investigative reporter in the early 1900s to his later works as novelist, biographer, and children's author under the name of Ellery Queen, Jr. As investigative journalist McCoy won the Pulitzer Prize for the New York World in 1922 with his investigation of the Florida penal system.