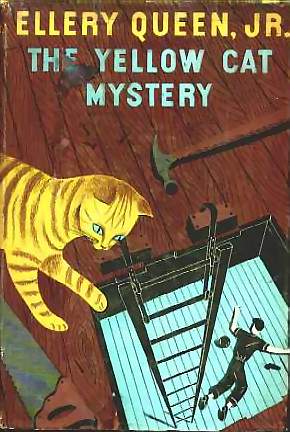 he Yellow Cat Mystery (1952)
Djuna visits his friend Tommy in Florida. His yellow cat has a sore tooth and they set of to see the dentist. The dentist is new to the town at doesn't seem to be able to help them. They do however notice two persons who came from a mysterious black-lacquered ship at sea...
A normal beginning to a unusual adventure...
On vacation in Florida, Djuna meets a cat with a peculiar secret
''Another adventure of young sleuth Djuna and his friend Tommy Williams will find a ready audience among the young mystery addicts.'' New York Times (1952)

Djuna steps off the bus and into the Florida heat, ready for a few weeks of slow-paced Southern living with his friend Tommy, whose father recently moved to Dolphin Beach. After spending the whole summer solving mysteries, Djuna is looking forward to some peace and quiet.

But trouble has a way of finding Djuna. While Tommy gives him a tour of the town, Djuna spies two men sneaking away from a strange black boat. Inspecting the ship, Djuna discovers that it has been freshly painted and that the name has recently been changed. Is it possible that smugglers are operating in Dolphin Beach? There is something about this boat that tells Djuna he's not on vacation anymore—he's on an adventure.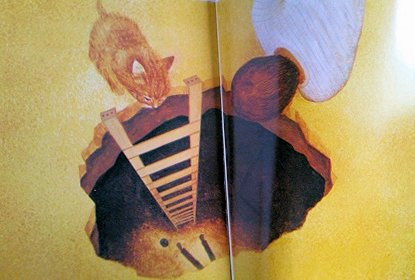 Above: Frontipiece from Japanese edition, Hayakawa


Samuel (Duff) McCoy (1882-1964) had a contract with the Queens for the first eight juveniles from The Black Dog Mystery until The Blue Herring Mystery. But he didn't write them. Sub ghosts came natural and after Jeffrey Marks found a first edition of The Red Chipmunk Mystery with the following inscription " Rhinebeck, NY Aug. 31/48 For Karen Rose from the only real ghost who had anything to do with this book- Harold Montanye" he looked further. He soon found proof the final six books before 1954 were all written by Montanye. Harold had some difficulties getting his stake in the half share McCoy had. (More on the authorship can be read here...)