ouble, double (1950)


aka

he Case of the Seven Murders

(1958)
Ellery Queen is back in Wrightsville - the town that his thousand of admirers will remember as the scene of many of the brilliant detective's most striking triumphs, including Calamity Town and Ten Day's Wonder.
Ellery has never had a more bewitching client than Miss Rima Anderson, who recalls him to Wrightsville. A series of newspaper clippings, sent anonymously, have half-prepared him for Rima's visit, but upon his arrival for on-the-spot investigation, he comes up against the most puzzling set of clues in his career: a heart attack, a suicide, a disappearance over a cliff, all quite natural - perhaps - but whoever sent the clippings might have thought otherwise.
Ellery Queen has never been sharper and Wrightsville has never been as productive of such interesting characters as those found in this unusual novel. As a final fillip, the authors have again cast reasonable doubt on the continuation of Ellery Queen's prized bachelorhood.
There were three deaths before Ellery Queen was called in on the case ...
Luke MacCaby - A "heart-attack" killed Wrightsville's Town Hermit and revealed that he had left a fortune of $4,000,000!
Johan Spencer Hart, The Wealthiest Man in Town, committed "suicide" and was discovered to have been penniless!
Tom Anderson, the Town Drunk, "disappeared", leaving only his hat and coat at the edge of a cliff!
But that was only the beginning. Soon there was another "death," then another, and another ... until murder had struck seven times. The most diabolic killer Ellery Queen had ever known was on the loose ... and he left no clues!
"... And it is not until Queen himself - the "chief" - is endangered that the murderer is exposed and a rather meaningless chain of casualties is explained. Not as high an I.Q. for E.Q. this time -- but practised."

--
Kirkus Reviews


"...while the characters have a certain reality, the book remains an interesting jigsaw puzzle."
--
The Age
, Melbourne


"Everything is extremely clever, indeed, but not even an almost tedious amount of detail about the streets storekeepers and local geography of Wrightsville succeeds in achieving complete plausibility."
-- The Sun, Sydney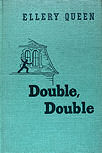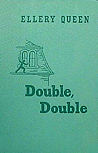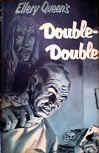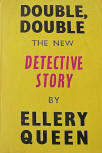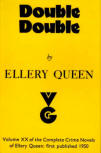 Above left to right:
dust and 2 hardcovers for Little, Brown & co., September 1949.
Below left to right: dust and hardcover Book Club edition,
dust cover for Gollancz editions (1950 & 1975)
(Click on the covers to see the differences) *
Note: The Dollar Mystery Guild editions were published October, 1950 (three printings: October, 1950; Jun, 1951 and July, 1951). Unsure how the books looked.
The Mail, Adelaide, Crime Shelf by A.R. McElwain, August 26. 1950

"The 'Bird Girl' is a big help.
EVERY so often some able practitioner decides to hang a crime thesis on a popular uncle. Agatha Christie did it splendidly with 'Ten Little Nigger Boys'. American Jonathan Stagge used 'Green Grow the Rushes-O' in a tour de force of violence.
Now, learned, prolific Mr. Ellery Queen tries his skill with 'Rich Man, Poor Man, Beggar Man, Thief'. The killer in 'Double, Double' chooses victims identical with characters in that jingle, picks them off in the same order. The motive in this case is I feel, improbable; no one would have devised quite such a roundabout way of committing homicide.
On the other hand 'Double, Double' gives us a magnificently constructed puzzle, with murders mounting and suspense tightening to a tremendous pitch. Our Mr. Queen has a might gift for this kind of thing.
For once, Ellery's father Inspector Queen, doesn't appear with his son. Perhaps the old warrior has gone off muttering to his memoirs-writing or his cabbage patch.
In any case Ellery makes out out very comfortably without Dad. A sympathetic Nature Girl called Rima grips him that is, when she isn't talking to birds, a whimsical habit which to her comes naturally.
Rima's father the town drunk appears as one of the corpore (?) ('Beggar Man') which positively litter 'Double, Double'.
But the most ominous note of all is truck in the last paragraph of this unusual record.
It leaves me with the disturbing impression that Ellery is taking more than a professional interest in the Bird Girl.
Having watched with jaundiced eye the damaging effect of marriage upon the deductive powers of many a promising sleuth I pray, as one of the Queen's most devoted subjects that he may see the light - in time."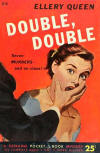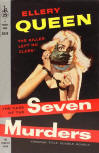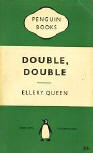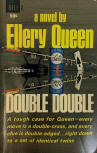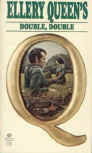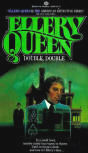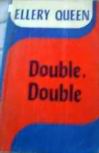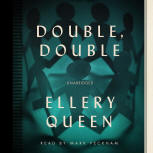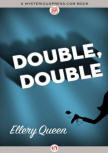 The last full-fledged Wrightsville story is as usual strong on characterizations. But some of the deductions made from the clues seem more speculative than logical. Rima Anderson, grossly neglected by most Queen-critics, is featured as a "Nikki Porter" like character, a very down to earth girl with basic interests (nature!). Again Mr. Queen keeps his interest in her very ambiguous.
Only once in the books does the character Ellery Queen mention the name of his fictional detective from the books he wrote. When he takes Rima to "Ben Danzig's High Village Rental Library and Sundries" he gives her a crimson copy of one of his books.

"Ben's stock seems to run more to fantasy fiction these days—but it's virile enough to introduce you to the subject." "But isn't this fantasy?" "My dear child!" said Ellery in an injured tone. "Read the blurb. 'Brute realism'—here, see it?"

After reading the book, Ellery asks her what she thought of it: "I laughed. Is that what's known as a detective story?" "One kind of detective story." "Detectives aren't that way in life, are they? Kissing or slapping every girl they meet, beating up people, shooting off guns all the time?" "Most detectives I've known have forty-eight waistlines, chronically sore feet, don't handle a gun from one year to another, and can't wait for the weekend to water their lawns." "And then that girl Ginger, the one Dave Dirk called 'Gin' and 'Gingivitis'—" "His secretary." "She made me tired. Getting into one silly mess after another. And why did she keep calling Dirk 'Chief'? He wasn't a policeman." "He was her chief." "Slang," said Rima thoughtfully. "I wondered about that. Do all detectives' secretaries call them Chief?" "All who have secretaries, I suppose." "Do you have one?" "Not at the moment. But then, Rima, I'm not in a book." "You ought to be!"

Later Ellery himself seems to illustrate the hard boiled character of his novel to Rima: "At this point, baby, Dave Dirk usually grabs his doll, gets a half nelson on her, plants a few cynical smacks on her perfect mouth, and sends her off with a slap on the rump to the villain's lair, so that ten pages later he can stroll in and cuff her from the jaws of somebody else's lust. Ready?" "Ellery, don't be silly." "You don't seem to get the point, babe. You never use my first name." Ellery hissed, "Got that straight, Gingivitis?" This time she laughed. "Got you, Chief." "With more humility." "Chief." 'Yes. And don't forget who is." "Who is what?" "Head man." "Oh, you are, Chief." "I doubt it."


This hardboiled characterization of the David Dirk books of course might be in vogue in 1950. It certainly couldn't have been the kind of stories Ellery would have written in the 30s.

But there it is in black and white: "Dave Dirk"!
The Argus, Melbourne, Sweeney Todd's Corner by C.T. October 7. 1950

"Corn in this murder plot.
ELLERY QUEEN, the impeccable, of Harvard and New York, is here rusticating among the alien corn of Wrightsville, and some of the corn has got into the plot.
Believe it or not, it is another of those murder sequences tied up with a nursery rhyme. There ought to be a close season for nursery rhyme murders, likewise for protagonists who can't remember what it's all about.
The central figure is Rima, the bird-girl of the woods - father was the Town Drunk and an admirer of W. H. Hudson, as we may deduce (Ellery gets around to it too).
The Town Drunk and a number of other people are bumped off, Ellery not being as quick on the uptake as usual. The solution is about as satisfactory as it is likely to be in such circumstances.
PERSONALLY we regard this story as an error on the part of Ellery's authors, an attempt to horn in on the prevailing popularity of small town murders and rustic sleuths.
But Ellery won't fit. His place is back in New York, along with his father, the Inspector, Sergeant Velie, and the rest of the gang."


The Sun

, Sydney "Reading Guide" October 14. 1950



"Ellery Queen's" detective - adventures are always intricate, subtly contrived and smoothly told, and this new story is as absorbing as the best that have gone before it. As the title suggests, it is a study in the duality of things, and the pattern of the various violent deaths which fill it is connected perplexingly with the old nursery-rhyme, 'Rich man, poor man, &c.' This is not the first time that the device has been used, but it has seldom been used more skillfully. Everything is extremely clever, indeed, but not even an almost tedious amount of detail about the streets storekeepers and local geography of Wrightsville succeeds in achieving complete plausibility."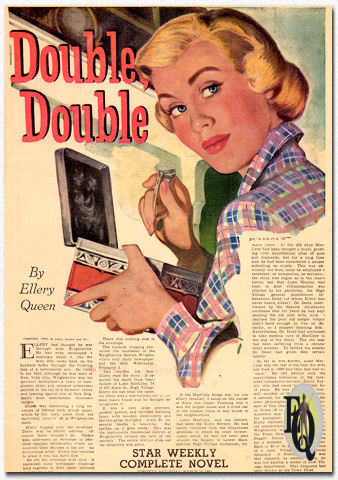 Above: Double, Double was published in Toronto Star Weekly as a "complete novel", March 10. 1951. The printing history in the Pocket book edition indicates this was a condensation.
Double,Double
(aka The Case of the Seven Murders) Translations:
Danish: Dobbeltspil
Dutch/Flemish:Moord op rijm
Finnish: Salaperäiset lehtileikkeet
French: Coup Double
German: ... und raus bist du! (aka Wer ist der nächtste?)
(aka Der Kreis schliest sich),
Indonesian: Irama Neraka
Italian: Il rovescio della medaglia
Japanese: daburu daburu
Korean: 더블, 더블
Portuguese: Cara ou Caroa
Russian: Две возможности
Spanish: Las Dos Caras de la Moneda (aka Crimines Al Por Mayor)
Swedish: Dubbelspel



Other articles on this book
(1)
Reading Ellery Queen - Double, Double Jon Mathewson (May 2015)
(2) The Grandest Game in the World Nick Fuller (Aug 2021)
(3) The Green Capsule March 26. 2022
* Interested readers should know that the icons/covers of books, used throughout the website have extra descriptions/information not included in the text on the same page. Pointing your cursor at the icon/cover used to reveal this extra information.
To achieve the same effect Firefox users can install an add-on called '
Popup ALT Attribute
'. When installed pointing your cursor at an icon/cover results in showing you the details or additional information.