he Origin of Evil

(April 1951)

Ellery Queen is probably the only detective story writer in the world who could have conceived and written this novel.

When the story opens, America's best-known detective is in Hollywood, ostensibly to write a book, but hardly does he get started before he receives a visit from nineteen-year-old Lauren Hill.
Laurel's foster father, Leander, had been copartner with Roger Priam in an international jewelry business. Now he was dead of a heart attack, but Laurel is sure he was murdered. Leander Hill had found a dead dog on his doorstep, with a note addressed to him in a silver pillbox attached to the collar around the dog's neck. The dead dog and the contents of that note had literally frightened Leander Hill to death. While Laurel is telling Ellery his story, a second visitor presents herself - Mrs. Roger Priam.

"Delia Priam was big game; one glance told him that. His doorway framed the most superbly proportioned woman he had ever seen. * * * Seeing her for the first time was like stepping into a jungle. She seized and held the senses; everything was leashed, lovely, and dangerous."
Mrs. Priam, too, had come to engage the services of Ellery Queen. Her husband had also received a package, mysteriously delivered, whose contents he refused to divulge.

Ellery accepts the case and soon becomes acquainted with the unconventional Priam household. It is evident that the death of Leander Hill is not unrelated to the strange warnings the secretive and domineering Priam begins to receive. Ellery finds himself blocked at every turn by his un-co-operative clients - but gradually a singularly horrible and effective pattern for murder emerges.

In The Origin of Evil, Ellery Queen is up against a genius.
"If you're unfamiliar with Queen, try this one - and find yourself ensnared by a master of fascination inherent in the grandly fantastic, even improbable, but compellingly constructed murder problem."
-- New York Times
"Ellery Queen in fine form." -- Kirkus Reviews

"As in all the Ellery Queen books, the emphasis is on puzzle... this time, by peopling the book so richly, the Queen's have given their puzzle an additional depth and warmth." -- New York Herald Tribune
"Ellery Queen is in tremendous form... First rate."
-- Norman Blood Time and Tide
"Even this master of plot, surprise and the bizarre has never done anything better... For sheer ingenuity and the piling on of new surprises when one feels that the story is over, this is a winner... The maestro excels himself." -- Joseph Taggart The Star
"Doubtful he will ever write a more teasing mystery than 'The Origin of Evil', but doubtless he never has." -- Daniel George
"The old fascination is as strong as ever. The narrative suspends not only disbelief but everything else except attention." -- Punch
"Nearly incredible ingenuity." -- Manchester Evening News
"Fiendish ingenuity... Of world-championship class." -- Birmingham Post
"Quite as inventive as usual, but more sexy."
-- J.J.Q. - The Sydney Morning Herald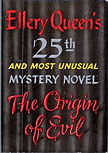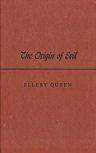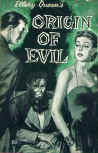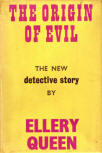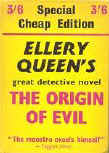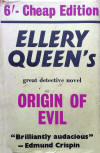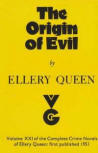 Above left to right:
dust and hardcover for Little, Brown & co., April 1951; dust and hardcover Book Club edition
Below left to right:
dust covers for Gollancz editions (1951, 1953, 1953 and 1976)
(Click on the covers to see the differences) *
The Advertiser, Adelaide - November 3. 1951

"A THREATENING note of 99 words, in which the writer failed to use a single letter 'T,' starts the sequence of fantastic happenings that make 'The Origin of Evil' one of Ellery Queen's better mystery stories.
Warnings that follow, in turn, are:— A dead lamprey, a dead fish, dead frogs and toads; a dead alligator — in the form of a wallet — a mutilated and burnt book, with the title of 'The Birds,' and, finally, valueless stock certificates, known colloquially as 'cats and dogs.'
All these sinister' warnings, leading right up the ladder, of evolution, are the outward indications of a diabolically clever murder plot which only a detective of the ability of Ellery Queen could solve.
The action takes place in Hollywood, and gives writer — or writers — Ellery Queen plenty opportunities for some picturesque asides on the more bizarre aspects of the movie capital, and the introduction of a few of the odd characters that only Hollywood produces.
There's also a provocative, sophisticated beauty who almost lures detective Ellery from the straight and narrow."


The Sun,

Sydney - October 21, 1951



"Mr. Queen probably would class his latest novel 'The Origin Of Evil', as a fundamental in deduction. It is a good story until Ellery begins to untie the knots — which takes too long and leaves us still unconvinced.
Indeed, Mr. Queen, only because we hesitate to spoil the pleasure of many of your followers, do we refrain from exposing a piece of trickery so blatant that it would topple you forever from the connoisseur's bookcase."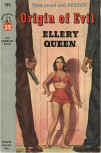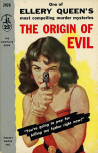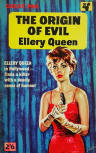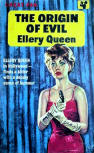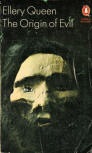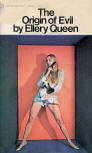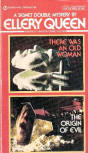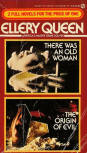 Ellery Queen was sun-bathing in the doorway of his Hollywood bedroom when the pretty young girl appeared. She was dressed in zebra-striped culottes and bolero over a bra-like doodad of bright green suede. "I don't think there's anything funny in a dead dog, do you?" she asked. "Dogs die all the time," Ellery said in a kindly voice. The girl stared down at her cigarette. "He was a gift, and it killed my father." "How exactly did a dead dog 'kill' your father?" "It murdered him."
EQ returned to Hollywood for a third novel."The book is filled with fairly unlikable characters, and once again, like The Devil To Pay, it deals with crooked businessmen in L.A., not the movie industry. The plot rings every possible change on a single detective theme (the avenger from the past) as if it were a Jack Ritchie short story swelled to giant size. There is some ingenuity here, but as a whole the novel seems pretty minor.

The book expresses pessimism over the arms race, and describes Yugoslavia and Iran and Korea as possible places where war could break out: 48 years later this seems frighteningly prophetic. The name of the young hero, who lives in a tree house like Tarzan, Crowe Macgowan, seems to be inspired by Cro-Magnon Man, suggesting he is an evolutionary throwback; an appropriate enough choice in a novel whose title derives from Darwin's The Origin of the Species. Although this suspect (as in The Chinese Orange Mystery) named Macgowan (with a small g) could also be a reference to Kenneth Macgowan, who edited the anthology Sleuths (1931). (Michael E.Grost)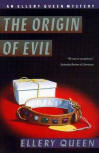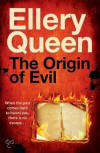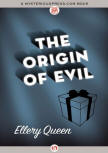 Several references to Hollywood stars and movies e.g. Mutiny on the Bounty (1935) (Laughton), The Beachcomber, (1938) (Laughton),...
Ellery takes up his smoking habits with cigarettes and pipe. Also he drives a rented Kaiser which ties in with Ellery's 1950-51 appearances on TV's The Adventures of Ellery Queen (aka "'a Kaiser-Frazer Adventure in Mystery"). Ellery is a sexual being!
The Mail, Adelaide - by A. R. McElwain, October 20, 1951

"The calculated scaring to death of a victim is, I am relieved to report, a form of homicide not generally favored by competent contemporary murderers. It is, you see, uncertain and, as such, wastes time. People don't scare that easily. But a highly, original killer in this new Ellery Queen offering brings it off by the simple yet effective method of sending his potential victim a dead dog. The dog, naturally, is more than dead. It is also an evil symbol, in the sense that it reminds the recipient so violently of something in his past life that he passes out, there and then from shock.

The grim humorist doesn't stop at this. He sends a series of grotesque warnings to another fellow — each warning involving an animal — and each animal being dead.
I doubt whether all the fantastic premeditation, all the symbolism, all the caperings of someone resembling a crackpot naturalist add up to much in the way of plausible crime or convincing detection.
'The Origin of Evil' does, however, add up to a devilishly ingenious and complicated thesis which I should not like to see attempted by anyone less adroit than our learned Mr. Queen. I commend it to the critical attention of advanced students. (If anyone wants to scare me to death, just creep up on me and cry 'boo!' No dead dogs — please!)"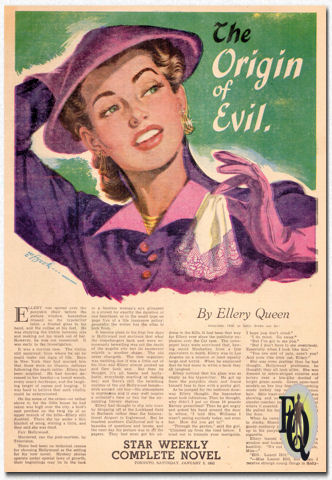 Above:
The Origin of Evil
was published in Toronto Star Weekly as a "complete novel", January 5. 1952. This was more likely a "condensation".
The Origin of Evil Translations:
Brazilian: O mistério da Arca de Noé
Czech: Koreny zla
Danish: Det manglende T
Dutch/Flemish:De bron van het kwaad
French: L'arche de Noé
German: Vom Ursprung der Bösen
(aka Vom Teufel gehetzt)
Greek: Τό μάτι τοῦ Σατανά
Hebrew: האיש שחזר מהעבר
Hungarian: A bűn eredete
Italian: L'origine del male
Japanese: akunokigen
Korean: 악의 기원
Russian: Происхождение зла
aka Смерть в Голливуде
Spanish:El origen del mal
Swedish: Roten till det onda



Other articles on this book
(1) The Rap Sheet - The Book You Have to Read: The Origin of Evil J. Kingston Pierce (Mar 2017)


(2)

Reading Ellery Queen - The Origin of Evil Jon Mathewson (Jul 2015)
(3) The Passing Tramp - Wicked Gifts The Origin of Evil (July 9.2014)
* Interested readers should know that the icons/covers of books, used throughout the website have extra descriptions/information not included in the text on the same page. Pointing your cursor at the icon/cover used to reveal this extra information.
To achieve the same effect Firefox users can install an add-on called '
Popup ALT Attribute
'. When installed pointing your cursor at an icon/cover results in showing you the details or additional information.