ace to Face (1967)
It was death for "Old Glory"--and the only clue to the murderer of Gloria Guild, the singing "Glory" of the 30s, is her dying scrawl--"Face." Why face? Whose face? Ellery Queen pursues the Glory Riddle from the Bowery to a way-out wedding--and a surprise climax that will jolt you into cold shock. And any reader who nails this killer is a genius or a cheat.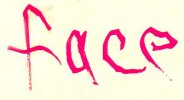 "If the solution doesn't surprise you, you've peeked ahead to the finish." -- Houston Chronicle
"A fine fantastic farrago... Technically faultless construction (one expects no less), admirable final twist and one lovely private joke for old-line Queen fans (as aren't we all?)."— Anthony Boucher, New York Times
"For puzzle addicts this suave and tantalizing brain teaser is rare and glorious fare."— Baltimore News American
"As usual Queen has played fair... punctiliously revealing any clue he finds , every theory he develops... every iota of evidence he uncovers, and challenges the reader to predict the solution. And I'll bet you aren't right." — The Florida Times Union



Appeared in two parts in Star Weekly on March 25. and April 1. 1967.
A good story on its own, but elements seem like replays from former novels. At least the solution is satisfying and clever, but haven't we seen the Showdown at a Wedding Ceremony bit before? Again one of the novels which may have been ghostwritten. Some have mentioned the name of Jack Vance. He did write a sci-fi-novel called The Face, but to this date we've found no evidence to sustain the claim Vance had anything to do with this book.


Face to Face Translations:
Czech: Tvárí v tvár
Danish: Gåden om Gloria
Dutch/Flemish: Zingend de pijp uit
French: Face à face
German: Nur eine Frage der Lesart
Greek: Ενας Γρίφος Γραμμένος με Αίμα
Italian: Ellery Queen e la parola chiave
Japanese: 顔 (kao)
Russian: ЛИЦОМ К ЛИЦУ
Spanish: Cara a cara
Swedish: Rebus i rött