ueens Full (1965)

Foster Benedict, aging matinee idol, was doing the lead in the Wrightsville production of The Death of Don Juan. He didn't like playing the sticks, and he was sabotaging the performance, turning it into a farce...
"If I get my hands on him," screamed the amateur producer, "I'll..." But it was too late. When the curtain rose on the second act, Benedict was dead.
There were plenty of suspects--it seemed Foster Benedict had upstaged everyone in town. Ellery Queen's job was a little like a casting director's--there was plenty of talent, but no one was right for the part of killer!

It was "murder, murder most foul...."
Foster Benedict, his back to the door, was in the chair at the dressing table, half lying among the wigs and make-up boxes.
He was partly dressed in a Don Juan costume. The shirt was of flowing white silk and just below the left shoulder blade, from the apex of a red ragged stain, the handle of a knife protruded... He was dead Don --.
And the cast, the crew, and everyone in the audience was suspect!



(Argosy, 5/62 reprinted in EQMM, 8/64)

"The Wrightsville Heirs"

(Better Living, 1/56 & 2/56 reprinted in EQMM, 11/57)

"The Case Against Carroll"

(Argosy, 8/58 reprinted in Suspense 04/59 and in EQMM, 9/60)

"E = Murder"

(This Week, 8/14/60 reprinted in EQMM, 5/61)

"Diamonds in Paradise"

(EQMM, 9/54)


3 novelettes and 2 short stories, well-done with appropriately clear logic. The opening story, a Wrightsville vignette with another dying clue, is probably the best of the bunch. "The Case against Caroll" having Ellery in doubt again but providing a clear surprising ending.
Anthony Boucher claimed "The Death of Don Juan" to be "a prime specimen of the true whodunit, complete with baffling clues and faultless amateur detection".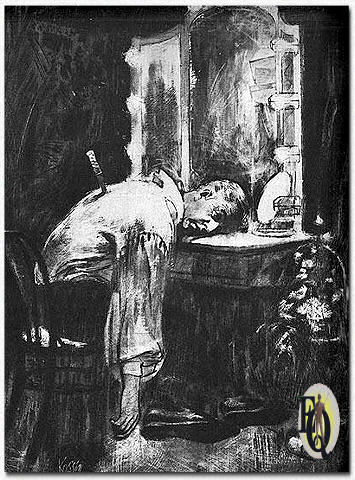 Above: Drawing Argosy 5/62 for "The Death of Don Juan"