Room to Die in (1965)
How could a man have been murdered when he was found alone in his study, a gun in his hand, and the door locked from the inside? It had to be suicide, the police figured, for although there was no suicide note there was a letter proving conclusively that Roland Nelson, over the last several months, was being blackmailed. But to his daughter, Ann, whom he had seen only spasmodically since he had left her mother when Ann was a baby, there were unanswered questions. She was convinced that her father could never have killed himself. Before she found the answers, two people were brutally garroted with a wire, one of them in her own apartment. Could she fins all the answers before the killer silenced her, too?


Ghostwritten by Jack Vance. Why did he write the books? "Because Ellery Queen gave me a flat fee of 3000 dollars for each book. Which was then a lot of money ! I did have to sign a contract never to reveal I actually wrote the books.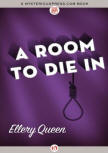 Theoretically I never took his name. In a way he took my good prose and did everything to let it pass as his own." Vance was forbidden by his contract to sign copies of books written under the Ellery Queen pseudonym. As Vance developed a following in his own right (he was an elaborate sci-fi-writer), he did eventually sign the Queen-books as "Jack Vance" or "Ellery Queen" and initialed "JV". Recently the manuscripts of the three Vance Queens were partially recovered. They will be restored and made available. So this story was published under its original title Death of a Solitary Chess Player as a supplemental volume to the Vance Integral Edition in 2006.