en Days' Wonder

(1948)

The whole case had sounded fishy from the beginning. Why would an amnesia victim go to a detective when he needed a doctor?
But Ellery investigated and soon discovered why they needed him. Howard Van Horn and his beautiful stepmother were being blackmailed for adultery. It was an ugly situation.
Then it exploded into murder!
Ellery solved the case in record time. But suddenly. while he was accepting everyone's praise, he realized he had made a horrible mistake.
A Triangle for Murder
These are the people who formed the triangle:
Howard Van Horn -- a young sculptor suffering from strange attacks of amnesia. He goes in desperation to Ellery Queen with a baffling problem.
Diedrich Van Horn -- Howard's millionaire foster father. His money bought him a wife tailor-made to his specifications. He needed Ellery Queen too -- but for a more sinister reason.
Sally -- the young and beautiful wife. She came from the wrong side of the tracks but moved in the Van Horn mansion with complete assurance.
Ellery Queen finds a pattern of sins that leads irrevocably to murder.
Ellery is persuaded to accompany an old friend to his ancestral home when the latter arrives at Ellery's house covered in blood and unable to remember anything from the past few weeks. There, tensions erupt and foul play results in the murder of one of the household's members.
"The last chapter contains the best surprise and the handsomest solution of the year."

--

New York Herald Tribune



"Very Good."

--

Saturday Review



"Enigmatic entertainment... masterful."

--

Kirkus Reviews



"Howard was really a foundling and grew up subject to periodic blackouts which kept him out of the services. What happened in these amnesic mind periods will keep the reader wondering."


--
The West Australian



"Ellery Queen's detection is cleverer and more complicated than ever and elicits the gasp of astonished admiration rather than the deep sigh of contentment. But as a change from thrillers this is a gasper de luxe."
--
Brisbane Telegraph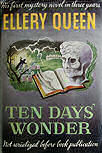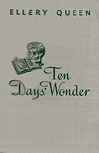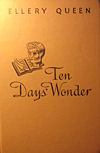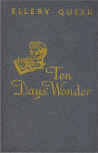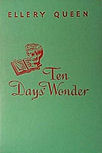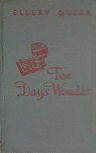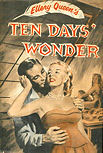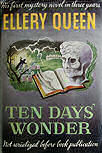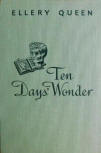 Above left to right: dust and 4 (!) hardcover for

Little, Brown & co.

editions (1948-1949).

Below left to right:

Another hardcover for Little, Brown & co. edition (194?); dust and hardcover for Little, Brown & co., Book Club Edition 1948.;

dust and hardcover for Grosset & Dunlap 1949 edition
(Click on the covers to see the differences) *
The Indianapolis Times, by J.N. Williamson, November 6. 1948

"New Ellery Queen book called 'Absolutely Unique'.
It is seldom that a book is published about which a reviewer can report, 'absolutely unique.' That phrase comes to my mind after reading 'Ten Days' Wonder,' Ellery Queen's first novel since 1945.
'Ten Days' Wonder's' construction is unusual, it being divided into two parts: 'Nine Days' Wonder' and 'Tenth Days' Wonder'.

THE BOOK IS the history of many people, largely the Van Horns and Ellery Queen, that detective about

whom we think, as did Sherlock Holmes, of Poe's Dupin long ago: 'That trick of his of breaking in on his friends' thoughts with an apropos remark ... is really very showy...' In Queen's case it is necessary and clever.

Howard Van Horn goes to Queen's home, determined to get aid from him. Howard has occasional amnesia-spurts that psychiatrists are unable to cure due to his subconscious resistance. Howard's fear is that he may commit crimes while out of his head, and so he takes Queen home with him to Wrightsville. Wrightsville was the popular locale of EQ's 'Calamity Town' and 'The Murderer Is a Fox.'
What takes place in the Van Horn home is, paradoxically, incredible and plausible. The author again demonstrates his understanding, drawing his characters with an artist's brush.
...
Being an EQ-correspondent, I thought that I could inveigle him into commenting on the book. I received a missive in which he declared: 'I am afraid I cannot write any comment on 'Ten Days' Wonder' or on EQMM. Honestly, Jerry, I do not feel it is fitting or proper for an author to write about his own book, or an editor to write about his own magazine (except in the magazine itself).' Innate modesty indeed!
'Ten Days' Wonder' is a tale of violence, love and murder. The climax is the most extraordinary that I have read in years, and will remain long in that portion of the memory reserved for exceptional stories."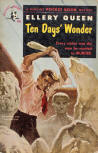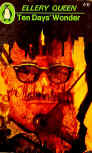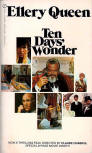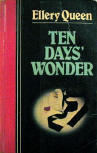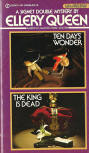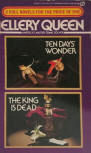 Another trip to Wrightsville, the first of the self-doubting tales, and another double-twist ending. Brilliant portrayals. One of the first Queen's I read and it immediately reminded me of a Ten Little Indians. Which at the time wasn't that difficult because Agatha Christie was much more popular at that time. To me Queen seemed more fair as I thought Christie's detectives always seemed to withhold clues whereas Queen gave you, what seemed, a "fair" shot at the solution.
Movie: Ten Days' Wonder.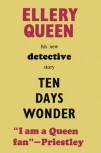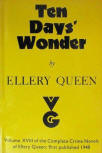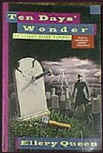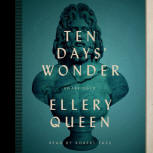 Daily Telegraph, Sydney - March 5 1945 "Mystery of the Week: Ellery Queen's Last Case!" by Dr. Watson Jun.
"SINCE Mr. Philo Vance was called to consort with the cherubim, and Inspector Appelby plunged into the more sombre oblivion of marriage, Mr. Ellery Queen is, by long odds, the most erudite; of contemporary detectives.
In this remarkable case history of Ten Days' Wonder — the first Queen dossier to appear for some years — Mr. Queen's erudition coruscates like the diamonds in a jockey's shirtfront.
In it, for example, he quotes Goldsmith, Disraeli, and Thomas Hardy, discusses Cellini, Pope Julius, and Count Waldstein, lectures on the relationship of Odin's Wife to Friday superstitions, ' the transliteration of the Hebrew tetragrammaton (though he carelessly calls it 'tetragrammation') translated as Jehovah in the Christian exegesis, the Oedipus complex, and such odds and ends as the fact that the phrase "the coast is clear" was used first in 1590 and that there was a double observance of the Sabbath for several centuries after the Resurrection.
But even this vast and varied encyclopedic lore does not save Mr. Queen from stumbling into the most dreadful blunder of his career — nothing less than allowing himself to be used as an important instrument in the devilish stratagems of a masterly double murderer.


Frankly, I don't blame Ellery. The case is, as Moriarty would put it, a little trimmer.
It is a fantastic complex of Old Testament theology and New Textbook psychoanalysis.
Its components are a megalomaniac millionaire, his girl wife, and his neurotic adopted son, a Jung Woodley who has amnesic blackouts and apparently', with deliberation, violates every commandment in the Decalogue seriatim.
Mr. Queen makes no apologies for his profound error. He confesses it with humility, and, indeed, makes the startling announcement that, having lost his belief in himself, he will retire from detection.
'I'm finished,' he says unequivocally. 'I can never take another case.' It is to be hoped that, on calmer reflection, Mr. Queen will reconsider this lamentable decision.
It would be a very serious loss to detection, mitigated only by the prospect that if Mr. Queen does retire he will be able to devote more time to his invaluable Detective Magazine.

There will still remain, too, the possibility that Queen, in retirement, will draw upon his notes to present some of his yet unpublished cases.
I look forward especially to two mentioned briefly in 'Ten Days' Wonder'-, the case of the spastic bryologist, in which Queen made the vital deduction from a dried mass of sphagnum no larger than his thumbnail, and the case of Adelina Monquieux, though unfortunately his remarkable solution of this, "by arrangement with that curious lady's executors," cannot be revealed before 1972.
Footnote for the Advanced Student: It is not often that a Queen dossier is open to criticism on the grounds of dishonest presentation. I regretfully commend to the attention of the discerning a careful comparison of pages 135 and 232 (Gollancz) - The ordinary reader, of course, will only waste his time examining them."