he Woman in the Case (1967)
aka

eadlier Than the Male

Uit de bestanden van Ellery Queen is dit een haren-ten-berge-rijzende collectie van verhalen waarin vrouwen worden vermoord...vermoord uit jaloezie...vermoord uit pure genot iemand te doden. Moeders, dochters, vrouwen, vriendinnen, schoolmeisjes, moordgrieten. Allen moordenaars!
Lees onder andere over: de moeder die haar zoon's vrouw vermoord. Over de mooie geweerhanterende boerenmeid die van Bakelandt een Damiaan maakt. En wel een dozijn meer van deze afschuwwekkende verhalen.

Inhoud: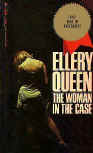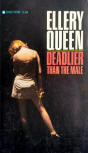 Niet gekend in een nederlandstalige vertaling. Alle verhalen werden eerder gepubliceerd in 'The American Weekly' gedurende de jaren 1958 en 1959. Lee's tweede echte misdaadboek dat onder de Queen naam verscheen en gebaseerd was op materiaal door diverse onderzoekers verzameld.