here was an Old Woman

aka

he Quick and the Dead (1943)
Before the last echo of the shot had trailed down Riverside Drive, Ellery Queen realized that he had just witnessed a murder. Robert Potts lay shot through the head and not only had Ellery Queen been a witness, but also inspector Queen and Sergeant Velie. Yet not one of them knew who committed the murder.
This is the story of the Old Woman (Cornelia Potts), who lived with all her children (six) in the incredible Potts "palace" on Riverside Drive - on its front lawn a great, bronze Oxford complete with trailing bronze shoelaces. Over the household hovers a ruthless killer who fits his cold-blooded crimes into the pattern of a Mother Goose rhyme. Here is murder - with amusing and queer characters galore - as weird and baffling as Ellery Queen has yet
encountered.
Hunting a masterful murderer poses a starker challenge than super sleuth Ellery Queen realized.
Cornelia Potts is a wicked old witch of a woman with millions of dollars, a henpecked husband, and six miserable children. When, one by one, the inhabitants of the Potts household are visited by death, Cornelia watches with delight. During a visit, Ellery Queen finds himself supervising a duel between Thurlow Potts and his half brother Robert, so he makes sure the guns are loaded with blanks. But when one of the brothers really dies, Ellery realizes he's up against a very cunning murderer.
"One of the very best of the Ellery Queen mysteries"-- New York Times



After the powerful Calamity Town the cousins were unsure that the novels radical departures from earlier Queen novels would be a success and deliberately planned the next book to be a return to the old manner. Although most of the plotting was probably done in the summer of 1942 (whilst the radio series was on hiatus) Nevins believes there's reason to believe that part of the plot dates back to the novel Fred and Manny were working on in 1939. If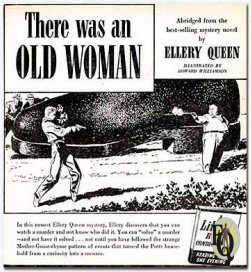 nothing else, this would also explain the absence of World War II home front ambiance from a novel published in the second full year of war. However the proposed novel employed the same basic plot as Agatha Christie's And then there were none (1939) and had to be scrapped. Not entirely as it was put in the "freezer" to be published at a later date. Although it has been known that they often elaborated on themes and ideas by others this was clearly a coincidence. It was Christie's intention of publishing the book as Ten Little Niggers quickly changed into Ten Little Indians but of course in the USA even this had to become And then there were none - the exact title of the final chapter in Queen's book. In April 1939 Van Dine died and the book was probably a tribute to their first great "teacher
"
... Certainly there is more than a passing resemblance with Van Dine's The Bishop Murder Case.

Above right: Howard Williamson art for the abridged version of There was an Old Woman published in Liberty magazine July 3, 1943.


The cousins set out to merge a complex puzzle with the kind of way-out wacky mystery which more or less paralleled Hollywood's cycle of screwball comedies. In the plot you always seem to think you're one move ahead of EQ. Then it appears that the first solution just isn't. Or is it? First of a series of multiple twist endings. Introduces Nikki Porter (for the second time in print, as the novelization of the movie
Ellery Queen, Master Detective
had already done the honors - counting radio and movies she first met EQ in four different ways!). Lee felt that this was his worst book.