here was an Old Woman

(1943)


aka

he Quick and the Dead
Before the last echo of the shot had trailed down Riverside Drive, Ellery Queen realized that he had just witnessed a murder. Robert Potts lay shot through the head and not only had Ellery Queen been a witness, but also inspector Queen and Sergeant Velie. Yet not one of them knew who committed the murder.
This is the story of the Old Woman (Cornelia Potts), who lived with all her children (six) in the incredible Potts "palace" on Riverside Drive - on its front lawn a great, bronze Oxford complete with trailing bronze shoelaces. Over the household hovers a ruthless killer who fits his cold-blooded crimes into the pattern of a Mother Goose rhyme. Here is murder - with amusing and queer characters galore - as weird and baffling as Ellery Queen has yet
encountered.
Hunting a masterful murderer poses a starker challenge than super sleuth Ellery Queen realized.
Cornelia Potts is a wicked old witch of a woman with millions of dollars, a henpecked husband, and six miserable children. When, one by one, the inhabitants of the Potts household are visited by death, Cornelia watches with delight. During a visit, Ellery Queen finds himself supervising a duel between Thurlow Potts and his half brother Robert, so he makes sure the guns are loaded with blanks. But when one of the brothers really dies, Ellery realizes he's up against a very cunning murderer.
"Verdict: Suspects and clues all over the place - so many that even Ellery Queen is almost stumped. One of the very best of Ellery Queen mysteries."
--
New York Times


"Ellery is as superbly self-assured as ever, as much given to those intuitive flashes."
--
Book Week


"Ellery is in good form from the moment one discovers him thinking ungrammatical thoughts in the first paragraph until he emits his final whimsy on the last page. His mental gyrations are masterly."

--

Weekly Book Review



"... tells in the best Queen manner, of two murders in a wealthy, but mentally off centre family, it has three climaxes, and is, as usual, most ingeniously worked out."

--

The Telegraph,
Sydney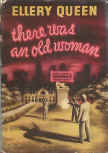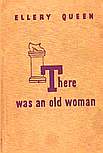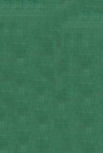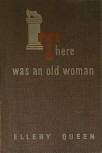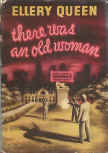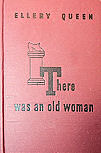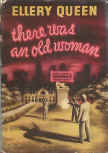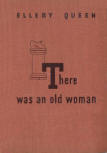 Above left to right: dust and 2 hardcover variations for Little, Brown & co. edition 1943 (there were three printings 2 in March 1943 and a 3rd in September 1943); unknown hardcover edition
Below left to right: dust and hardcover Grosset & Dunlap 1943 Collector's edition (published April, 1944 as 1st printing March, 1944), dust and hardcover for Sun Dial Press 1946 reprint
(Click on the covers to see the differences) *
The Advertiser, Adelaide, June 24. 1944 - "Latest Fiction"

"TWO other interesting collaborators are Frederic Dannay and Manfred B. Lee, cousins who have made a fortune for themselves with their detective novels by, and about Ellery Queen.
They have also written a number of critical works — on crime detection and detective fiction— juvenile mysteries, and other crime novels under the pseudonym of Barnaby Ross.
Before they took to their profitable writing occupation Dannay was art director of an advertising agency, and Lee was a movie publicity man.
Their latest Ellery Queen detective story, 'There Was an Old Woman' is a fantastic affair about the Potts family of Potts Shoe fame and more particularly about Thurlow Potts, a "tubby little troglodyte," who is "the world's most insultable man."
The Potts family, six grown-up children and the Old Woman, live in a fantastic New York palace— with a giant illuminated Potts Shoe on the front lawn. Thurlow's libel actions always make the front page of the newspapers, and when be shoots one of his brothers in a duel on the lawn under the shoe statue there's a tremendous hullabaloo.
Ellery Queen is well in the picture, of course, and has his work cut out unravelling two almost fairy tale murders, with faked confessions, forged signatures and a variety of crazy trappings.
As in all Ellery Queen mysteries, red herrings abound, and the secret of the murderer is well and truly kept to almost the end."
After the powerful Calamity Town the cousins were unsure that the novels radical departures from earlier Queen novels would be a success and deliberately planned the next book to be a return to the old manner. Although most of the plotting was probably done in the summer of 1942 (whilst the radio series was on hiatus) Nevins believes there's reason to believe that part of the plot dates back to the novel Fred and Manny were working on in 1939. If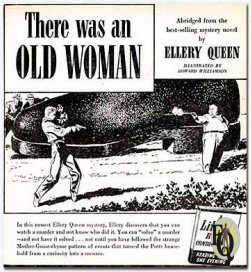 nothing else, this would also explain the absence of World War II home front ambiance from a novel published in the second full year of war. However the proposed novel employed the same basic plot as Agatha Christie's And then there were none (1939) and had to be scrapped. Not entirely as it was put in the "freezer" to be published at a later date. Although it has been known that they often elaborated on themes and ideas by others this was clearly a coincidence. It was Christie's intention of publishing the book as Ten Little Niggers quickly changed into Ten Little Indians but of course in the USA even this had to become And then there were none - the exact title of the final chapter in Queen's book. In April 1939 Van Dine died and the book was probably a tribute to their first great "teacher
"
... Certainly there is more than a passing resemblance with Van Dine's The Bishop Murder Case.

Above right: Howard Williamson art for the abridged version of There was an Old Woman published in Liberty magazine July 3, 1943.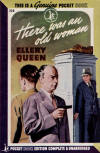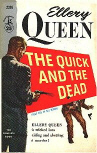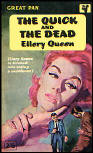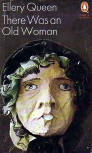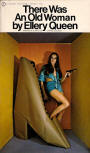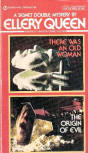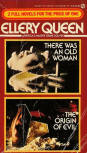 The cousins set out to merge a complex puzzle with the kind of way-out wacky mystery which more or less paralleled Hollywood's cycle of screwball comedies. In the plot you always seem to think you're one move ahead of EQ. Then it appears that the first solution just isn't. Or is it? First of a series of multiple twist endings. Introduces Nikki Porter (for the second time in print, as the novelization of the movie
Ellery Queen, Master Detective
had already done the honors - counting radio and movies she first met EQ in four different ways!). Lee felt that this was his worst book.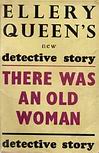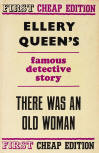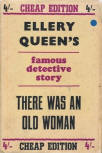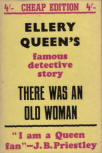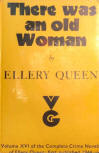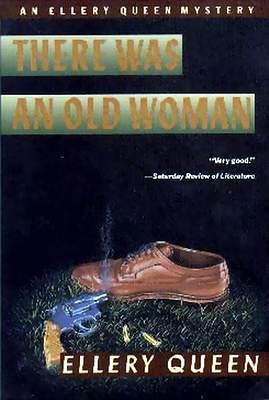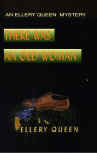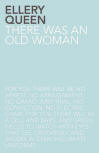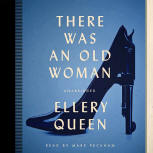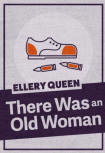 There was an old woman who lived in a shoe.
She had so many children, she didn't know what to do.
She gave them some broth without any bread;
And whipped them all soundly and put them to bed.

Source: The Dorling Kindersley Book of Nursery Rhymes (2000)


There was an old woman
(aka The Quick and the dead) Translations:
Czech: Zelezná dáma
Danish: Sko-mordene
Dutch/Flemish: Dood in de schoenen (aka Er was eens een oude vrouw)
Finnish: Murha kengässä
French: Il était une vieille femme
German: Das Mordduell (aka Blut im Schuh)
Greek: Μονομαχία στό Ρίβερσάϊντ
Hebrew: תעלומת האקדח הכפול
Hungarian: Volt egyszer egy öreg hölgy
Italian: Una volta c'era una vecchia
Japanese: 生者と死者と (seisyatosisyato)
(aka なぞのゆうれいやしき
aka 靴に棲む老婆)
Korean: There Was An Old Woman 수수께끼의 038사건
Portuguese: Era Uma Vez Uma Velha
Russian: ЖИЛА-БЫЛА СТАРУХА (Zhila-byla starukha)
aka Старуха
Spanish: Habia Una vez una vieja...
(aka Esta era una anciana)
Swedish: Mord i andra hand
Turkish: Mor İzler



Other articles on this book
(1)
Reading Ellery Queen Jon Mathewson (Mar 2015)
(2) The Green Capsule (Jan 25. 2019)
(3) ahsweetmysteryblog Brad (Nov 16. 2017)
(4) In Search of the Classic Mystery Novel Puzzle Doctor (Jan 30. 2011)
(5) One Two Buckle My Shoe Ho-Ling (Aug 24. 2013)
* Interested readers should know that the icons/covers of books, used throughout the website have extra descriptions/information not included in the text on the same page. Pointing your cursor at the icon/cover used to reveal this extra information.
To achieve the same effect Firefox users can install an add-on called '
Popup ALT Attribute
'. When installed pointing your cursor at an icon/cover results in showing you the details or additional information.