alamity Town

(1942)

Wrightsville is a typical American town, buried in the great American heartland, up to its neck in good old American corn. No family in town is more respected than the one named, naturally enough, the Wrights. Daddy Wright is the town banker, Momma Wright is the town social lioness, daughter Patricia the town beauty, Nora the town recluse, Lola the town scandal. Ellery Queen likes sophistication, savoir faire, and all the swinging assets of Manhattan and its environs. So what in the world is he doing in this unearthly place? It is the job of the famous detective to find out which of the Wrights is the town poisoner. He must match his wits with a diabolically cunning and ruthless killer, while defending himself against a charge of murder.
It all starts when Ellery Queen goes to a small town, disguised as Ellery Smith, to write a novel. He moves into a little house originally built for Nora Wright, whose fiancé, Jim Haight, had left town on the eve of the wedding three years before. Then Jim comes back, and things begin to happen. There are the three post-dated letters, for instance, and the attempted arsenic poisonings, which convince Ellery that someone is going to be murdered - but who? and why? Then the poisoned cocktail at Nora's New Year's Eve party, and the trial by public opinion on the streets, and what turns out to be a mistrial in court. Two more deaths follow, from more-or-less natural causes, before Patricia, Nora's sister, supplies Ellery with the one fact he needs to make a perfect and logical whole out of what he calls "the oddest case of mixed-up people, emotions, and events I've ever run across." This is one of Queen's best.
"It may well come to be hailed as a major classic."

--
New York Times


"Packed full of action, romance and mystery - a truly great novel."

--

Southern Cayuga Tribune
, King Ferry, N.Y.


"Unfortunately, the mystery is rather transparent from the start, and in the final scene, when Queen brings gasps from the spectators by revealing the truth, the reader is likely to go on getting his breath by the usual method."
--
The New York Sun


"Ellery Queen justifies his reputation as being among the best modern writers of detective fiction in the dual capacity of author and detecter of crime."
--

The West Australian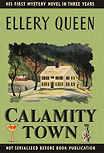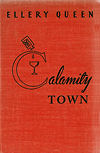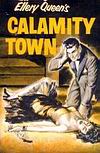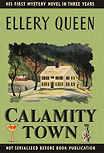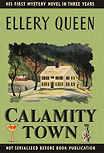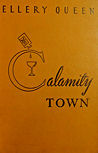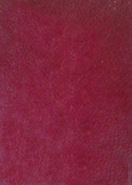 Above left to right: dust and hardcover for

Little, Brown & co.

edition (1942, there were 5 printings between April 1942 and March 1943); dust and hardcover for

Little, Brown & co.

, Book Club Edition 1942.

Below left to right: dustcover for Grosset & Dunlap (first printing June 1943, 2nd October 1943); dust and hardcover Triangle Blakiston 1947 reprint; hardcover Little, Brown & co. 1952 edition
(Click on the covers to see the differences) *
The Sydney Morning Herald, June 6. 1942

"When on the jacket of a novel appears a legend: "At last, a new Ellery Queen detective story." the reviewer can for once agree wholeheartedly with the publisher as to the excellence of the fare that may be anticipated. Mr. Queen can be relied upon not only to serve out a first-class mystery but a first-class story; his trick of assuming as a pen-name the name of his own central character brings into the narrative a certain warmth and intimacy without the irritating features which characterize the use of the first person singular. As is usual in his books the characters in this new novel are completely human, types to be found in any community and not, as is so often the case in otherwise good detective stories, puppets moving mechanically as the plot demands. The Wright family may appear to have more than their share of domestic trouble, but many an old and wealthy family could, if forced, produce more skeletons from the cupboard than could these small-town aristocrats.
Mr. Queen tells with his accustomed skill of the odd events leading up to the marriage of Tim Haight and Nora Wright, of the finding of three letters which foreshadow murder, of the two occasions on which Nora Wright, now Nora Haight, nearly perishes of arsenic poisoning, and of the events which occur after murder actually is done. The solution as propounded at the end by detective Queen is very subtle and a nice piece of psychology.
This addition to a long list of successful novels cannot do anything but enhance this author's reputation and gain him new friends. It is good reading from the first page to the last."


Perry Record, Perry N.Y. May 28. 1942

"This is the first mystery produced in several years by the writing team who use the pseudonym Ellery Queen. The publishers in a book jacket blurb, timidly suggest that this may be considered "a minor classic in the field of the American mystery novel," and they might well have been even more extravagant in their praise. In this mystery, Ellery Queen visits the small town of Wrightsville as an incognito author working on a novel. He becomes friendly with many of the leading citizens, he sees a murder plotted, is present when it is committed, but still doesn't know who did it or how. He solves the mystery almost entirely by chance when a minor fact is disclosed to him by one of the characters. This is one of the most puzzling and one of the best."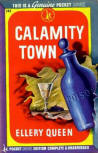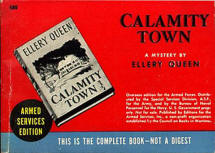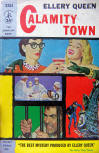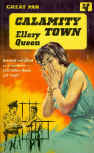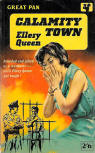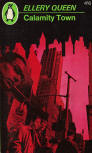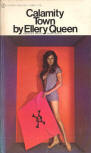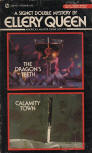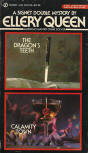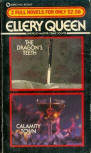 Apparently the story grew out of a casual, one-sentence reference to predated letters which one of the partners ran across in reading a popular biography
(Bainbridge).


The first Wrightsville story is a masterpiece of character and scene. But the key points of the mystery aren't that difficult to figure out. Still, a deservedly recognized classic.
Calamity Town is the best of the Wrightsville books. This tragic novel has a remarkable sense of structure. The whole novel seems to built on railroad tracks, with events leading on with powerful logic. In 1979 Yoshitaro Nomura made a Japanese film based on this EQ-novel and named it The Three Undelivered Letters/Haitatsu Sarenai Santsu no Tegami.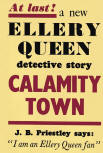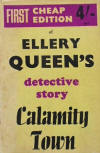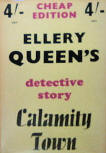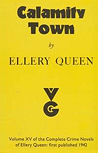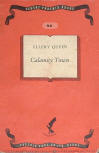 Daily Telegraph, Sydney July 4. 1942 "Mystery of the Week: Virtues of Death by Poison" by Dr. Watson Jun.
"I AM happy to report that Ellery Queen uses poison gas (one of the arsenic compounds) in his latest murder mystery 'Calamity Town.'
True artistry in civilized homicide, as I have frequently urged, can be achieved only by the administration of poison.
Poison eliminates crude violence, struggling, blood, or uproar. There need not be a scream, a groan, or even a dull, sickening thud.
Other weapons, noisy and untidy, encourage brute force rather than cool intellect. . "here can be no real skill in such circumstances. . .
In 'Calamity Town' Ellery Queen handles the complexities of poison ingeniously — as usual — but implausibly — also as usual.
I was impressed by his simple method of ensuring that, when only one glass on a tray of a dozen cocktails has been doctored, the poisoned glass shall reach the intended victim safely and without confusion or mistake.
This has always been a cardinal difficulty in social homicide. Short of slapping a label on the glass, which tends to excite attention, the technique of positive identification is hazardous and unsatisfying.
I have always recommended the poisoning of several glasses on the tray to eliminate any margin of error — a course of action which has "he further merit of presenting and confusing the bewildered cops with several corpses.
I dismiss, with an impatient oath, however, Ellery Queen's preposterous submission that any intending wife-poisoner would write sorrowful letters to relatives, describing the stages of his spouse's mysterious "illnesses," months before he started poisoning her. and would then keep the letters hidden in a book on toxicology until he got down to work seriously.
And I wish, blasphemously, that Ellery Queen would stop playing around with women. Love and detection don't mix."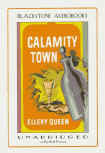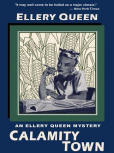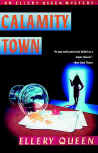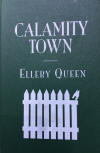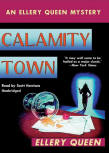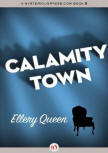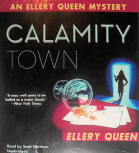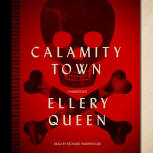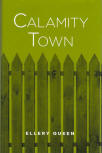 In the theatre...
On January 29. 2013 playwright and West 87th Street Irregular Joe Goodrich brought us a Calamity Town reading! Directed by Dan Winerman. Tony Award nominee John Cariani (Fiddler on the Roof) played detective Ellery Queen in this reading of Calamity Town at the New Dramatists, NYC. The cast also included Farah Alvin, Jeffrey M. Bender, Stephen C. Bradbury, Julia Coffey, Katie Northlich, Jim Stanek, Dan Truman and Jennifer Dorr White.
Subsequently from January 23 to February 21 2016 the play was brought to the Vertigo theatre in Calgary, Canada. The play, a part of the BD&P Mystery Theatre Series, was co-directed by Hall and Pronyshyn.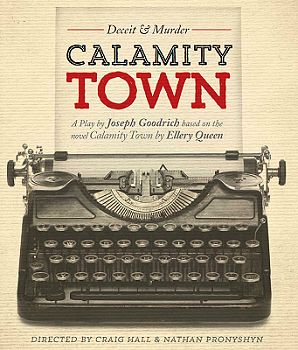 Right: It's 1940, and there is nowhere in the country seemingly more charming than Wrightsville. The Depression has abated, and the New England town is booming once again. There is hope in Wrightsville, but Ellery Queen has come looking for death. The mystery author is hoping for fodder for a novel, and he senses the corruption that lurks beneath the apple-pie façade. A jinxed house, poisonings and murder are all on the menu, as Queen sits back, waiting for crime to come to him.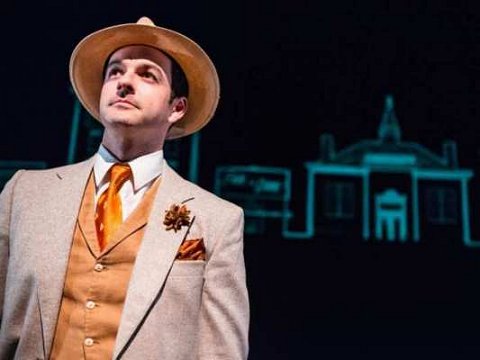 Above: Tyrell Crews plays Ellery Queen (Photograph credits Tim Nguyen, Calgary Herald)
Tyrell Crews played Ellery Queen, Julie Orton played Nora Wright and Lindsey Angell her sister Patty who becomes Queen's love interest and who talks him into solving the crimes in Wrightsville.

"My Calamity Town is Our Town with murder. That's not just a catch phrase", Joseph Goodrich insists pointing out the major comparisons of his and Thornton Wilder's plays. "The are both set in a small New England town in the 1940s. They feature minimalistic settings to tell the story. There are no major sets and the actors bring in props and chairs and little set pieces. Both plays are completely, overtly theatrical. You know you're watching a play at all times but you can still be drawn into these people's lives, hopes, dreams and sorrows. Finally, in both plays, under what looks to be a peaceful, idyllic setting there are hidden sorrows."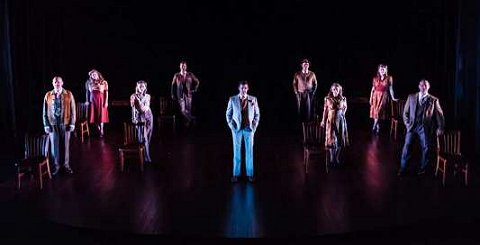 Above: They feature minimalistic settings to tell the story. There are no major sets and the actors bring in props and chairs and little set pieces ... (Photograph credits Tim Nguyen, Calgary Herald).
The play got excellent reviews:

"Vertigo Theatre's Calamity Town is my kind of town. It's a dream destination for every fan of live theatre and especially fans of stage whodunits. I'm giving it five stars" -- Louis B. Hobson, Calgary Herald

"It's a fascinating way to stage a play and it works very well."
-- (Jenna Shummoogum, getdown.ca)

"Contrary to its name, Calamity Town is anything but disastrous. What Vertigo Theatre has here is a real winner. Gifted with a stellar cast, Hall & Pronyshyn's ingenious staging add layers of theatrical excitement to an already brilliant adaptation by Goodrich. A must-see." -- (Rodrigo Flores, Joyful Magpies)


In June 2016 the 5th annual Calgary Theatre Critics' Awards was brought to it's conclusion with the announcement of the winners. These were chosen from 95 nominees in 19 categories and 80 productions and Calamity Town got two awards: "Best technical design" by Jamie Nebitt for his dazzling projections and "Best new script" by Joseph Goodrich.


Above: Calamity Town was published as photo play under the name De Verliefde detective (Detective in love) in the Belgian Weekly Magazine Het Rijk der Vrouw (and it's French speaking counterpart Femmes d'Aujourdhui) in 20 episodes between nrs 14 (Apr 2 1985) and nrs 33 (Aug 13 1985). It was a realization by Hubert Serra with pictures by Jean Lepeltier. A frame from the series.