hat's in the Dark? (1968)
aka

hen Fell the Night
This killer is an expert. He has climbed ten stories in the Manhattan blackout, found and dispatched his victim amidst the men and women trapped in the building. The night drags on. Nerves wear thin and inhibitions disappear. Anyone, including a beautiful secretary with a yen for eye-patched Tim Corrigan, could be the lurking killer. Suddenly, out of the dark, a deadly hand strikes at Corrigan....
In one darkened corner of the office, a strait-laced spinster was giggling like a girl as an office Milquetoast made a grab for her. Across the room, two arch-enemies were drunkenly toasting their newborn friendship. And a sexy little secretary was passing out in the arms of a silver-haired executive.
The power failure was erasing more inhibitions than all of the booze in Manhattan. Even the corpse in the next room wasn't dampening the high spirits.
Suddenly a scream cut through the merriment. Tim Corrigan knew what it meant: a second corpse - and a secret madman who was fast becoming the death of the party.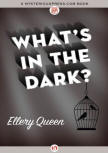 Ghost-written by Richard Deming