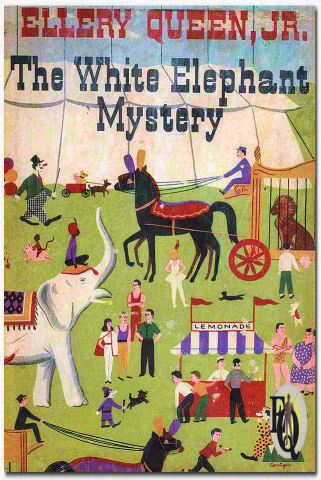 he White Elephant Mystery (1950)
Free passes to the circus seemed pretty exiting to Djuna and his friend Tommy Williams, and thing promised to be even more exiting when They met their old friends, Socker and Cannonball at the entrance gate, but they were only the start of a hair-raising experience.
But the boys soon learned that the newspaper reporter and the state trooper were trying to uncover a pack of "grifters, tricksters who were cheating the circus audiences; and as one strange and frightening event follows another, Djuna and Tommy are caught up in the glittering, upside-down world of the circus, and find themselves in the middle of one of the most weird and dangerous mysteries they have ever encountered!
"Djuna solves another adult-baffling mystery in the third (sic) of a good series… Better plotted and developed than the average juvenile fare." Kirkus Reviews
' "You and the cops were like that, eh, Djuna?" Tony Ciro said, and he held up two fingers side by side.
"Say!" Djuna said in alarm. "Isn't it dangerous to get too close to these elephants? What if -"
Djuna's words were driven out of his mouth with a half-scream as Mr.Grant and Tony Ciro lunged backward. At the same instant something struck Djuna in the chest and an elephant's trunk slashed above his head as he fell.
He heard men shouting and heard the trumpet blast above him as bull hooks beat on the trunk of the gigantic elephant that stood almost above him.
"Roll out of here, kid!" a voice screamed in Djuna's ear and Djuna opened his eyes and scrambled out of danger as fast as he could. Had it only been an accident-? '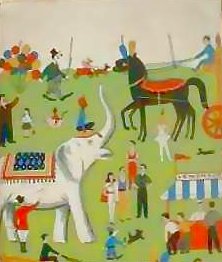 Samuel McCoy (1882-1964) wrote 'The White Elephant Mystery' as well as 5 other Djuna stories. The Princeton University Library still has correspondence, notes, and selected manuscripts of McCoy (Class of 1905), ranging from his writings as an investigative reporter in the early 1900s to his later works as novelist, biographer, and children's author under the name of Ellery Queen, Jr. As investigative journalist McCoy won the Pulitzer Prize for the New York World in 1922 with his investigation of the Florida penal system.