he Spanish Cape Mystery US (1935)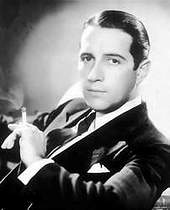 Producer: M.H. Hoffman
Production manager: Rudolph C.Flothow
Director: Lewis D. Collins
Cast Includes:
EQ: Donald Cook (right)
Inspector Queen: Guy Usher
Stella Godfrey: Helen Twelvetrees
Godfrey: Frank Sheridan
Captain Kidd: Richard Cramer
Sheriff: Harry Stubbs
Judge Macklin: Berton Churchill
Source: novel The Spanish Cape Mystery
65 min, 54 minutes for TV, Black & White



(Source Full Movie YouTube)
The only book with a geographical title to make it to the box-office in Hollywood. Ellery Queen, the scholarly amateur detective, was introduced to the screen in this low-budget mystery. Donald Cook plays Ellery Queen in a low-key, poker-faced fashion, which may not be terribly exciting but is actually closer to the original concept than most of the movie Queens. This first Ellery Queen movie finds master sleuth investigating murder at seaside resort and falling in love with primary suspect (Twelvetrees). Hokey denouement mars otherwise enjoyable whodunit. It offered perhaps the most effective location photography of any B-thriller during the 30s.
Republic does Ellery Queen, and it's darn good. Donald Cook plays the detective as indolent observer of seaside murders, bodies piled like cordwood before he takes active interest. Cook requires getting used to, our dominant image of him the priggish brother to James Cagney in Public Enemy. Helen Twelvetrees had landed there on a slope from stardom, is top-billed. There are exteriors as the title implies, shot at Laguna according to then-trades. Cook as Ellery goes on vacation with elderly and irascible judge Berton Churchill, a head-scratcher as to what these two would have in common over a month spent at a rental cottage. Still, it's a novel set-up, and Churchill for-once sympathetic is refreshing. (John McElwee)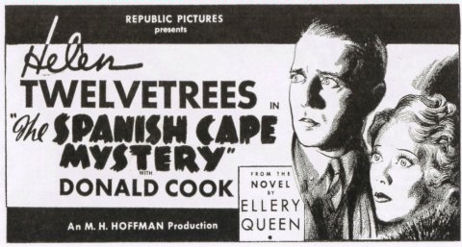 Above: Publicity for The Spanish Cape Mystery (Picture courtesy Greenbriar).
It all begins when Ellery and his friend Judge Macklin, enter a lavish beach house and find pretty Stella Godfrey tied to a chair. More infuriated than frightened, Stella tells Ellery what the audience has already seen: while returning home with her stepfather the previous evening, Stella was waylaid by a mysterious gunman, who then knocked out her stepfather and carried him off into the night.
Apparently Stella's stepdad has been murdered, one of several killings which occur during the film's brief running time. The mystery and motive are solved when Stella permits herself to act as bait for the killer, but the generous Ellery allows local sheriff Moley to take the credit. Although some liberties are taken with the classic plot (the naked victim is accorded a set of swimming trunks; the story is relocated to the West Coast) but the story emerges fairly unscathed. Unfortunately, Cook's flirtatious Ellery is unrelated to any EQ novel, and the blustery Sheriff is the worst kind of comic relief. The rights to the film belonged to its distributor, Republic, who many years ago issued it in a truncated form for local television stations. In so doing, they thought the deleted footage would never be needed again and it was discarded. The opening sequence (the only part of the film in which the Inspector appears) was thought to be irretrievably lost. The above link to the movie proves otherwise.