he Mandarin Mystery US (1937)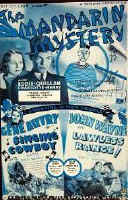 Director: Ralph Staub
Assistant Director: Phil Ford
Screenwriter: Rex Taylor, John F. Larkin, Gertrude Orr, Cortland Fitzsimmons.
Producer: Nat Levine
Cinematographer: Jack A. Marta
Composer (Music Score): Harry Grey
Cast Includes
EQ: Eddie Quillan
Inspector Queen: Wade Boteler
Josephine Temple: Charlotte Henry
Mellish: Franklin Pangborn
Martha Kirk: Rita La Roy
Dr. Alexander Kirk: George Irving
Irene Kirk: Kaye Hughes
Huffy: William Newell
Above right: The Mandarin Mystery - British trade ad poster - The larger size of the British journals (they were approximately 3 times the size of their Hollywood rivals) made the lavish and sophisticated adds ideal material for advance lobby publicity.

Source: novel The Chinese Orange Mystery
63 min, 54 min TV-version Black & White
(Source Full Movie YouTube)
Victor Zobel had The Chinese Orange Mystery based on the Ellery Queen novel, in production about Oct.15. Herman Ruby was also mentioned as one of the screenplay writers for Republic but didn't make the credits. It hit the theaters December 23. 1936.
In retrospect this movie was even worse than the first one. It seemed obviously practicable to treat it as a comedy of the absurd. Famous sleuth Ellery Queen solves two murders - both committed in impenetrably locked rooms and recovers stolen stamp worth $50,000. The primary suspect is Jo Temple, the original possessor of the stamp. Falling in love with Jo, Ellery sets about to retrieve the stolen goods and solve the murders. There was some novelty value in the fact that an actor whose initials were E.Q. was cast as intellectual sleuth but it seemed a misstep. Eddie Quillan, who though a talented and appealing performer was woefully miscast as Queen. Perhaps realizing that Quillan could never be taken seriously in the leading role, Republic opted to play The Mandarin Mystery for laughs -- another big mistake. Hopelessly muddled script and fatal miscasting of diminutive Quillan as Ellery Queen sabotages this low-budget mystery. Although the film contains the bare bones of the book, it was played for laughs, and the childish acting and ineffective direction brought the first series of EQ films to a halt after just two entries.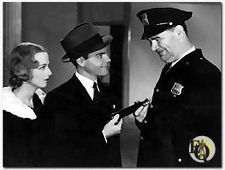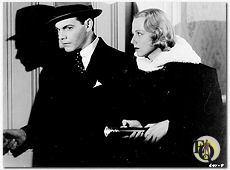 Above left and right: Charlotte Henry and Eddie Quillan in The Mandarin Mystery.