he Crime Nobody Saw US (1937)
Director: Charles Barton
Associate producer: Robert North
Cinematographer: Harry A. Fischbeck
Editor: James Smith


Screenwriter: Bertram Millhauser
Cameraman, Harry Fishbeck.
Cast includes:
Dr. Brooks: Colin Tapley
John Atherton: Ferdinand Gottschalk
Robert Mallory: Howard C. Hickman
Suzanne Duval: Vivienne Osborne
William Underhill: Jed Prouty
Nick Milburn: Lew Ayres
Burke: Robert E. O'Connor
Kay Mallory: Ruth Coleman
Horace Dryden: Benny Baker
"Babe" Lawton: Eugene Pallette
Ambrosia (the maid): Hattie McDaniel
Robert Emmett O'Connor.
Source: stage play Danger, Men Working
60 min, Black & White.
(Source Clip YouTube)
In this comical murder mystery, three playwrights use $500 in advance money to get an apartment in which to write a mystery for John Atherton. Several months later they haven't been able to produce a single page. A drunken neighbor staggers in and interrupts their brainstorming before passing out on the floor. Some $15,000 fall out of his pocket and after searching the content of his pockets they find a black book. This book contains names of well-known men and next to the names a sum of money is listed. The three playwrights then pretend that he is really dead and begin trying to figure out how it might have happened. They make up this story where the man is a blackmailer and they end up posing as policemen and doctor to call on the men in the book. Unfortunately, somewhere along the way, the drunk ends up dead for real and now the writers have some real work to do.

EQ collaborated on a play with Lowell Brentano; when, in February 1936 it died a quick death, it became The Crime Nobody Saw (referring to the three-act stage play, perhaps?). With a script by Bertram Millhauser (who worked on the Basil

Rathbone Sherlock Holmes series) this comedy mystery sounds like it could be an interesting little film. An adaptation appeared in Boys' Cinema [# 929, October 2, 1937].
WEAK AND RAMBLING MYSTERY YARN FAILS TO HOLD INTEREST OR DEVELOP NECESSARY SUSPENSE.

The plot of this mystery meller takes too long to get going, and when it does it is so amateurishly contrived and unconvincing that it simply does not click. Three authors—Lew Ayres, Eugene Pallette and Benny Baker—have accepted several hundred dollars advance from a producer to write a play. When he calls for the script, they haven't a line written. He gives them till the evening or else he will sue them. So they get busy, and after spoiling reams of paper, still have no story.
In walks a drunk, a neighbor of Baker's whose apartment they are using. They put the drunk to sleep on a couch, and find a notebook containing names and phone numbers with remarks that indicate the drunk is a blackmailer. Here is their plot, dumped right in their lap. They call up several people, with Ayres posing as a police inspector, and summon them to come at once as the blackmailer is dying, they say. After several of the strangers are assembled, the drunk actually is murdered, and then the authors have a real murder on their hands. The solving of it before the arrival of the police constitutes their story they have been after. It is a very poor variation on the "Seven Keys to Baldpate" idea. The best that can be said for it is that Lew Ayres, Eugene Pallette, Ruth Coleman, Colin Tapley and Benny Baker work conscientiously and make the weak story seem better than it really is. In the hands of less competent actors the film would have been pretty awful.
Direction, Handicapped by Material. Photography, Okay.
(The Film Daily, Thursday, April 8, 1937)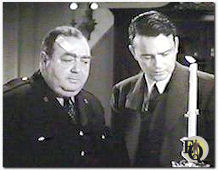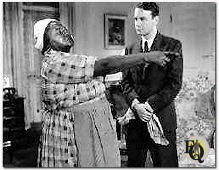 Above left: Ruth Coleman and Lew Ayres in The Crime Nobody Saw.
Above right: Hattie McDaniel and Lew Ayres.