llery Queen, Master Detective US (1940)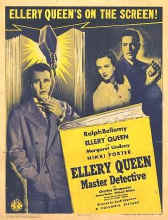 Director: Kurt Neumann
Cast Includes
EQ: Ralph Bellamy
Inspector Queen: Charley Grapewin
Nikki Porter: Margaret Lindsay
Sgt. Velie: James Burke
Dr James Rogers: Michael Whalen
John Braun: Fred Niblo Sr
Barbara Braun: Marsha Hunt
Doc Prouty: Charles Lane
Douglas Fowley, Katherine De Mille.
Source: novel "The Door Between"
Working title: "John Braun's Body"
66 min, Black & White
(Source
Full Media Retrovision Media
)
For reasons that defy logic, the studio elected to transform the brilliant, analytical Queen into a hopeless bumbler, who seems incapable of tying his own shoes, much less solving a murder. Set at a posh health resort, the story gets under way when wealthy physical culturalist John Braun (played by former Ben-Hur director Fred Niblo) is killed after threatening to cut all his heirs out of his will. Investigating the killing is crime novelist Ellery Queen, his police-inspector father, and another mystery writer, Nikki Porter. In short order, the body disappears, along with the will, a set of X-rays, and an ambulance! Somehow, Ellery Queen manages to put the pieces together and solve the crime.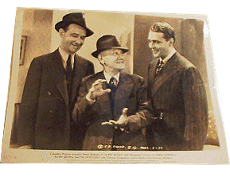 To kick off a new series of B-movie adventures with EQ, scriptwriter Eric Taylor took the novel and radically changed its setting and took every opportunity to stress comic elements to provide the film with a highly humorous tone. He even took a major surprise twist of the book and revealed it early on in the film. The amorous relationship between Ellery and Nikki had more dignity than in the previous contributions. The "master" sleuth is turned into a buffoon in this initial series entry, centering on the murder of a millionaire at a health spa. Lindsay has some good moments as Nikki Porter, but there's too much talk and too little intrigue. Light comedy was the watchword, and the "funny" sequences of the corpse that kept being stolen or removed overshadowed the plot. Ellery is so smitten with Nikki that he makes a daring proposal to her at the fade out: "Will you be my...secretary?"! -even though it's clear she's got more brains in her left toe than he has in his whole carcass.

Ralph Bellamy signed for four Ellery Queen pictures at $ 25 000 a picture. Larry Darmour was the producer but wasn't around very much. Rudolph Flothow was always on the set. 'Director' James Hogan only had to get the picture finished. Bellamy did go to New York to meet with Lee and Dannay. They took him around to different squad rooms so he would get the feel for what went on. Bellamy described the Queen-movies as 'quickies' shot in only ten days. A novelization (by non-EQ hands) was published (later re-issued as "TheVanishing Corpse")