llery Queen, Master Detective US (1940)

Producer: Larry Darmour
Director: Kurt Neumann
Screenplay: Eric Taylor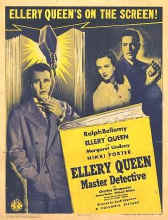 Photography: James Brown Jr.
Editor: Dwight Caldwell
Cast Includes
EQ: Ralph Bellamy
Inspector Queen: Charley Grapewin
Nikki Porter: Margaret Lindsay
Sgt. Velie: James Burke
Dr James Rogers: Michael Whalen
John Braun: Fred Niblo Sr
Barbara Braun: Marsha Hunt
Doc Prouty: Charles Lane
Lydia Braun: Ann Shoemaker
Cornelia: Marion Martin
Rocky Taylor: Douglas Fowley
Zachary: Morgan Wallace
Amos: Byron Foulger
Valerie Norris: Katherine De Mille
Source: novel The Door Between
Working title: "John Braun's Body", "Ellery Queen, Number One"
69 min, Black & White
Nat'l release: November 26-28. 1940
Catchlines:
"Famous super-sleuth comes to the
s
creen"
"Fiction's most liked detective comes to the screen"
Showmen's Trade Review November 30. 1940

"AUDIENCE SLANT: (FAMILY) WELL-TIMED MIXTURE OF LAUGHS AND CHILLS SHOULD MOVE THIS SERIES AT ONCE INTO POPULAR FAVOR.
BOX OFFICE SLANT: GOOD CAST PLUS EX- PLOITATION OF

ELLERY QUEEN

FOLLOWING WILL BOOST IT OVER AVERAGE.



Plot: When a conference of physicians con- firms the diagnosis of his staff physician, Michael Whalen, that Fred Niblo, health cultist, has an incurable disease, Ann Shoemaker, Niblo's wife, goes to Charles Grapewin, police inspector, for aid in finding their daughter, Marsha Hunt. She had left home when re- fused permission to wed Whalen. Ralph Bellamy (Ellery Queen), Grapewin's son, traces her to the apartment of Margaret Lindsay, mystery story writer. He mistakes Margaret for Marsha, and the former accompanies him so as to let Marsha escape. She finds Niblo dead with a severed jugular vein in a closed room. Suspects include all Niblo's department heads, cut off from any part of his business by a new will, which is missing Bellamy learns his mistake, tries to help Margaret by taking her to his apartment to pose as the new cook. Someone substitutes a statue for the body in the morgue. Next morning the body is recovered, but the ambulance is stolen and Margaret carried along as captive. Bellamy gives chase, saves the girl in the parked ambulance and they chase the fugitive, who takes Bellamy's car. Identity of the killer is established when he crashes through a fence. Bellamy arranges for Margaret to be his secretary.

Comment: The opening of this first Ellery Queen picture is a little slow due to establishing the four characters who will carry on — Bellamy as Ellery Queen, Margaret Lindsay as his secretary, Charles Grapewin as his father, the inspector and James Burke as the practical detective who disapproves of Ellery Queen's theories. This past, it steps into a combination of action and laughs which will get good audience reaction in any size house, and build genuine goodwill for the later picture of the series. Capitalization on the great following which this program has earned on the air, and in published stories can start the Queen pictures off to a profitable start, and Larry Darmour's good production and Neumann's well-timed direction will bring them back for more. Whether used to effectively balance a bill or as a lead, this one will give a good account of itself. Acting honors among the lead quartet are well distributed, with a slight edge going to Charles Grapewin's presentation of the police inspector. Tie up with the radio program. Use the regular stunts employed for mysteries. (69 min)"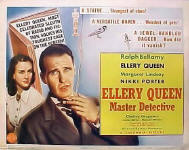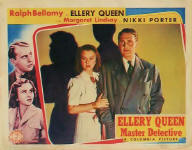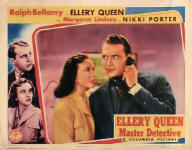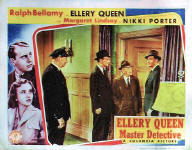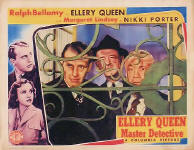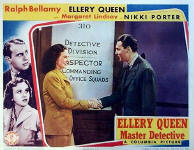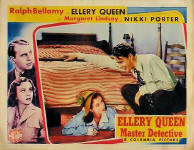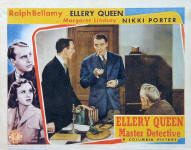 Above: full set of eight lobby cards
The first of four intended movies in the Ellery Queen series to be made by Larry Darmour for Columbia release, went into work Sept 16. 1940 under the title "John Braun's Body" and premiered on Nov 30. 1940. (Note: Dates vary from 26-30)
For reasons that defy logic, the studio elected to transform the brilliant, analytical Queen into a hopeless bumbler, who seems incapable of tying his own shoes, much less solving a murder. Set at a posh health resort, the story gets under way when wealthy physical culturalist John Braun (played by former Ben-Hur director Fred Niblo) is killed after threatening to cut all his heirs out of his will. Investigating the killing is crime novelist Ellery Queen, his police-inspector father, and another mystery writer, Nikki Porter. In short order, the body disappears, along with the will, a set of X-rays, and an ambulance! Somehow, Ellery Queen manages to put the pieces together and solve the crime.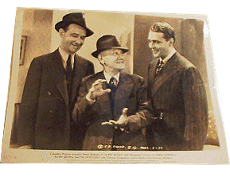 To kick off a new series of B-movie adventures with EQ, scriptwriter Eric Taylor took the novel and radically changed its setting and took every opportunity to stress comic elements to provide the film with a highly humorous tone. He even took a major surprise twist of the book and revealed it early on in the film. The amorous relationship between Ellery and Nikki had more dignity than in the previous contributions. The "master" sleuth is turned into a buffoon in this initial series entry, centering on the murder of a millionaire at a health spa. Lindsay has some good moments as Nikki Porter, but there's too much talk and too little intrigue. Light comedy was the watchword, and the "funny" sequences of the corpse that kept being stolen or removed overshadowed the plot. Ellery is so smitten with Nikki that he makes a daring proposal to her at the fade out: "Will you be my...secretary?"! -even though it's clear she's got more brains in her left toe than he has in his whole carcass.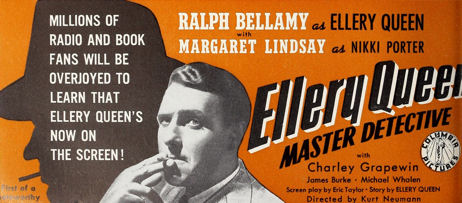 Ralph Bellamy signed for four Ellery Queen pictures at $ 25 000 a picture. Larry Darmour was the producer but wasn't around very much. Rudolph Flothow was always on the set. "Directors" Kurt Neumann/James Hogan only had to get the picture finished. Bellamy did go to New York to meet with Lee and Dannay. They took him around to different squad rooms so he would get the feel for what went on. Bellamy described the Queen-movies as "quickies" shot in only ten days. A novelization (by non-EQ hands) was published (later re-issued as The Vanishing Corpse).
Their brief film experience was less happy, although they enjoyed Ralph Bellamy's portrayal of Ellery in this early series. "But the place was filled with crazy people." Dannay complained. "I told Manny — even If I had to dig ditches for the rest of my life, I won't be coming back." (Dannay, 1979)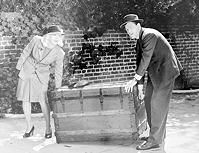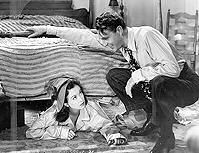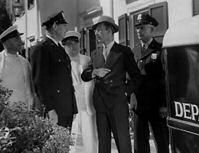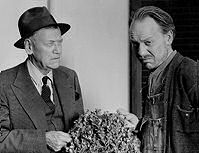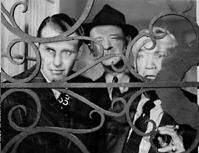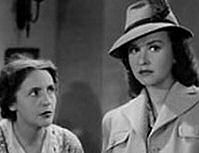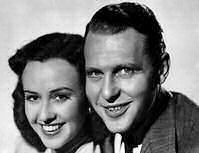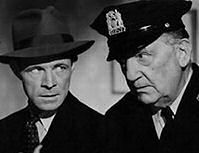 Harrisons's Reports December 21, 1940


"This picture is not a particularly auspicious start for the new "Ellery Queen" series. It is just another program murder-mystery melodrama, developed according to formula, with few surprises. Nor is it outstanding either in production values or in the performances. But it stands a better chance at the box-office than the ordinary picture of this type, first, because of the popularity of the "Ellery Queen" novels, and, secondly, because of the radio program revolving around the character of "Ellery Queen." There is a hint of a romance" ...


"The Movies...the 40s"

"Averagely absorbing murder mystery introducing Ralph Bellamy as Ellery Queen of radio and novel fame; the sleuth hides a girl suspect whom he knows is innocent and then seeks out the real killer. (Adults & Young People)

Ellery Queen's first case on celluloid is an unexceptional but competent affair which curs a nice initial for the series. The film has its draggy moments, but taken as a whole the material should satisfy.
Vieing with his father, Police Inspector Queen, Ellery hides a young woman, Nikki Porter, in the apartment shared with the Inspector as the police hunt the girl for murder of a physical culturist. Ellery - and the audience - know that Nikki is innocent, even though her fingerprints were found at the scene of the crime.
Disappearance of the murdered man's will, and later the disappearance of his corpse, contribute to a tough knot of complications which Ellery finally unties with the help of Nikki.

The picture has a helpful spooky angle, as well as a quota of comedy relief. Ellery Queen is credibly portrayed by Ralph Bellamy, and Margaret Lindsay makes a refreshing foil and suspect as Nikki Porter. A solid characterization is achieved by Charley Grapewin as Inspector Queen.
The supporters haven't much to do but Michael Whalen, Marsha Hunt and Fred Niblo especially concentrate on performances of standard caliber."

(Part 1: Source Film Daily Motion - LiliPowers)

(Part 2: Source Film Daily Motion - LiliPowers)

Other articles on this movie
(1) IMDb