llery Queen's Penthouse Mystery US (1941)

Producer: Larry Darmour
Director: James Hogan
Assistant director: Carl Hiecke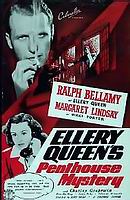 Screenplay: Eric Taylor
Photography: James Brown Jr.
Editor: Dwight Caldwell
Cast Includes
EQ: Ralph Bellamy
Inspector Queen: Charley Grapewin
Nikki Porter: Margaret Lindsay
Sgt. Velie: James Burke
Lois Ling: Anna May Wong
Count Brett: Eduardo Ciannelli
Sanders: Frank Albertson
Doc Prouty: Charles Lane
Walsh: Russell Hicks
Sheila Cobb: Ann Doran
Gordon Cobb: Noel Madison
McGrath: Tom(my) Dugan
Roy: Mantan Moreland
Jim Ritter: Theodore Von Eltz
Working title: The Three Scratches (radio play 12-17-39 episode 27)
69 min, Black & White
Released: March 21. 1941
Harrison's Reports March 15. 1941

"Just a moderately entertaining program murder-mystery melodrama. The story is far-fetched and the action is not particularly exciting. Yet it may appeal to the regular followers of stories of this type, who like to be kept guessing, for the solution is not given until the end. The method employed in divulging the motive for the crime and the murderer's identity is somewhat weak. The romance is routine:—

Noel Madison is selected by Chinese officials as their agent to sell a fortune in jewels in America, the money to be turned over to their agent, who in turn would buy and ship foodstuffs to them. The day Madison arrives in New York, he is murdered and his body is hidden in a trunk. His daughter (Ann Doran), suspecting that something was wrong, communicates with an old friend (Margaret Lindsay), who worked for Ralph Bellamy, an author who did detective work as a hobby. Bellamy finds the body and immediately calls for his father, the police inspector (Charley Grapewin). Miss Lindsay is eager to continue with the investigation, but Bellamy wanted her to pay attention to her duties as his secretary; they quarrel and she resigns. She continues on the case herself. She goes to the victim's apartment for clues; there she gets into a fight with a mysterious Chinese woman (Anna May Wong). The police and Bellamy finally arrive; by that time they find another corpse. Bellamy solves the case by proving that the second victim had killed Madison, and that he in turn had been killed by Frank Albertson, a newspaper reporter, who had tried to find the jewels. It develops that the jewels were at the customs office, waiting for the proper person to claim them. Bellamy finds the official receipt, which he turns over to Miss Wong, the American representative for China. Miss Lindsay and Bellamy patch up their quarrel.

Ellery Queen wrote the story, and Eric Taylor, the screen play; James Hogan directed it, and Larry Darmour produced it. In the cast are James Burke, Eduardo Ciannelli, Charles Lane, Russell Hicks, and Mantan Moreland. Not for children. Class B."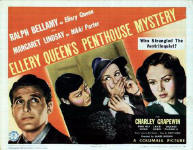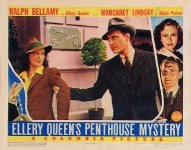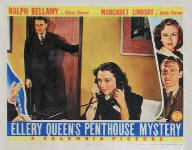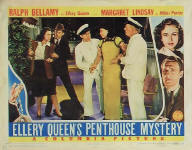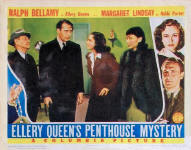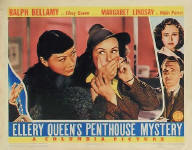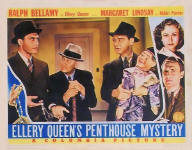 Above: full set of eight lobby cards
Sneak-previews of the movie received such enthusiastic audience reaction, that plans were made for the immediate filming of the second picture of the series. So producer Larry Darmour almost immediately set "The Three Scratches" as the second in his "Ellery Queen" series for Columbia. He borrowed James Hogan from Paramount to direct. Shooting started as early the first week of January 1941.
Like the first entry this film depicts its amateur-criminologist hero as an oafish ignoramus. Eric Taylor went even farther in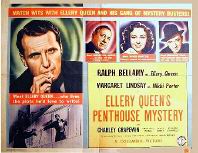 stressing comic elements... This time around, Chinese ventriloquist Gordon Cobb who was smuggling jewels, is murdered by a gang of jewel thieves. Baffled by the contradictory clues, Inspector Queen asks his son Ellery to help out. The suspect list includes Cobb's ex-partner Walsh, phony nobleman Count Brett, sleight-of-hand artist Jim Ritter, Chinese patriot Lois Ling and reporter-in-disguise Sanders. Despite his inability to make a move without breaking something or taking a pratfall, Ellery Queen solves the case.
Anna May Wong is good as always, but wasted here. Slow going.

The influence of MGM's successful "Thin Man" series was obvious, as Ellery and Nikki engage in more comic squabbling than in sleuthing. The plot, about two murders committed for possession of a valuable collection of Chinese jewels to be sold in the US to help the Chinese war effort, was said to be based on a story by EQ, but if so, it was probably one of their radio scripts. The plot was reworked some months hence to form the basis for a Lone Wolf feature. An interesting cast, but that's about it. Like all of the remaining Columbia entries, it was written by Eric Taylor based on based on the Ellery Queen radio plot "

The Three (Four) Scratches"

(12-17-39)

, and directed by James Hogan. A novelization was published, but the cousins did not write it.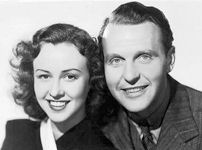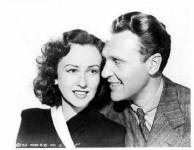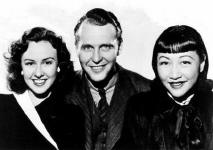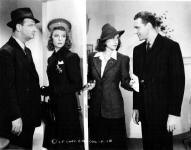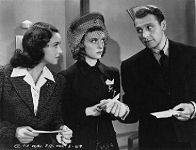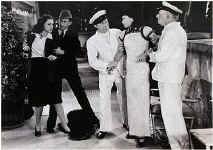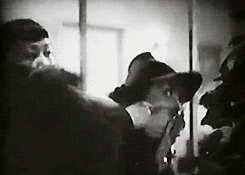 Motion Picture Herald March 1. 1941

" 'Ellery Queen's Penthouse Mystery,' second in the series of crime melodramas about and by Ellery Queen, which Larry Darmour is producing for Columbia release, concerns the attempts of criminals to hijack jewels sent from China to the United States to raise money for starving refugees. Slow in starting and lagging through much of its running time, the piece has little action.
... The wide following of the ' Ellery Queen' radio program and novels will be an add source of boxoffice patrons to draw upon for this."


The New York Post "New 'Ellery Queen' Murder Movie at Rialto" by Irene Thirer - March 7. 1941

"Quick change at the Rialto. Presto a new whodunit arrived yesterday 'Ellery Queen's Penthouse Mystery,' second in this Columbia series, with Ralph Bellamy in the title role of a detective yarn writer who helps his copper dad solve crimes for the police department.
Inspector Queen is personified, clean-shaven, by the same Charley Grapewin who gives us the bewhiskered Jeeter Lester in the Roxy's current 'Tobacco Road.'
The new 'Ellery Queen' presents a fairly suspenseful assortment of crime and clues-shifting its locale from China to 'Frisco to New York, and centering its action, as the title implies, in a penthouse suite where a certain Cordon Cobb (Noel Madison) is ensconced on his arrival from China (on a secret relief enterprise involving the transportation of millions of dollars' worth of jewels) -only to be found dead in his own trunk two days after registering at the hotel.

Mixed up in the proceedings — besides Ellery and his secretary Nikki, Margaret Lindsay — who comes upon the case when the victim's daughter reports her father's disappearance are any number of suspects. Cobb, when he wasn't on a holiday, had been a world-famed ventriloquist. His act for years had been booked by a fellow named Walsh, ostensibly a pal, actually a villain who knows of his client's mission and aims to get his hands on the priceless gems before they can be purchased in this country for the benefit of the needy Chinese. Then there's a Count Brett (Eduardo Ciannelli), sinister and suave—teamed up with Walsh. Also, a third rascal actually the dirtiest - one Jim Ritter, card sharp and magician, who doesn't come through the picture alive because a newspaperman (Frankie Albertson), posing as a bell boy, kills him in self-defense. Anyway he'd have gone to the chair. Are we giving the plot away?

Mr. Bellamy makes the younger Mr. Queen an agreeable fellow, and Mr. Grapewin does nice and quizzically with the Inspector. Margaret Lindsay is a trim and attractive Nikki. Anna May Wong contributes a quite charming bit as an American-Chinese girl, as good as good can be - not in her usual siren's role at all."


(Source YouTube - Scott Lord)

Other articles on this movie
(1) IMDb