llery Queen and the Perfect Crime US (1941)
Director: James Hogan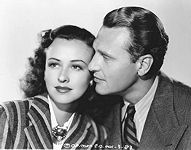 Cast Includes
EQ: Ralph Bellamy
Inspector Queen: Charley Grapewin
Nikki Porter: Margaret Lindsay
Sgt. Velie: James Burke
Carlotta Emerson: Spring Byington
Ray Jardin: H.B. Warner
John Mathews: Douglas Dumbrille
Anthony Rhodes: Sydney Blackmer
Doc Prouty: Charles Lane
John Beal, Linda Hayes, Sidney Blackmer, Walter Kingsford.
Source: novel The Devil to Pay
68 min, Black & White
Ralph Bellamy makes the third of four appearances as "master detective"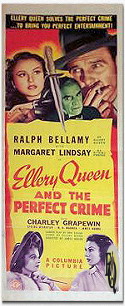 Ellery Queen. The principal villain is crooked stockbroker John Mathews, whose Wall Street manipulations render Ray Jarden penniless. Mathews' chicanery seems particularly cold-blooded, inasmuch as his daughter Marian is engaged to Jarden's son Walter. When the latter disappears, Mathews asks Ellery Queen to locate the young man. Shortly thereafter, one of the principal characters is murdered, forcing Ellery to get his deductive skills into high gear-no small task, since he's depicted in this film as a complete dunderhead.
This is probably the best of the Columbia Queens, since it played fairly straight with the storyline of the novel, even while totally changing its setting and characters. Still too much Thin Manning, however, to satisfy mystery fans. As one review pointed out, this obviously wasn't the "perfect crime" since Ellery solved it. Nothing perfect at all in this entry about the murder of a shady stockbroker. The script was
novelized and published
(but not written by EQ).