he Four of Hearts (1938)
It was a script that could only have come from Hollywood: the spectacular wedding of two superstars after a scandal-filled courtship...a wild trip by private plane to an exclusive hideaway... a deadly double overdose of drugs... But these corpses weren't play-acting. And once again Ellery Queen was cast in the role of master detective, as he found nothing was quite what it seemed in the never-never land of moviedom - except sudden, violent death
Here is a grand mystery with an extremely ingenious, intricate, and watertight plot. The setting is Hollywood, and something is happening all the time. It's fantastic and uproarious, and full of Hollywood patter at its lushest. It's expertly solved, with an effective extra turnover at the end resulting in a surprising and thrillful finish.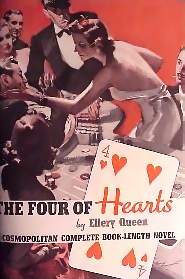 By contrast, this second Hollywood book, shows more of Queen's plotting artistry. It is also the only one of his Hollywood books to have a setting within the film industry itself. Agatha Christie and S.S. Van Dine are mentioned by name in Chapter 1 of The Four of Hearts. Ellery Queen makes clear who his closest literary relatives are by referring to the imaginary mystery writer Ellery Van Christie.
Above right: Page in Cosmopolitan October 1938: first publication of this story. Click for cover.
The Four of Hearts Translations:
Danish: Hjerter fire
Dutch/Flemish: Hartenvier
Finnish: Kuolemanlento Hollywoodissa
French: Le quatre de coeur
German: Das goldene Hufeisen (aka Herz 4 )
(aka Trauung in der Luft)
Greek: Το τέσσερα κούπα
Hebrew: משחק קלפים
Italian: Quattro di cuori
Japanese: ハートの4 (haatonoyon)
Korean: 트럼프 살인 사건
Norwegian: Hjerter fire
Polish: Srdcová čtyřka
Portugese: Misterio em Hollywood
Russian: Сердца четырёх
aka Смерть в Голливуде
Spanish: El Cuatro de Corazon
(aka El Cuatro de Corazones)
Swedish: Hjärter fyra
Turkish: Kupa dörtlüsü