he Four of Hearts (1938)
It was a script that could only have come from Hollywood: the spectacular wedding of two superstars after a scandal-filled courtship...a wild trip by private plane to an exclusive hideaway... a deadly double overdose of drugs... But these corpses weren't play-acting. And once again Ellery Queen was cast in the role of master detective, as he found nothing was quite what it seemed in the never-never land of moviedom - except sudden, violent death
Here is a grand mystery with an extremely ingenious, intricate, and watertight plot. The setting is Hollywood, and something is happening all the time. It's fantastic and uproarious, and full of Hollywood patter at its lushest. It's expertly solved, with an effective extra turnover at the end resulting in a surprising and thrillful finish.
"The Four of Hearts is a neatly turned mystery story if there ever was one. So well-fed are its characters, so flip is its dialogue, it almost justifies the Stokes Company's brag of "destined to be ranked as a classic." Classic or no, the Messrs. Stokes have an uncommonly good book on their hands.
Never having read an Ellery Queen novel before, we don't know whether Mr. Queen is in the habit of injecting himself into the story as omniscient sleuth or not. But the author's shrinking violet trick was no mistake. Mr. Queen, Detective, is a person well worth meeting. He certainly get around, and the presence of his humorous acuteness in almost every scene is no small factor in keying the tale up to its 4.500 R.P.M. pace.
And when Mr. Queen, Author, brings a character to life, he of she stays alive - that is, until some one happens to dope her Martini or his Sidecard with a little morphine. We mean Jack Royle and Blythe Stuart, feuding first families of the screen, who were murdered. And Bonnie Stuart and Ty Royle (Jack's son and Blythe's daughter), Paula Paris, Lew Bascom, Jacques Butcher and company - who weren't.
We don't know why Ellery Queen called his book The Four of Hearts, and not "The Eight of Spades" or "Two of Clubs" or "Jack of Spades" - which are all more important in the story. But he could have named it after one of Slim 'n' Slam's records and it would have been just as good. It's in the cards." ("As you like it" by Walter Sidney in The Brooklyn Eagle, October 16, 1938)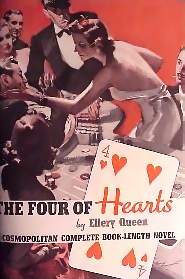 "Ellery Queen's latest novel is his weakest. His previous one Devil to Pay wasn't up to his usual standard but now he has sunk below par. It all happened we believe when he moved to Hollywood to write for a film company. Evidently the influence of Hollywood wasn't wholesome. And as Ellery Queen states: "It is a well-known fact that any one exposed to Hollywood longer than six weeks goes suddenly and incurably mad " We agree: Go East Mr. Queen go East!"
(The Charlotte Observer - October 9, 1938)

Above right: Page in Cosmopolitan October 1938: first publication of this story. Click for cover.

By contrast, this second Hollywood book, shows more of Queen's plotting artistry. It is also the only one of his Hollywood books to have a setting within the film industry itself. Agatha Christie and S.S. Van Dine are mentioned by name in Chapter 1 of The Four of Hearts. Ellery Queen makes clear who his closest literary relatives are by referring to the imaginary mystery writer Ellery Van Christie.


The Four of Hearts Translations:
Czech: Srdcová čtyřka
Danish: Hjerter fire
Dutch/Flemish: Hartenvier
Finnish: Kuolemanlento Hollywoodissa
French: Le quatre de coeur
German: Das goldene Hufeisen (aka Herz 4 )
(aka Trauung in der Luft)
Greek: Το τέσσερα κούπα
Hebrew: משחק קלפים
Italian: Quattro di cuori
Japanese: ハートの4 (haatonoyon)
Korean: 트럼프 살인 사건
Norwegian: Hjerter fire
Portugese: Misterio em Hollywood
Russian: Сердца четырёх
aka Смерть в Голливуде
Spanish: El Cuatro de Corazon
(aka El Cuatro de Corazones)
Swedish: Hjärter fyra
Turkish: Kupa dörtlüsü