For once Ellery Queen had a simple case. A few days of discreet snooping, some choice advice, and the inimitable sleuth would blithely restore domestic harmony to the millionaire couple Dirk and Martha Lawrence. And then came the scarlet letters. And finally the cryptic alphabet clue...scrawled in a murdered man's blood. A simple case? Ellery had been a fool to think so. And unless he did some super-fast sleuthing, he'd have nothing to show but a very scarlet face... and a killer on the loose.
"Lovers' quarrel?" said a voice. Martha Lawrence quivered.
Ellery turned. Dirk Lawrence stood behind the bench. The reek of whisky surrounded him. "My little Martha," Dirk said dreamily. "My little nymph."
"Martha," Ellery said, "you'd better go."
"Yes Martha, my love, you do that," said Dirk. "On account of I'm doing to teach this dirty little feist to keep his paws off another man's wife...."
Dirk backhanded Martha's face across the bench and she disappeared. Involuntarily, Ellery stooped to look for her. He never reached his knees. The blow nearly tore his head off and he blacked out.
"The old hand, in top form, this is smart stuff."
--
Kirkus Reviews



"
Although it contains much varied and amusing detection, this book is disappointing Ellery seems less than his customary alert self and the amateur sleuth is not accorded the usual fair treatment.
"




--

J.J.Q. in

The Herald
, Melbourne


"

There's nothing like a good murder to cheer you up, and no one more adept at leading you up the red herring trail than Ellery Queen.
"


--

The Argus, Melbourne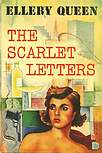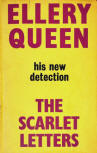 Above left to right:
dust and hardcover for the Little, Brown & co. edition BCE;
dust covers for Gollancz editions (1953 & 1975)
(Click on the covers to see the differences) *
The Herald - "Crime marches on" by

A. R. McElwain

,
October 17. 1953

"MURDER FOR PROFIT?
FIGURING out ways to commit murder for profit and live to have your profit, too, has occupied many conscientious murderers in the past.
Those brash enough to put their techniques to the test have invariably finished on the gallows, reluctant victims of their own complexities and vanity.
The miscreant, in our learned colleague Ellery Queen's notable new offering joins this sorrowful company, taking with him the distinction of having dreamed up, for greed's sake, one of the most involved murder schemes imaginable.
Before the law trips him the killer is immersed in a fantastically conceived 'love triangle' plot: also a scheme, involving the use of a code printed, rather fetchingly, in scarlet letters.
It all adds up to the kind of case which fascinates our Mr Queen. His approach this time is as unconventional and lively as before. And, let me add approvingly, he's helped once more by that bewitching wench, Nikki Porter, a girl who has loved him devotedly these many years and got mighty little encouragement in return. There is no place for so called romance in detection.
And admittedly, the sad decline of many a good detective has started on his wedding day. But, by crikey, Queen, were I in your place..."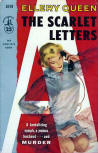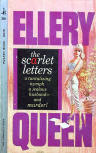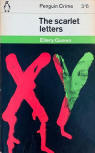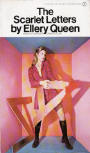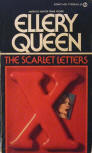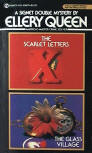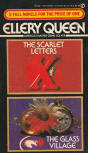 Really short – more a novella than a novel. An odd EQ, where the murder occurs 3/4 way into the story, and most of the book is a suspense tale, though admittedly with some tricky deception. A lot of Nikki Porter, a character I liked and who bears, I feel, some resemblance to Inspector Thumm's daughter, Patience as found in the Barnaby Ross novels.

As Cat of Many Tails this also is a New York Queen novel. Edward D. Hoch said about this novel ''... he wrote, 'The Scarlet Letters,' about a blackmail plot, with a guide to New York marked up on 26 locations, A to Z, all with clues. The Hayden Planetarium, Yankee Stadium, right through the alphabet. It really uses New York." (New York Times, "They love New York" by Dilys Winn, Oct 31. 1999)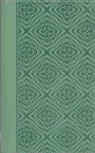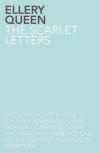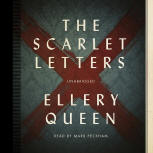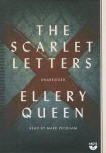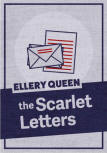 The Daily Telegraph, Sydney - "Whodunit?" by

Zelie McLeod

,
October 24. 1953

"IN 'The Scarlet Letters' Ellery Queen has concocted an ingenious variation on the old but evergreen theme of the eternal triangle.
I confess with pleasure that, until the last few pages, when the author reveals the nub of the story, I was entirely deceived about the activities of the three main characters ... the husband, the wife, and her lover.
Even the death scene, which Queen does exceedingly well, did not raise a doubt in my mind.
Queen is a polished writer. His observation and understanding of human behavior are acute, his characterization smooth.
There is an excellent scene in which, in his role of amateur private eye, he talks with two women, each of whom admit having had an affair with the same man ... a roaring bounder.
Each woman tells Queen why she will not help to destroy this man. It is a perfectly valid feminine viewpoint, which men may find interesting, and certainly encouraging."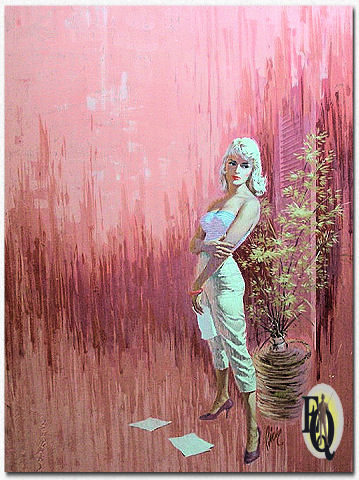 Above: Richard Powers artwork for the cover of the 1961 Pocket Book edition of The Scarlet Letters by Ellery Queen.
The Scarlet Letters Translations:
Brazilian: As Cartas Vermelhas
Czech: Psáno krví
Danish: De blodrøde bogstaver
Dutch/Flemish: Met rode letters
French: Lettres sans réponse
German: Zwei blutige Buchstaben
Greek: Τα κόκκινα γράμματα
Italian: Le lettere scarlatte
Japanese: 緋文字 (himoji)
Mexican: Las letras escarlata
Russian: АЛЫЕ БУКВЫ
Spanish: Las cartas escarlatas (aka Las Letras Escarlata)
Turkish: Zina ... ve cinayet

* Interested readers should know that the icons/covers of books, used throughout the website have extra descriptions/information not included in the text on the same page. Pointing your cursor at the icon/cover used to reveal this extra information.
To achieve the same effect Firefox users can install an add-on called '
Popup ALT Attribute
'. When installed pointing your cursor at an icon/cover results in showing you the details or additional information.