he Scarlet Letters ( 1953)
For once Ellery Queen had a simple case. A few days of discreet snooping, some choice advice, and the inimitable sleuth would blithely restore domestic harmony to the millionaire couple Dirk and Martha Lawrence. And then came the scarlet letters. And finally the cryptic alphabet clue...scrawled in a murdered man's blood. A simple case? Ellery had been a fool to think so. And unless he did some super-fast sleuthing, he'd have nothing to show but a very scarlet face... and a killer on the loose.
"Lovers' quarrel?" said a voice. Martha Lawrence quivered.
Ellery turned. Dirk Lawrence stood behind the bench. The reek of whisky surrounded him. "My little Martha," Dirk said dreamily. "My little nymph."
"Martha," Ellery said, "you'd better go."
"Yes Martha, my love, you do that," said Dirk. "On account of I'm doing to teach this dirty little feist to keep his paws off another man's wife...."
Dirk backhanded Martha's face across the bench and she disappeared. Involuntarily, Ellery stooped to look for her. He never reached his knees. The blow nearly tore his head off and he blacked out.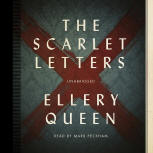 An odd EQ, where the murder occurs 3/4 way into the story, and most of the book is a suspense tale, though admittedly with some tricky deception. A lot of Nikki Porter, a character I liked and who bears, I feel, some resemblance to Inspector Thumm's daughter, Patience as found in the Barnaby Ross novels.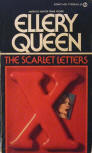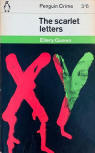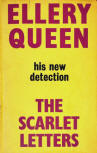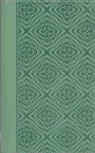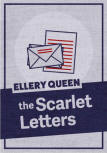 The Scarlet Letters Translations:
Brazilian: As Cartas Vermelhas
Danish: De blodrøde bogstaver
Dutch/Flemish: Met rode letters
French: Lettres sans réponse
German: Zwei blutige Buchstaben
Greek: Τα κόκκινα γράμματα
Italian: Le lettere scarlatte
Japanese: 緋文字 (himoji)
Mexican: Las letras escarlata
Polish: Psáno krví
Russian: АЛЫЕ БУКВЫ
Spanish: Las cartas escarlatas (aka Las Letras Escarlata)
Turkish: Zina ... ve cinayet