ew York versus Wrightsville, Ellery's two favorite places and a tale of two cities in more ways than one. His

stories take place in a New York populated with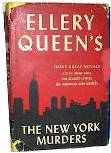 sophisticates and eccentrics. If "Ellery Queen is the American detective story" in this century New York must have been the setting par excellence for his adventures. Large buildings with buzzing streets where crime lurks behind each corner and yet it keeps something sophisticating up his sleeve. Some trips to Hollywood aside in the 1940's he invented a small New England manufacturing town, Wrightsville and located several works here.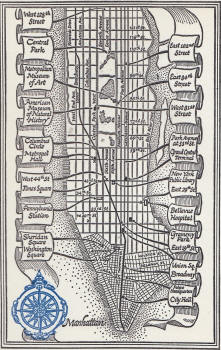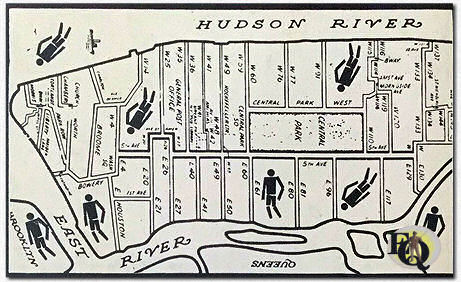 Above left: Map of Manhattan as found in Cat of Many Tails
(click for a bigger version)
Above right: Map of Manhattan as found in Cat of Many Tails (Bantam) clearly depicting the places where the bodies of the victims were found.
Below: Nowadays we tend to think of Manhattan as a place packed with skyscrapers from the Bronx to the Battery... this wasn't the case when Ellery Queen started writing. Aerial photo of Manhattan in 1931.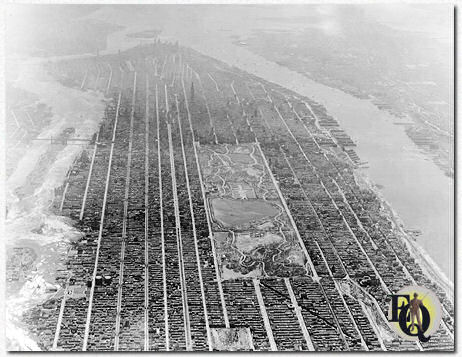 anhattan in particular was strongly featured in Cat of Many
Tails and served much in the same way as a game board would serve. Ellery lives in West 87th Street and apparently moves around New York without the aid of his Duesenberg which serves him well when visiting outside New York.
Queen often chose a site a block or two from a real life prototype for his fictional sites. "The Longacre Theater" gives away it's use by age, handsome terra cotta facade, and two stage doors on either side of the main marquee. It's make it one of the best substitutes for the new (1920s) Roman Theater in Ellery Queen's first mystery, which is supposed to be two blocks south, at West 47th Street.
(Mystery Reader's Walking Guide: New York - Alzina Stone Dale)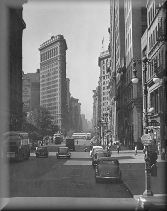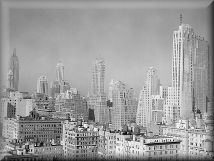 The Scarlet Letters also comes to mind. Edward D. Hoch said about this novel ''... he wrote, 'The Scarlet Letters,' about a blackmail plot, with a guide to New York marked up on 26 locations, A to Z, all with clues. The Hayden Planetarium, Yankee Stadium, right through the alphabet. It really uses New York." (New York Times, "They love New York" by Dilys Winn, Oct 31. 1999)
In The American Gun Mystery Buck Horne is shot in N.Y's new Colosseum on Broadway. The back cover of the Dell pocket book seems to indicate the World Trade Center as the venue for its location. The map is by Ruth Belew.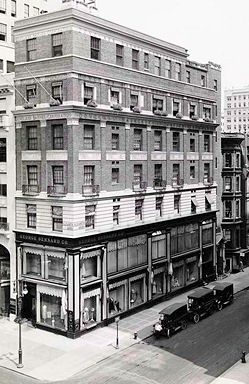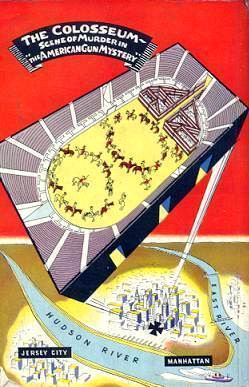 Above left: Not "the" French department store but a very similar store on the corner of Fifth Avenue & 53 Street (1922). The French department store was located on the corner of Fifth Avenue & 39th Street.
Above right: Back cover of the Dell pocket book, Dell Books 4. Published 1943, 2nd edition 1946 with map on the back.

Other articles on this location in Ellery Queen books
(1) The French Powder Mystery at Clothes in Books (March 22. 2021)