t was in the radio plays Nikki got the full attention she so rightly deserved. Seen from a radio making viewpoint
a female


lead-

actress seems
practical (due to the "color" of a female voice) and, to me, this must have been equally as important as the romantic possibilities it offered. Nikki appeared in films, short stories, and novels, but was created for radio.
It's an "amazing" fact that each time we meet Nikki she has a different physical appearance and a different personal history. There are numerous "first" encounters between Nikki and Ellery. One of the main reasons, I feel, is the extra tension this adds to a
"
blossoming" relationship between two protagonists. If we hold into account books, radio and movies Nikki first met EQ in four different ways!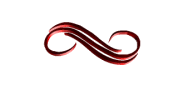 lthough she only appears in a few books, she seems a intricate
part of the Ellery Queen saga. Whilst on radio she appeared from the start as early as 1939 in "The Adventure of the Gum-Chewing Millionaire" (Jun 18.1939), in printed form she made her entrance relatively late...

In this radio story she's described as a "blonde professional typist" and also in The Last Man Club (1941), a story based on one of the early radio plays, Nikki is described as being "pert, blonde and pretty". Her domicile can be found in West 94th Street. 20 She remained a red head throughout the books, according to There Was an Old Woman (1943) he did not meet Nikki until the Potts murder. She's described as 'a small slim miss with nice red hair'.
Her original name was Sheila Potts (with her mother's last name) or Sheila Brent (with her father's last name)...and she's extremely wealthy (millionaire). Despite this "handicap" she accepts Ellery's offer of becoming his secretary (with salary)... So Nikki wasn't her real name. She changed it on the advice of Ellery...First he asks her to change her identity to Susie McGargle from Kansas City. - She doesn't like the idea and then Ellery makes a second attempt (after a heroin from one of his books) "... N-i-k-k-i . The last name Dempsey didn't fit... Nikki Jones? Nikki Brown? Nikki Green? Nikki Keats? Nikki Lowell? Nikki Fowler? Yes it had to end with -er. Parker. Farmer. Porter...Porter. Nikki Porter that's it!"
She also stars in two Calendar-stories (1952) as EQ's secretary and companion. Her last appearance she made in the excellent Scarlet Letters (1953). Here we learn that Nikki spent her childhood in Kansas City and differs in several aspects from the three other Nikki's. The radio story "The Adventure of the Lost Child" (Nov 26. 1939) states Kansas City as the place where Harvey Morrell, an old friend of her family, came from. Whilst in There Was an Old Woman (1943) her family is in New York, where she was born.

As for her true origins it was Rand B.Lee who confirmed my suspicions when he stated: "... many of the femme fatale in the Queen books from the early Forties onward were modeled after my mother Kaye Brinker...". In the last radio series Kaye even played the role of Nikki Porter.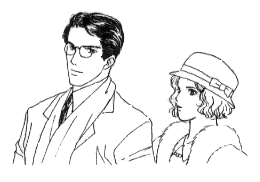 he figure 'Nikki' appears several times in some or other form. Throughout the years the female co-star in the books had, more or less, Nikki qualities... As any Queen-addict will tell you this wasn't by far Ellery's only real love interest. Under pressure of the buying public Ellery had to get more and more romantically involved. This seemed especially important since they wanted to make it in Tinseltown.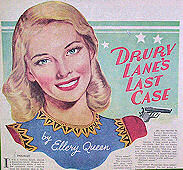 We shouldn't forget Inspector Thumm's daughter, Patience from the Barnaby Ross books (1933). Here the writer clearly intended Patience to take over the sleuthing from Drury Lane himself... So Patience was perhaps a bit more self-conscious then Nikki every was, but she came across equally sympathetic.

Above right: Patience Thumm in art work from the Toronto Star Weekly dated Sunday November 16, 1946.

Stella Godfrey from The Spanish Cape Mystery (1935) has to be the prelude to the Nikki-figure.

When in 1938-39 Dannay and Lee wrote scripts for the famous The Shadow series, they included a Nikki Porterish Margot Lane (Martin Grams*)

In 1939 EQ returned to the short tale with a series of four stories, all with sports backgrounds. Each co stars Paula Paris, with whom EQ fell in love in The Four of Hearts (1938). She is a good character, but unfortunately she seems never to have returned after these works. A worldly woman who failed to become popular. The Wayne-Hutton TV-series did little to change this feeling. Probably they weren't meant to be as a couple (Paris-Queen) a feeling which was shared by the 'buying' public.

To my mind the best example of a Nikki look-a-like is found in Double, Double (1950). Rima Anderson, grossly neglected by many Queen-critics, stands as a 'Nikki Porterish' figure, a normal girl with normal everyday interests (nature). Again Mr. Queen feeling toward Rima are very ambiguous. It is a pity we only get to meet her once in the Queen saga.
Again later in The Fourth Side of the Triangle (1965) secretary Judith 'Judy' Walsh has a, small, Nikki-lookalike-role.

In Ellery Queen (1975), a TV-show which ran for a season, the producers went back to the radio show, setting this series in 1947. Paula Paris made her entrance but not so Nikki Porter who, after all, had made the radio plays her natural surroundings. E.g. To the contrary in "The Adventure of Colonel Niven's Memoirs" Ellery's latest girlfriend, Jenny O'Brien worked with Ellery and spend the rest of the episode chasing down clues and suspects' true identities and motives. In "The Adventure of the Eccentric Engineer" Ellery's being shadowed by a young woman who wants help with a love story she's writing and EQ can't seem to shake her. Eventually he wants anything BUT to shake her, as once again, Ellery shows the "lady's man" side of his personality.
The reason for the small roles Nikki or indeed all other women got may be simple enough... Ellery wasn't really a typical ladies man because the cousins themselves were probably not. They thought of their plots and stories to be a cerebral occupation which didn't leave much room for any affairs of the heart.
Everyone felt Nikki to be the ideal partner for unearthly Ellery. So it seems only logical that the mysterious Mrs. Queen JJMcC mentioned had to be Nikki Porter. It's less of a conundrum than the identity of e.g. Ellery Queen's mother, which remains, till this day, a mystery.