he Tragedy of X

(1932)

Let the unknown = X! A crowded street car! A man is murdered! Everyone saw him die, but no one saw the killer! Many people (even his own partner) had good reason to hate Longstreet. Inspector Thumm's few clues all led up a blind alley. He finally sought the aid of Drury Lane, retired Shakespearean actor, who made a hobby of solving crimes. Seated amid the splendor of the vast medieval halls of his castle on the Hudson, Drury Lane hears the story from the Inspector. He knows who the murderer is, but refuses to reveal his identity until he has sufficient evidence for the police to arrest him. This story is crammed full of chilling thrills! Why was the streetcar conductor murdered? Why won't Longstreet's partner talk? The answers to these questions and others all lead to the solution of this puzzling mystery.
New York City, the early 30's. A man is poisoned on a crowded streetcar during rush hour. Everyone saw him die, but no one saw the killer! And far too many people had good reason to hate Longstreet. The few clues lead up to a blind alley, and District Attorney Bruno and Inspector Thumm pay a call on Drury Lane.
Drury Lane! Retired Shakespearean actor. Matinee idol. Master of disguise. Amateur sleuth who finds "crime the highest refinement of human drama." Ellery Queen's most flamboyant creation.
Seated amid the splendor of the vast medieval halls of his castle on the Hudson, Drury Lane hears the story. Almost at once, he knows who the murderer is, but refuses to reveal his identity until he has sufficient evidence for the police to arrest him.
In the great tradition, all the clues are scrupulously presented to you, the reader. Can you solve the case before the police?
"Unquestionably a superior piece of work in the mystery field, literate and intelligent, its puzzle slyly hidden, and its occasional references to things of the theater adding interest and novelty... he has a remarkable grasp of the technique."
--
Earl Derr Biggers.
"The best mystery story we have read in many a day... the book carries on its enthralling plot in a pleasant, a vigorous style."

--
Providence Journal.
"Unreservedly we recommend The Tragedy of X. A mystery that will defy the most astute."
--
Philadelphia Inquirer.
"One of the pleasantest excuses that can be found for missing sleep these nights is The Tragedy of X."
--
John Mason Brown,
N.Y. Evening Post
"The Viking Press has made no mistake in choosing this book as its first venture into the mystery field."
--
Isaac Anderson, New York Times.



"Drury Lane, detective in his spare time because nothing is more dramatic than real life, is called in. With much pesturing and gesturing, he solves the mystery in a manner that baffles sleuths and book reviewers."

--
Gremin Zorn, Long Island Sunday Press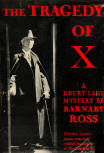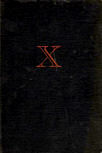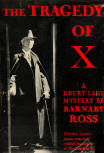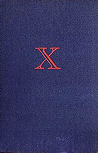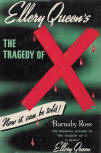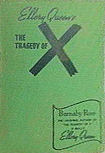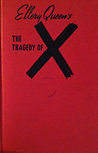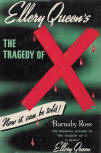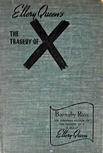 Top row left to right: Both dust cover and hard cover for Viking Press, dust and hard cover for Grosset & Dunlap.
Bottom row left to right: two more hard cover variations for for Grosset & Dunlap, dust cover and hard cover for Stokes. (Click on the covers to see the differences) *
The Saturday Review, "Thrillers" by William C. Weber - June 18, 1932

"Preposterous is also the word to describe Drury Lane, the trick criminal investigator who gyrates through the pages of an otherwise excellent mystery story, "The Mystery (sic) of X" by Barnaby Ross. It, too, runs to long words and subtle deductions but is chockfull of action and has a surprising denouement which nobody under the sun will ever believe."


The Daily Star, Long Island City, Queens Borough, N.Y. , "All about Books" by Victor Ullman, March 31. 1932

"Having read but one or two detective stories I cannot judge whether "The Tragedy of X, a Drury Lane Mystery," by Barnaby Ross, is the remarkable thing the people at Viking Press say it is, Mr. Charles Reed Jones will deal with the book in "It's a Crime" and we can depend on his judgment. But Viking says that the editors waited seven years for this story, and I can well believe it after seeing the list of rules laid down for judging a mystery. "The Tragedy of X" becomes doubly important, really an event, for, in fact, with those rules they might have waited many a lifetime before publishing a mystery. Here are a few of them:

I. No Malay krisses, sliding panels, (Fu (if any) Manchus, walking corpses or other devices of the un-sound-and-fury school of writers.
II. No new characters dragged in by the hair just before the fall of the curtain simply in order to pin the crime on him or her.
III. No screamingly funny characters — even if they were funny we wouldn't like them in a detective story.

I, in my ignorance, wonder just what the Viking editors have left for a mystery writer to write about."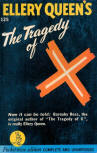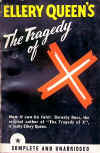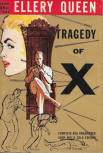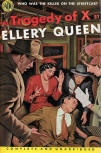 First appearance of Drury Lane himself, his associates, and his gift for disguise (Arsène Lupin comes close) . Drury Lane, admittedly greater than life, is well delineated, as well as his supporting cast and his ambience as the best parts of this book concern these characters. It may not be as well known as the Queen books featuring Ellery Queen. Fetching backgrounds (New York circa 1932), a nasty murder method, and a dandy sleuth: retired Shakespearean actor Drury Lane. Michael E. Grost remarks that his estate on the Hudson shows Ellery Queen's interest in design, just like the references to Art Deco in The French Powder Mystery.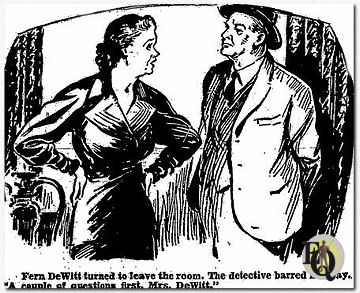 Above: Artwork for The Tragedy of "X" by Ellery Queen (Chapter 10) as published on December 11, 1941 in The Newark Courier-Gazette and Marion Enterprise. It reads: "Fern DeWitt turned to leave the room. The detective barred her way. "A couple of questions first, Mrs. DeWitt."
The plot deals with three murders committed on transport (e.g. trams, ferries and trains), with the murders themselves being peculiarly nasty (the first murder shows some of EQ's gift for surrealistic mise-en-scène as it is committed by means of a nicotine-tipped-needle-filled cork ball put into the victim's pocket), including Ellery Queen's first "dying message" (the second would appear in The Siamese Twin Mystery) - and the ingenious. The finale is deductive, as in all of the early EQ books, but the solution is somewhat far fetched, and the mystery plot is not especially imaginative. It shows similarities to

both Conan Doyle's A Study in Scarlet and one of the stories from G. K. Chesterton's The Innocence of Father Brown.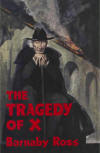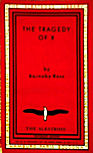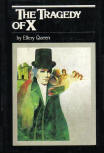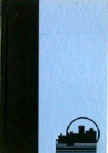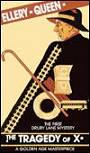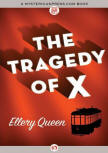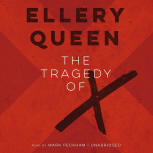 The Daily Star, Long Island City, Queens Borough, N.Y. , "It's A Crime" by Charles Reed Jones,

(Flushing Author of Mystery Novels)

, March 31. 1932

"Drury Lane, who makes his debut as a detective in "The Tragedy of X," was a greater Hamlet than Edwin Booth before his retirement in 1928 because of deafness. He lives today at his vast estate, The Hamlet, overlooking the Hudson River at Westchester County.

He has quit the stage, except for his annual performance of "Hamlet" at his own private theater on April 23, which the author reminds us is "the commonly accepted anniversary of Shakespeare's birth and death."

But, although he has retired from the professional theater, Drury Lane continues to perform before a limited audience of his 'own choosing; his servants who are named for several Shakespearean characters, and New York's District Attorney, whom he will entertain in "The Tragedy of Y" and "The Tragedy of Z," which will be published subsequently.

Harley Longstreet, a middle-aged broker, had announced his engagement to Cherry Browne, musical comedy star. Accompanied by a group of friends, they boarded a West Forty-second streetcar.

Settled in the crowded car, Long street reached into his pocket for his spectacles. He withdrew his hand suddenly, covered with blood, and fell to the floor, dead.

Every member of the party seemed to have had a motive for the murder, although the ingenuity of the murder device seemed to place a definite limit on the search. The story moves rapidly and reasonably through two subsequent murders, quite as harrowing and confusing as the first; but it falls down miserably in the most absurdly artificial solution I have run across in many, many years of detective-story reading. There is one thing you may definitely depend upon: You will never guess the answer.



I might have smiled a little rather early in the book when Drury Lane, a la Sherlock Holmes, decided to try his well-practiced hand at disguises; but I was ready to swear when I learned that, the murderer had been running in and out of the picture with a series of such perfect disguises that neither the great Drury Lane nor the murderer's closest buddies were able to penetrate them."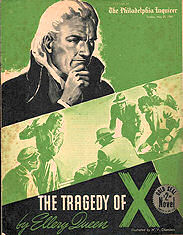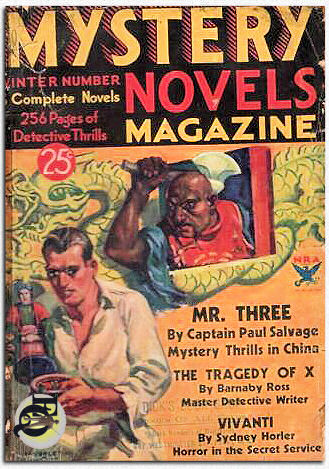 Above left: Cover for section included in The Philadelphia Inquirer May 24. 1941. Illustrated throughout by W. V. Chambers.
Above right: In the winter of 1933-1934 Mystery magazine published a winter number. As it contained three full novels it was named Mystery Novels Magazine. One of those three was 'Master Detective Writer" Barnaby Ross' The Tragedy of X.