he
French Powder Mystery

(1930)

The French Powder Mystery is a spell-binding tale of crime, intrigue, and extraordinary detection. At crowded noon, in front of Fifth Avenue's most fashionable department store, while hundreds of sidewalk onlookers watch a demonstration of modernistic furniture in the window, the demonstrator touches a button regulating a concealed wall-bed--the bed swings out of the wall--and from its dark recesses tumbles the distorted, crumpled corpse of a beautiful woman....
Ellery Queen moves vitally and refreshingly through his own story -- a slender, cynical young man with a genius for piercing the veil of commonplaces and arriving at foolproof conclusions. Old Inspector Queen, his father, again takes you through the complicated process of a police investigation, although it is Ellery who is responsible for the solution of one of the most stimulating and baffling detective stories ever written. And the denouement is surprising and yet inevitable.
"A brilliant, thrilling, ingenious story."
--
William Lyon Phelps

"The logical successor to Sherlock Holmes."
--
London Times
"Ellery Queen belongs with Sherlock Holmes, Arsene Lupin, Philo Vance, and other master-minds.
--
William Lyon Phelps

"This is not a book that you pick up; it is a book that you don't put down!" -- Elizabeth Bibesco Week-End Review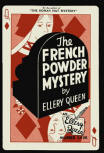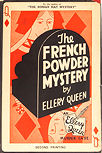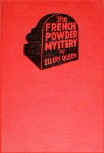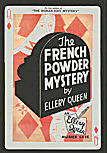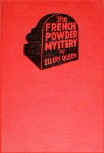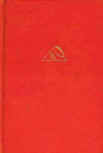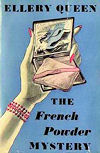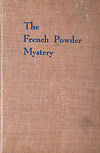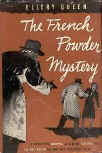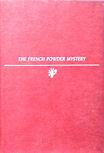 Above: The first books published sometimes had identical front covers. The spine of the books/dust cover only differ in the publisher's logo. Top left to bottom right: 2 dust covers (for the first and second edition) with identical hardcover for Stokes (7 printings); soft and hardcover for the Grosset & Dunlap edition (16 printings); International Readers League (hardcover only), dust and hardcover Triangle Books; dust and hardcover for the Tower/ World Publishing edition. (Click on the covers to see the differences) *
The Sunday Star, Washington D.C. "Reviews of the New Books" by Ida Gilbert Myers. - August 10. 1930


"Suppose, at noon today, we are standing before the display window of a big department store on F street. And suppose, at the instant, a door in the back wall of that window room opens on its own account apparently, and there falls to the flood a woman—dead; upon investigation, murdered. No such bizarre thing would happen, could happen. But such is the starting point of Ellery Queen's new mystery tale. The mystery of the department store. It must be granted that an establishment of this type does offer quite a field for action and concealment — but, nonsense! Sheer nonsense! From this startling moment forward, however, this ceases to be even the semblance of a romance, mystery or otherwise. It becomes arithmetic. Two plus two are four. But, you see, the world so often gets the answer "five" or "six" or any other old number for this simple partnership of two plus two that strict adherence to two numbers in their exact summation is quite out of the question. This long story goes into the innumerable erroneous combinations that serve to mystify both the authorities and the plain population with as many false clues as this combination is forced to yield through the unlogic of the mind of man. One forgets the matter at times, forgets that he is hunting for a criminal, in his zeal to follow this wizard of exact analysis. Exciting and rather self-inflating for the reader to begin to look upon himself as a mystical mathematician, in embryo at least. Not the brightest scholar imaginable, I, for when well along, I was asked to apply my logic (?) and thereby to point to the guilty man. I was lost. Ashamed, but lost nevertheless. And let me tell you something. I have a grievance right here. Have had it in respect to one or two other mystery tales. When the criminal was found he was so much of a surprise that I immediately accused that author of hiding him purposely. Do you suppose he would do that? Particularly this Ellery Queen, who boldly advertises "a problem in deduction." Do you think he would? No? Well, then I'm clear past hope. I'd tremendously like to go over that ground again — but "the bird of time has but a little way to flutter, and the bird is on the wing." And there are 49 other mystery stories right here beside me. I'd like to do it, though."


The fact that this title went through seven impressions, three before publication, before being handed over to the reprinters is some indication of how big a splash Ellery made-and how quickly. The dust jackets of the first prints are extremely elusive, and a high four figure item. The French Powder Mystery (1930), like its successor, contains a strong initial investigation. It takes up 25 chapters, or the first two thirds of the book, and shows EQ's astonishing skills at constructing a detective story plot. The crime and the events surrounding it develop into ever more complex and logical patterns; Ellery moves through several stages of deduction, each leading to a deeper understanding of the crime itself. The story has considerable beauty; the inquiry about the keys, or the timetables involved show EQ's ability to create fascinating patterns of plot. EQ likes boundaries involving space, time and knowledge. He is fascinated with rooms that have not been entered, lines that have not been crossed, apartments that have been guarded and watched. He is also concerned with who knew things and didn't know things, which in turn often depends on who has participated in events and who hasn't. These become boundary markers in the complex logical geometry of his plots. The limitations of the novel, and its reason for still classifying it as a journeyman work, deal with the solution. Later EQ novels will often have the most startling surprises in their solutions; this book runs out of steam two thirds of the way through, and its solution adds only a single new clue, together with the identity of the murderer. Although logical and fair, not the deeply creative finales of the great EQ books. EQ, as is his wont, has given partial solutions to the crime at several stages in the book, so the reader gets a full mead of deduction and revelation in the novel which leaves almost nothing for the finale. (Michael E.Grost)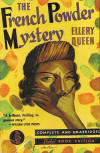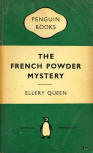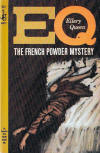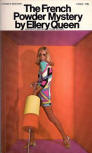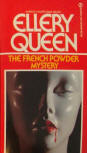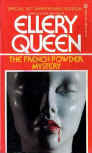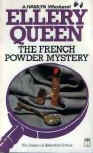 We get to know Ellery, again with walking stick, a thin silver watch and pince-nez (which isn't exactly the same as a lorgnet), in a much more physical way. He is described as a tall athletic man with the suggestion of force, looked very intelligent around the forehead had long fingers and cool stiff lips. He looked thirty but was actually younger. His clothes came from Bond street.

Several references to other cases in this book: "The arrest of Don Dickey", an American jewel thief in Berlin for which the mayor gave him a special aluminum tool for research as award. In "the Kingsley Arms murder", O'Shaughnessy had killed Herrin, which was proven by lifting his fingerprints from dead man's shoe.
Ellery also got an idea for a short-story by reading something about "The Retreat of the 10000 in the Old Armenia." noticing "...the sandals these men wore during sleep were frozen to the ground."

Richard Queen again handles the old brown snuffbox and is involved in the case of Pete Slavin's gang.
The "monkeylike" Djuna, Hagstrom (who performs steno!), Hesse, Flint, Ritter, Johnson, Pigott and Velie reappear. As do Dr.Prouty, Henry Sampson (involved in the "White Test Case") and the redheaded Timothy Cronin.
The story again takes place in N.Y. at the French warehouse on the corner of 39nd street and Fifth Avenue.
Winifred March gets murdered with a French colt .38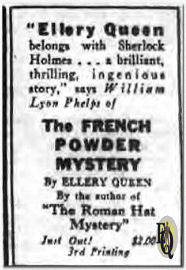 The furniture in The French Powder Mystery is probably Art Deco, although it is never called by that name in the novel. EQ calls it "modernist", and gives a vivid and accurate description of how it was viewed by its contemporaries, both artistically and sociologically. Considering the tremendous enthusiasm today for preserving America's great Art Deco heritage, with Deco societies springing up in every city, this book should be better known. EQ was deeply interested in the world around him. His books form a record of an important era in American life. (Michael E.Grost)

Above right: Add for The French Powder Mystery in The New York Evening Post (July 17. 1930)

In chapter 22 some of the great adventure (and sometimes mystery) writers of an earlier generation (Doyle, Jack London, Robert W. Chambers, George Barr McCutcheon, Richard Harding Davis) are mentioned.
The challenge to the reader is included, as is the map and the list of characters.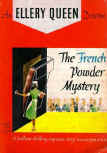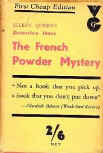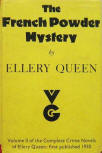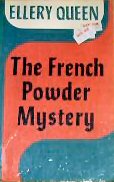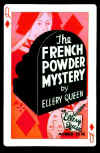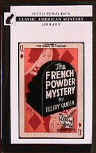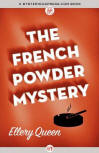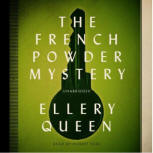 The Clinton Courier, October 22

(?)

. 1930

"Another detective story by the author of "The Roman Hat Mystery" which had such a run last year. As in the former tale, there is much entangling and intertwining of clues. So many and various are the characters involved that it must be a lynx-eyed and clear-headed reader who is not surprised when, at the last moment, the criminal stands revealed."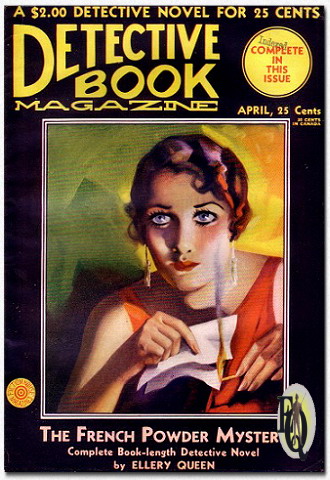 Above: Cover April 1931 Publication in Detective Book Magazine.
The French Powder Mystery Translations:
Chinese: 法蘭西白粉的秘密
Czech: Zlocin v obchodním dome
Danish:Stormagasinets hemmelighed
Dutch/Flemish: Het Lippenstiftmysterie
German: Das Geheimnis des Lippenstift(e)s
Greek: Ποιος σκότωσε την κυρία Φρανς
French: Le mystère de l'éléphant (aka Le Mystére French)
Finnish: Sormenjälkijauheen arvoitus
Hungarian: Valami történt az áruházban
Italian: Sorpresa a mezzogiorno
Japanese: フランス白粉の謎 (furansuosiroinonazo)
(aka フランス・デパート殺人事件)
Korean: 프랑스 파우더 미스터리
Norwegian: Mord og narkotika
Portuguese: O mistério das impressões digitais
(aka O mistério do pó francês)
Russian: Тайна французского порошка
aka Тайна белого порошка
Spanish: El misterio de los polvos (aka El Polvo Frances)
(aka El misterio del Elefante)
Swedish: Varuhusmysteriet

Other articles on this book
(1)
The Green Capsule Noah Stewart (Jun 2017)
(2) Mysteries Ahoy! Aiden Brack (Dec 2017)
(3) The Invisible Event JJ (May 2017)
(4) Reading Ellery Queen Jon Mathewson (Feb 2013)
(5) My Reader's block Bev Hankins (April 2018)
(6) Ellerius Bibliophilus Ho-Ling (June 22. 2011)
(7) The Grandest Game in the World Nick Fuller (Sep 2. 2021)
(8) Clothes in the Books (Mar 22. 2021)
(9) Dead Yesterday (Jan 11. 2020)
(10) In Search of the Classic Novel Puzzle Doctor (Jun 6. 2011)
(11) Mystery Page turners Pauline Dewan (Mar 21 2011)
(12) Technical difficulties Sarah Monette (Oct 26. 2010) - spoilers!
* Interested readers should know that the icons/covers of books, used throughout the website have extra descriptions/information not included in the text on the same page. Pointing your cursor at the icon/cover used to reveal this extra information.
To achieve the same effect Firefox users can install an add-on called '
Popup ALT Attribute
'. When installed pointing your cursor at an icon/cover results in showing you the details or additional information.