he Dutch Shoe Mystery

(1931)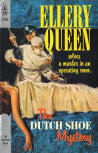 Rigor Mortis had set it before Abigail Doorn is wheeled into the operating room of the Dutch Memorial Hospital. It is clearly a case of preoperative strangulation with a picture hanger, by a killer who couldn't wait... Now it's up to Ellery Queen--and you--to solve the Dutch Shoe Mystery. It's ingenious, it's devilish, it's sinister, but if you're a real mystery addict it's just what you've been looking for. So go home, turn the lights down, and...
Of all the EQs, this is one of the most carefully constructed: the clues lead simply and inevitably to the stated conclusion, and no mystery writer has ever played more fairly. (Click on the cover to read more...)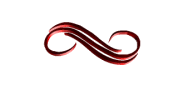 he Greek Coffin Mystery (1932)
Someone was playing nasty tricks on Ellery Queen. Every clue the famed sleuth followed led him further into a crazy-house maze of multiplying suspects and proliferating possibilities. All Ellery Queen knew for sure was that an eminent art dealer was dead, a brilliant forger had been slain, a priceless painting had been stolen, a mysterious will had disappeared, and a ruthless killer was ready to strike again.
The most confounding, brilliantly plotted EQ of them all. More twists and turns than the Mississippi River. EQ's first recorded investigation is a high point in the detective literature, and our favorite of all the novels. Read it! (Click on the cover to read more...)