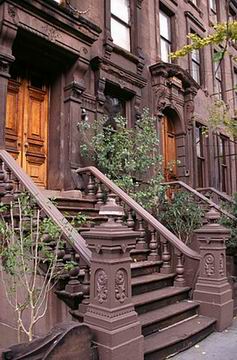 he Queens were housed in one of the West 87th Street's
lingering brownstones, a relic of late Victorian Times.1 A brownstone is a red or brown-colored type of sandstone, found in the Connecticut River Valley and central New Jersey. Since it was so plentiful around New York, it was a popular building material for middle-class townhomes in Manhattan and Brooklyn. The choice of coming to live there was largely due to the powerful influence of son upon father. They lived three high on the top floor of the sprawling old mansion. "You walked up the heavily carpeted stairs through seemingly endless halls of dismal rectitude."1 It appeared a dreary place1 until you reached their huge time-softened oak door labeled "The Queens". A motto lettered neatly and framed.1
In The Last Man Club (1941), a story based on one of the early radio plays, we hear Ellery state a house number: "Ellery Queen, officer,

212-A West Eighty-Seventh Street". Most likely, because of the all too obvious (dare we say logical) reference to the world famous Baker Street address this little piece of information is not repeated in the bulk of the Queen stories. But it's occurrence here does remain a fact. 20

The Foyer

Once passed this door one would be overwhelmed by the odor redolent of old leather and masculinity. There was a small, narrow "Gothic" anteroom or foyer which was so small and so narrow that it appeared unnaturally towering.1 In it hung a tapestry, depicting the chase1, which was a gift of the Duke of - in return for the Inspector's discrete services (saving his son from a noisome scandal1). Both detested it heartily1 but it was Ellery's will which prevented the Inspector from consigning it, period furniture and all, to the auction rooms. "Beneath the tapestry stood a heavy mission table, displaying a parchment lamp and a pair of bronze bookends bounding a three-volume set of the Arabian Nights' Entertainment. Two mission chairs an a small rug completed the foyer. When you walked through this oppressive place, always gloomy and almost always hideous, you were ready for anything except the perfect cheeriness of the large room beyond..."1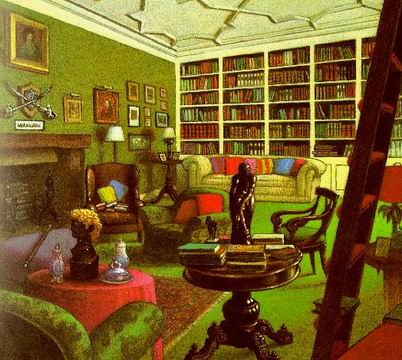 The Living Room

Three walls were hidden by books up to the paneled, oak-ribbed ceiling. Ellery's collection of books of violence and the Inspector's precious snuff-box contrasted with the jolly living-room and library. The fourth wall had a huge natural fireplace with a solid oak beam as a mantel and curious gleaming old ironwork. Above the fireplace were the swords crossed martially above, a gift from the old fencing master with whom Richard had lived in Nuremberg during his studies in Germany. Old lamps, brassware, massive furniture, a pipe rack1...Chairs, divans, footstools, leather cushions, ash stands. There was a excellent portrait of father and son done by Thiraud. They even ate breakfast around the old walnut table and the Inspector had a favorite armchair. There was a telephone on a night-table. Beside the living-room window "a creaky, cranky old machine" stood where Ellery did his typing.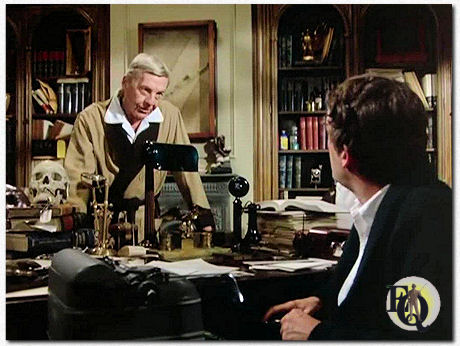 Above: 1975-76 TV-series Ellery Queen with Richard Queen and Ellery in the living room

In Challenge to the Reader (1940) JJ McC described one room of the Queen apartment - the largest room - for private use with a armchair before the fire. They left no room for the hanging of the customary English hunting prints and the mounting of sad-eyed deer's heads, since every inch of the available wallspace from floor to ceiling was lined with shelves. Mr. Queen had gathered about him the most complete library of crime literature and detective fiction in the world. Scotch was always at hand.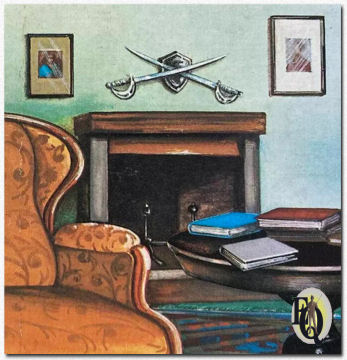 And beyond ...

Off the living-room were the bedrooms for each of the Queens and a small room for Djuna. The kitchenette was considered Djuna's territory. In some of the later works we find a study behind Ellery's bedroom. In which an extension to the telephone was kept. Since, at this moment in time, the Queen household didn't use the services rendered by Djuna we suspect it to be Djuna's old room. On the table beside his bed he keeps a brass ashtray (King is Dead).
Cat of Many Tails mentions an ongoing dispute with the landlord about the "lunar topography" of Ellery's study's ceiling.
During their stay in Italy (JJMcC)West 87th Street remained a semi-private museum of curios collected during their productive years
Ellery's Duesenberg was serviced in a garage situated in West 87th street.
On New York's West 87th Street in a store-front carved out of a parking garage, with floor space the size of three parking spaces. Dilys Winn, a New York writer and mystery fan, who got tired of patronizing looks from general bookstore clerks and fellow customers, founded Murder Ink, the world's first mysteries-only public bookshop, in 1972. Today, there are dozens around the world.