llery Queen

-

scan requests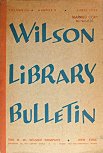 1) Wilson Library Bulletin
This edition from April 1942 was published in New York and it had an article called "A Century of Chills and Thrills, Ellery Queen Meets The Critics". It included a picture of Howard Haycraft, Fred Dannay and Manfred B. Lee, Basil Davenport and Granville Hicks.
Does anyone have this article and could provide a decent scan?...

2) The Four of Hearts Mystery
The Four of Hearts was written in 1938 and is not to difficult to find. However in 1949 The Four of Hearts Mystery was published by Dramatic Publishing Co. It was based on the real novel and dramatized by William Rand (a pseudonym for William Roos). This edition is extremely rare to find. In fact I have never seen a cover of the actual book...
Thanks to Kent's (see below) astute reaction I have now seen a Xerox copy of the this work. Still no cover... though.
Does anyone have more information on this?...
Response by Arthur Vidro July 23.2008
"... Dramatic's records show nothing about The Four of Hearts Mystery -- their records simply do not go back that far...
the published play "Ellery Queen's The Four of Hearts Mystery" DOES exist. I have seen a copy of it in a private collection. But despite years of trying, I have never found a copy of that play for sale. Unlike the successful Home Sweet Homicide stage-play, which last I saw was still in print, The Four of Hearts Mystery faded fairly quickly."

Response by Kent Oglesby November 11.2009
"... I do have a Xerox copy of the 1949 dramatization by William Rand of the EQ Four of Hearts Mystery(no cover though). I actually found a circulating copy in a library in the early 1970's and thus made myself a copy..."


3.) A scan request for this beautiful artwork from The Egyptian Cross Mystery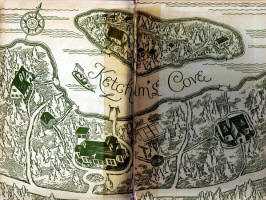 The first hard cover edition by Frederick A. Stokes had green and white pictorial endpapers with map of Ketcham's Cove... I'm more than glad with this current version, David (see below) does acknowledge his copy to be somewhat tattered. So we're still up for better scans.
Response by David Marcum (Maryville, TN) January 9.2010
"...I have a somewhat tattered copy of this book, which states that mine is the second printing. (The copyright page indicates that the book was published on October 20, 1932, and that my copy is from the second printing, on October 28, 1932, a mere eight days later.)..."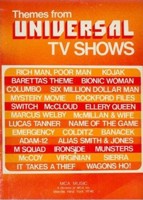 4.) Themes from Universal TV Shows
Published by MCA Music, a division of MCA, Inc. formerly of Melville, NY Publication date: circa 1976
This includes the sheet music for Elmer Bernstein's music Ellery Queen theme from the tv-series.
(scan or copy)
Bill Vande Water found the sheet music for Elmer Bernstein's 'Ellery Queen Theme'. All it took was a walk to the Lincoln Center Library. Subsequently we got a scan of the pages. If someone has a copy of the book...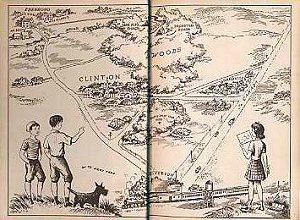 5.) Ellery Queen Jr. Black Dog Mystery
A series which, to me, has a special appeal. This appeal concentrates around the artwork. The Black Dog Mystery has a full scale "map" in it. I'd love a good scan of this excellent artwork!
6.) DC Comics
As we all know several Ellery Queen techniques were copied.
One such an example is the use of the "Challenge to the Reader" in other comics...
I'm pretty sure anyone with even the smallest collection of DC comics could find several examples ... or even provide a scanned panel to illustrate this... I dare you! Let us know which comic, issue, story,... .

Could you help? e-mail