If you think you can help us, or would like something to add. Don't be shy! Pick one of the following categories (by clicking on the icons):
Q.B.I.: Covers added since April 2016: 3 better and 12 new covers. The latter corresponding with the red numerals in the list.


(April 2015 - April 2016: 10 better and 185 new covers)


(April 2014 - April 2015: 18 better and 103 new covers).
July 22. 201
6 - April 18. 1999
Found an interesting article, which emphases a, for EQMM, festive year. In
An Interview with Janet Hutchings (Dec 1, 2015) Art Taylor, asks EQMM editor Janet Hutchings about the
commemorative events set for this year, changes in the magazine industry and her best moments in editing...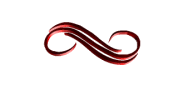 July 17. 201
6 - April 18. 1999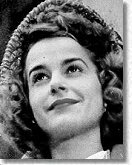 Added an in-depth page on Gertrude Warner (
4/2/1917 - 1/26/1986
) to the List of Suspects-Nikki Porter pages.
In 1945 Trudy was picked for the role of Nikki Porter playing opposite Sydney Smith. Her successful radio career continued for 28 years and well over 4,000 performances. She was considered one of the queens of daytime radio.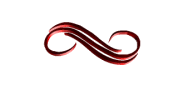 June 26. 201
6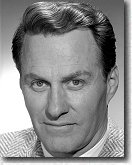 Added an in-depth page on Richard Coogan (04/04/1914 - 03/12/2014) to the List of Suspects-Ellery Queen pages. Richard replaced Sydney Smith as Ellery Queen in the radio series but lasted only a few months. He did become one of the first actors to make his mark on TV. He became the start of the live sci-fi-series Captain Video during it's first season (1949-1950).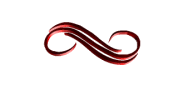 June 19. 201
6


Most of you will remember that last January and February Ellery Queen's Calamity Town enjoyed its world premier in the Vertigo Theatre in Calgary, Canada. The book was adapted for the stage by, West 87th Street Irregular, Joseph Goodrich.
We're happy to report that only a few weeks ago the 5th Annual Calgary Theatre Critics' Awards was took place. There were 95 nominees in 19 categories covering 80 productions. Calamity Town

boasts two prominent

awards: 'Best Technical Design' by Jamie Nebitt for his dazzling projections and 'Best New Script' by Joseph Goodrich. Well done!

During the last month we've been reviewing the updates done in the "List of Suspects" section. Updates were posted last month, including additions to all of the in-depth pages covering actors who were cast in Ellery Queen productions.



A challenge to the reader: if you think you could add additional information (even corrections) please do so... You can reach us by clicking on "Uncle Sam" Always appreciated corrections and additional information, however small the detail may be.

While on the subject of 'clicking'. Interested readers should know most of the pictures used on the website have long descriptions with background information sometimes not included in the text on the same page. Internet Explorer used to have this feature activated as a standard. Firefox users wanting this can install an add-on called '
Popup ALT Attribute
'. Makes a big difference, believe us.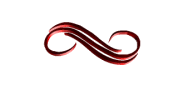 May 16. 201
6
We have now completed a massive update in the "List of Suspects". This section describes Dannay and Lee's development of their main characters and also provides a list of all actors who have portrayed those characters over the years.

For some of these actors we have also been able to provide a more in-depth biographical page. You can recognize when the additional information is available by looking for the actor's picture accompanied by a shadow... Clicking on the picture will take you to the additional information page.


As of now ALL actors who have played
Ellery, Richard, Nikki, Velie or Doc Prouty
are featured in the
"List of Suspects".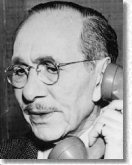 We've also added just such an in-depth page on Florenz Ames. When Dumont began its televised Ellery Queen series (1950-1952) Inspector Queen was played by Florenz Ames, who starred with Lee Bowman (portraying Ellery Queen)... (Click on
section. This section describes Dannay and Lee's development of their main characters and also provides a list of all actors who have portrayed those characters over the years.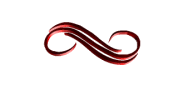 May 7. 201
6


EQ
MM 75th Anniversary this year makes it a feast for Ellery Queen enthusiasts.
Last March the magazine's Podcast page featured 'The Adventure of the Seven Black Cats' by Ellery Queen, reprinted in EQMM's January 2016 issue, and originally published in the 1934 short-story collection The Adventures of Ellery Queen. This ingenious whodunit by one of the bestselling mystery writers of all time is read for us by Mark Lagasse. EQMM editor and West 87th Street Irregular Janet Hutchings provides an introduction to the podcast!.
To hear the podcast click here

We've also added the short bio for actor Lee Philips. Just past the halfway point in the TV series 'The Further Adventures of Ellery Queen' (1958) he took over as Ellery Queen from George Nader.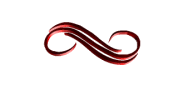 April 18. 201
6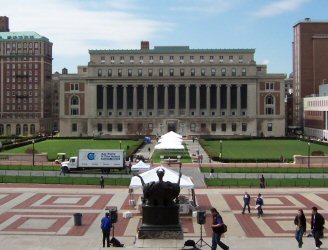 Sweet seventeen! Another year added to 'Ellery Queen a website on deduction'!

With still many covers to go we've finished this year additions to the site counting no less than 10 better and 185 new covers added.

We also saw many new works on Ellery Queen published which we can only be thankful for. This year also sees EQMM celebrate 75 year in continuous publication!
A fact they're celebrating all year long. Special features are planned for each of the 2016 issues, and festive events are coming up too!
September/October is the issue they've chosen to correspond to "Fall 1941, EQMM's first issue" therefore, the designated "anniversary issue." It will include an article from Ellery Queen biographer Jeffrey Marks that includes new discoveries about the original contract between Mercury Publications (then EQMM's

publisher) and the editors of EQMM.
In addition to the year's special issues, their anniversary jamboree will include a two-month EQMM exhibit at Columbia University's Butler Rare Book and Manuscript Library, from mid-September to mid-November 2016. The library's excellent curators have a wealth of edited manuscripts, correspondence, and art to choose from.
Also coming up is a half-day symposium hosted by Columbia University on September 30,2016.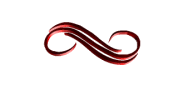 April 9. 201
6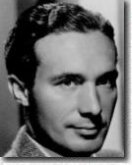 Added an in-depth page on Carleton G. Young (05/26/1907 - 07/11/1971) to the List of Suspects-Ellery Queen pages. One of radio's most successful and prolific actors with
some 8,000 to 10,000 appearances in Radio.
His amazing voice was used for every dramatic Radio format imaginable. On radio
he
took over from Hugh Marlowe as
Ellery Queen
in 1942-43.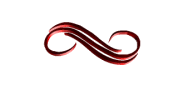 March 25. 201
6
Only last December Coachwhip Publications republished the three Dell comics as one volume under the title Ellery Queen, Detective (A Dell Comic Reprint).
This volume collects the three Dell Four Color comics (published in 1961 and 1962) in the Ellery Queen, Detective, set. This was the fourth appearance of Ellery Queen in comic book format.

The stories included are "The Mummy's Curse," "The Underwater Clue," "The Missing Man," "A False Alibi," "The Witch's Victim," "The Voodoo Victim," and "The Curse of Kane."
Read more on the Dell comics here
We also can report a massive update to the in-depth pages in the Q.B.I. section. During the last weeks we added no less than 3 better and 92 covers for Ellery Queen editions, mostly from Taiwan/China! This brings this years total (since April 2015) to 9 better and 181 new covers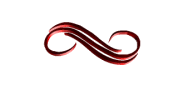 March 12. 201
6
This month we're glad to announce the addition of several (45!) new cover additions to the in-depth book pages thanks to

Open Road Media. We do have to make a small correction to an earlier post. Open Road Media has now re-published "almost" all Ellery Queen books (75 to be precise). Almost? Which books are missing? Another "Book Case" Mystery ;-)? Well, if so, it is a mystery easily solved. We can identify 17 books, novelizations, and short stories that are still missing:
Halfway House (1936),
The Door Between (1937),
The Devil to Pay (1938),
The Four of Hearts (1938).
The Vanishing Corpse (1941),
The Penthouse Mystery (1941),
The Perfect Crime (1942),
The Adventure of the Murdered Millionaire (1941),
The Last Man Club (1941),
There was an Old Woman (1943),
The Murderer is a Fox (1945),
The Case Book of Ellery Queen (1945),
The Scarlet Letters (1953),
The Finishing Stroke (1958),
Ellery Queen's International Case Book (1964),
Face to Face (1967),
The Woman in The Case (1967).



So we will stick to saying 'almost'.... Still, Open Road Media now has a current catalogue offering more than 70 Ellery Queen books, which is impressive!


And as to those missing Queen mysteries, well, one could say this gives us something to look forward to!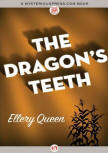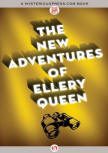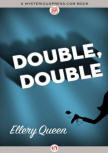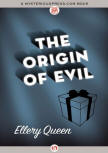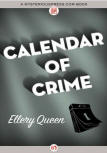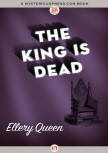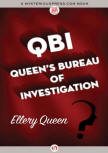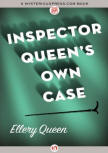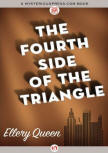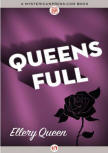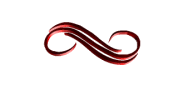 February 12. 201
6
From January 23 to February 21 you're in luck if you're in the neighborhood of the Vertigo theatre in Calgary, Canada.
If so you can enjoy the world premier of Ellery Queen's Calamity Town adapted for the stage,

West 87th Street Irregular

,

Joseph Goodrich.

The play, a part of the

BD&P Mystery Theatre Series

, is co-directed by Hall and Pronyshyn.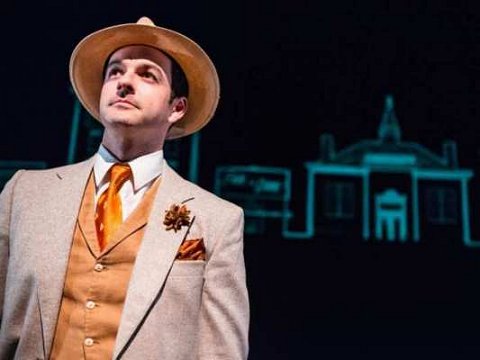 Tyrell Crews plays Ellery Queen, Julie Orton plays Nora Wright and Lindsey Angell her sister Patty who becomes Queen's love interest and who talks him into solving the crimes in Wrightsville.

"My Calamity Town is Our Town with murder. That's not just a catch phrase", Joseph Goodrich insists pointing out the major comparisons of his and Thornton Wilder's plays. "The are both set in a small New England town in the 1940s. They feature minimalistic settings to tell the story. There are no major sets and the actors bring in props and chairs and little set pieces. Both plays are completely, overtly theatrical. You know you're watching a play at all times but you can still be drawn into these people's lives, hopes, dreams and sorrows. Finally, in both plays, under what looks to be a peaceful, idyllic setting there are hidden sorrows."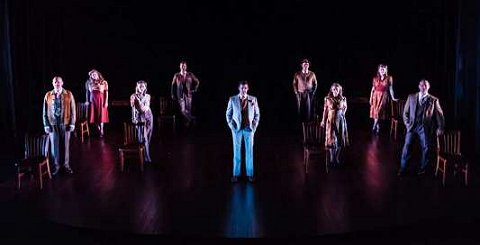 The play got excellent reviews:
"Vertigo Theatre's Calamity Town is my kind of town. It's a dream destination for every fan of live theatre and especially fans of stage whodunits. I'm giving it five stars" (Louis B. Hobson, Calgary Herald)
"It's a fascinating way to stage a play and it works very well." (Jenna Shummoogum, getdown.ca)
"Contrary to its name, Calamity Town is anything but disastrous. What Vertigo Theatre has here is a real winner. Gifted with a stellar cast, Hall & Pronyshyn's ingenious staging add layers of theatrical excitement to an already brilliant adaptation by Goodrich. A must-see." (Rodrigo Flores, Joyful Magpies)

In the coming weeks we'll be adding a in-depth page on this production to the Calamity Town book page... (Photographs Credits Tim Nguyen)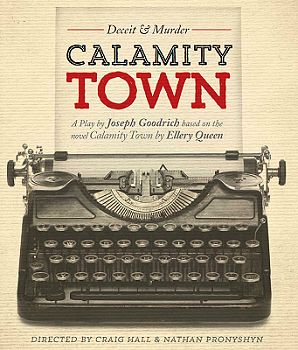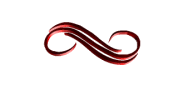 January 1. 201
6
Happy New Year!

What a year we have to look forward to! This month if you are lucky enough to be in the area of Calgary, Canada you can enjoy Joe Goodrich's adaptation of Calamity Town in Calgary (see above). And we're also expecting at least two new publications on Ellery Queen...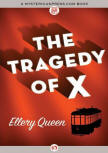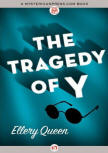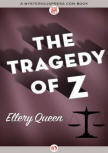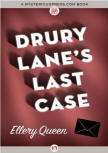 We'll also be updating all in-depth book pages since Open Road Media has now re-published all Ellery Queen books.

This should end our previous

lamentations

that the Queen library was no longer available in the U.S.!




We've also added a factoid to the site concerning the TV series 'The Further Adventures of Ellery Queen'. Actor George Nader won the role after a coast-to-coast talent search that included sidewalk surveys of average people to get their views on what the sophisticated detective should look like...