A KIND OF TRIUMPH
William Butler Yeats once observed: "Out of the quarrel with others we make rhetoric; out of the quarrel with ourselves we make poetry."
He might have added: "Out of the quarrel with our cousins, we make mysteries." But Yeats never met Frederic Dannay or Manfred B. Lee, the notoriously fractious first cousins from Brooklyn who created Ellery Queen. Known for their legendary differences of opinion on just about any subject under the sun, Dannay and Lee were proof that conflict is not only the essence of fiction but also the very nature of collaboration.
Or, should I say, of their collaboration. Ample evidence of the Sturm und Drang that animated their professional and familial relationships can be found in Blood Relations: The Selected Letters of Ellery Queen, 1947-1950.
Blood Relations covers the years when Lee was living in Los Angeles, where he was writing the Ellery Queen radio show, and Dannay was living in Larchmont, NY. For the better part of their careers, the two collaborated at a distance, communicating through letters and telephone calls. The letters afford us the chance to watch Dannay and Lee at work---a rare opportunity to see some of their greatest novels forged in the fire of their disputes and debates.
Ellery Queen the author has been my favorite mystery writer since I discovered him when I was 12 years old; Ellery Queen the character, my favorite fictional detective. A portion of my affection for Dannay and Lee's creation stems from that youthful fascination, but I've re-read the books many times since then and they hold up marvelously well. My enthusiasm was warranted.
In the summer of 2008 that enthusiasm led me to approach Richard Dannay, one of Frederic's sons, about an obscure piece of Queeniana: the stage play Danger, Men Working. Written with Lowell Brentano in 1935, the play closed out of town and was subsequently forgotten. Richard Dannay was kind enough to pass along a copy of the play. I arranged a staged reading of it at the New York Conservatory for Dramatic Arts in January of 2009.
Richard mentioned that the correspondence between his father and Lee---housed at Columbia University---offers a unique view of their collaboration. A trip to the Butler Library's Rare Book and Manuscript Room proved that he was absolutely right. I spent the next six months transcribing those letters. By the time I'd finished, I'd amassed almost a quarter-of-a-million words. I assembled and edited a selection of letters that illustrates how Dannay and Lee wrote Ten Days' Wonder, Cat of Many Tails, The Origin of Evil, and provides a glimpse into their troubled private lives. Both men suffered psychic and physical distress; both desperately needed the money that Queen made for them; both were sensitive to the point of morbidity and felt undervalued by and resentful of the other.
Dannay did the plotting, Lee the actual writing. But these strictly demarcated tasks were never wholly separable, and each felt the other was poaching on his terrain. Dannay thought Lee didn't treat his plots with enough care. Lee chafed at the constraints of Dannay's storylines. They needed each other to make their books, and bitterly resented it.
How bitterly, I came to discover as I worked my way through their letters. I had no idea that these vital and complex works were born out of such struggle, such anger and doubt.
For all the sorrow and sadness in Dannay and Lee's lives, their story is a kind of triumph. Against the odds they managed to collaborate successfully for over 40 years, merging their separate strengths into a cohesive, meaningful whole. They played a vital part in the creation of the Golden Age of mystery fiction. They responded intelligently and creatively to the challenges of the post-Golden-Age world, a world wracked by the chaos of war and the madness of genocide, and created their finest work. No matter what external or internal catastrophes befell them, like Samuel Beckett's wanderers they kept going.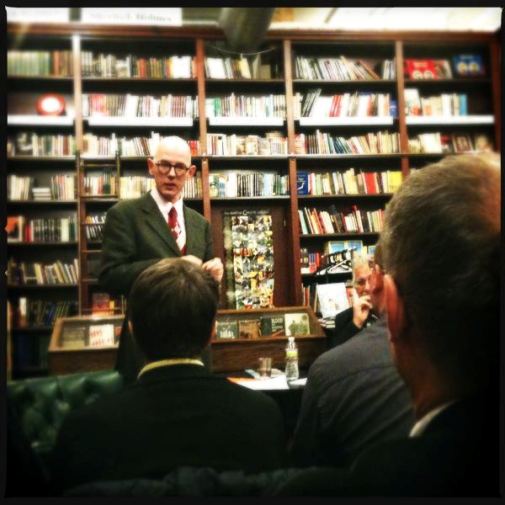 The reading / signing at The Mysterious Bookshop on Feb. 27th 2012 was a blast--a very nice turnout, and books were sold! I'm grateful to all who attended. Here's a shot of the editor of Blood Relations answering---at great length, no doubt---a question from the very smart audience.