oward Culver (Jun 2. 1918 - Aug 4. 1984)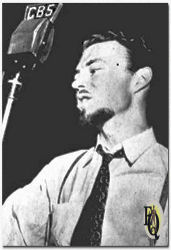 Height: 5' 8" (1.73 m)
Sister: Cora Jane Culver (b. 1920)
Marriages:
(1) Maxine Maude Born 'Miki' (Mar 14. 1939 -
1949) (divorced)
daughter Pamela Joan (b. Jun 26. 1941)
(2) Lois Hayes (1950 - Aug 4. 1984) (his death)
daughters: Patti and Kathi Culver (twins)
(b.Oct 4. 1953 - )


Born as Howard Brasfield Culver Jr. in Larimer County (a rural area near Fort Collins), Colorado. His father Howard Culver was a scientific farmer, his mother was Mabel Eva Ogden. Howard's publicity said that he learned to ride on the family's ranch, but actually the family moved to Pasadena, California while Howard was a tiny tot (1,5 years) as Howards's mother didn't cotton to farm life.
Howard and his sister Cora Jane grew up in Pasadena schools, where they both joined a dance group which did exhibition ballroom and adagio dancing. This may have given him the "performing" bug.
The Culver family moved into Los Angeles where Howard attended Manual Arts High School. He became active in the school theater group, not only acting, but assisting in building sets, and the other many needs of a theater group. He was a popular young man, whose antics kept things lively when he was around. He was in the Reserve Officers' Training Corps for two year while in High School.

At that time, in Los Angeles they observed Boys' Day, when boys from senior classes of the various high schools would "work" for the day in the profession which they were preparing for in school. Howard was chosen with three others to represent the theater department and was invited to have a speaking part that day on a "real" radio show on CBS in Hollywood (KHJ). His deep, mature voice and his professional performance in that small part caused the producer to ask him if he'd like to appear in some more shows for them. To his surprise, the following Sunday he got a call from True Boardman to do a part on the KHJ program, "Annals of the Ages." Howard was thrilled at this possibility and readily agreed.

For about six weeks, he was called once a week for a small part in a CBS show. Then he received a phone call from CBS Payroll Dept wanting to know if he was going to pick up his checks, or should they mail them? Howard was flabbergasted! Checks?? He didn't know he was actually being paid for having fun! Yes - $ 5 per show - a fortune to a young man in 1936.
So Culver worked all summer in radio, planned to start back to school again in the fall. When fall came, he was doing so well he decided to postpone school for another year. By the time that year was ended, the recession had set in and Culver decided that inasmuch as he was firmly established in one career, he'd be silly to drop it, so he's stayed in radio ever since, a decision he's never really regretted.
According to Lois Hayes Howard graduated from Manual Arts High School in June 1936. He had entertained thoughts of being a doctor, but college seemed a long way off, as his sister wanted to go to college and it was necessary for him to earn money to help with her college tuition and costs. His father was not well, and it was up to Howard, as the other "man" in the family to go to work. One of his jobs was as the proverbial "night watchman in a mattress factory". He worked there quite awhile, before getting fired for being asleep on the job!
In the summer of 1938 Howard worked at Yosemite National Park in the laundry, and met a young lady named Maxine Born from nearby Merced, who was also working there.
Howard fell back on his love of radio to earn a living. His first radio station job was at KMTR in Hollywood in 1938 where he had his own half hour show, Happy Dalton's Ranch, for which he wrote, directed, handled sound effects and played the four parts required by the script! All this five shows per week! He became involved with their news department and they had the first mobile news team, Radio Newsreel, complete with trick and mikes with long, long cords! He became Editor-in-Chief of Radio Newsreel, a subsidiary of KMTR.

On March 14. 1939 he married Maxine Born in Los Angeles.
Culver's distinctive baritone and straightforward delivery worked in his favor. Working regularly at KFI, KNX and Don Lee-Mutual both in Los Angeles and San Francisco.
He moved to San Francisco at the beginning of World War II, and he worked as newsman and announcer for Radio Station KFRC (Mutual Network), and did free-lance acting. By this time he was father to baby Pamela Joan (1941). He grew a beard, which was fiery red, and it became his trademark, as few men wore beards at that time.

He was also working nights at a General Electric short wave station which was beaming information to the troops overseas, when he got his "Greeting" from the War Department, and the invitation to join those troops. He joined the Navy in 1944, and went to Boot Camp in San Pedro, CA. Since he was an "older" man, he was put in charge of a group of younger men.
On the numerous papers he had to fill out, he listed "Radio Actor" as his profession in civilian life. True to their colors, the "powers that be" looked at the paper, saw only the word "radio" ,and sent him to radio school to be a radio technician at the Great Lakes Training Center! They could no believe that he almost flunked out, and though he was doing it on purpose! When he graduated from there, he was put on a ship and sent to the Philippines, where he was stationed in he jungles of Luzon for the rest of the war. He earned medals for Philippine Liberation, Asiatic Pacific, American Area, Victory Medal, and was Honorably discharged February 1946.

After the war this experience aided him to quickly continue his career in both Radio, as well as early Television.

The 1944 serial "Lady of the Press," told the adventures of a girl reporter and her pals of the press, starring Janet Waldo, Eddie Mare and Howard Culver.

Culver made many appearances in Strange Wills (1946), All-Star Western Theatre (1947), Mystery in The Air (1947). Juvenile adventure fans will also recognize Howard Culver from his role as the announcer in the Chandu The Magician (1948) radio series.
In April-May 1948 Howard became the last actor to play Ellery Queen in the US radio series. Jokingly he later his told his daughters he 'killed" Ellery Queen.