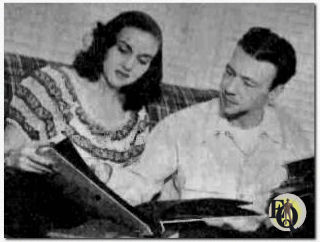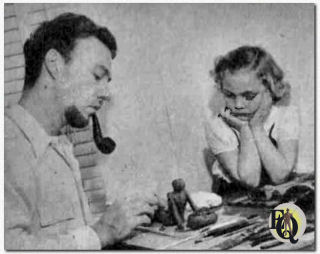 Above left: Howard (R) and his wife Mimi (L) going over some photographs (1947). Above right: Howard with daughter Pamela showing her some modelling in clay (1947)
For busy actors such as Howard, each day was a challenge. Each show was in a different building, perhaps different parts of town, and it was necessary to rush out from one show, race madly to the next site, run up or down stairs, and appear, out of breath, just in time to pick up his script and calmly speak his first words in the next show.
He also took Civil Aeronautics training in his spare time, and got his Pilot's License for Single Engine Planes, and enjoyed flying as a hobby. He also was an ardent hobbyist: modeled in clay, wrote, photographed, did woodwork, interior decorating, collected knives, hunted and camped.
Howard and Maxine ('Miki') were divorced in 1949, after having been separated for several years. He soon after met Lois Hayes, who from 1940-44 worked in radio at small station KWLK in Washington, (jack of all trades), and also was National Traffic Manager at Radio Station KFI in Los Angeles, a station where broadcast many of the NBC radio shows.
Howard also had a nightly poetry show of KFI, where he read poetry and Robert Mitchell played the organ. He had begun doing this show in San Francisco, and was asked to reprise it in Los Angeles. Called at first Stairway to the Stars, it later became A Joy Forever, from the line of the Keats poem, "A thing of beauty is a joy forever," and it was one of his favorite projects.

On Jul 15, 1949, Mr. Culver auditioned for the radio version of Gunsmoke, and the lead role as Marshal Mark Dillon. He might have become famous in the role were it not for the fact that he was also playing Steve Adams—the secret identity of the Indian known as Straight Arrow—on the popular Mutual radio adventure that ran from 1948 to 1951. Culver was selected for the title lead. In

the juvenile adventure of a Comanche impersonating a white man who wore Indian regalia as he crusaded for justice in the old West h

e used his regular voice for Steve Adams and then lowered it for Straight Arrow. At the time, he had a small goatee, which would be later be shaved off before his first personal appearance as Straight Arrow. Frank Bingman was hired as the announcer. Bingman was surprised to find out that Culver occupied his spare time at the studio by knitting. While on the Joan Davis Show, Verna Felton had taught Bingman to knit, but he was a "closet knitter," since he was embarrassed to knit in front of other men. "Well, I don't give a damn what they say!", Culver told Bingman, sounding very unlike Straight Arrow. Thereafter, they both knitted in the studio, and later these two buddies donated their time at local military hospitals, teaching wounded vets to knit.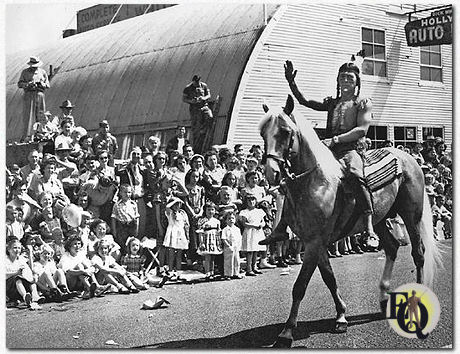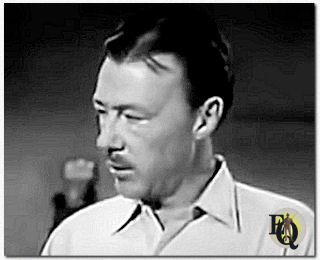 Above left: Howard Culver in costume for his radio role of Straight Arrow for a parade. Above right: Gangbuster episode called "The Unholy Three" (1952) with Howard Culver as bartender.


Culver's contract stipulated that he couldn't do any other western while performing on Straight Arrow and so he missed out on the opportunity to be "the first man they look for, and the last they want to meet." in Gunsmoke. The show wasn't aired that year, but in 1952, William Conrad played the part of Marshal Matt Dillon in the extremely successful series. Some years later, the TV series Gunsmoke appeared. Culver was given a job in the TV version that extended through the entire duration of that series. He played ... the desk clerk (Howie Uzzell) at the Dodge House.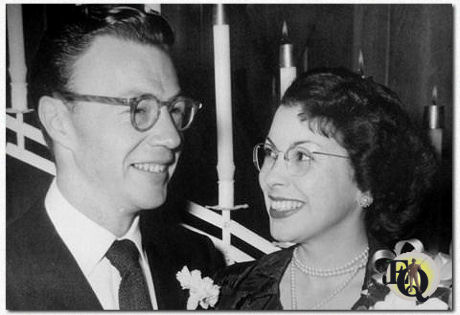 Above: A wedding picture of Howard Culver and Lois Hayes (Courtesy of Katherine and Patricia Culver)
Below right: Here is a picture of Lois, as she is carried into Ray Kemper's sound stage by her new husband, Howard Culver, in 1950.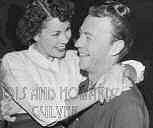 In 1950 shortly after being chosen to play the dual lead in The Straight Arrow he married Lois Hayes. This show ran three days a week, then five days a week, and was sponsored by Nabisco Shredded Wheat. It enabled Howard and Lois to buy their first home in Sun Valley, California.

Television had slowly crept into the scene, and Howard made his first TV appearance in 1949 on KHJ-TV in a local dramatic series. From there one, he was busy with such shows as Dragnet, Mr. District Attorney, Perry Mason, Zane Grey Theater, Defense Attorney (with Mercedes McCambridge), 77 Sunset Strip, Death Valley Days, Untouchables, Twilight Zone, Lost in Space, Time Tunnel, Voyage to the Bottom of the Sea, Adam-12, The Brady Bunch, Marcus Welby, M.D. , Mannix, Hawaii 5-0, General Hospital, Chips, Barnaby Jones, Eight is Enough, & Hart to Hart, among others.

Lois Culver related: "When Howard Culver and I were expecting our first "baby", the baby unexpectedly arrived 2 1/2 months early and was two instead of one. Howard mentioned at a rehearsal that we were not quite ready for such an event and didn't even have a sleeping place for one baby, let alone two. The next day, here came Parley Baer and Larry Dobkin (who Howard had replaced as Ellery Queen!), both with bassinettes, which had just been outgrown by their little daughters!"

In the Los Angeles area, there are many unincorporated cities , many of which have Honorary Officials from the entertainment world, who officiate at ribbon-cutting ceremonies, community appearances, and the like. Howard was elected Honorary Mayor of Sun Valley, the town in which he lived, in 1954. Follow a year of these duties, he begged off the following year, but was elected Honorary Sheriff, which did not consume so much of his time.

During this time, Howard was suffering loss of hearing in both ears. He and Lois bought a hobby shop in Montebello, CA. hoping to have something to fall back on if the hearing gave out. The hobby shop had been owned by friend and Straight Arrow announcer Frank Bingman. They owned and operated the show for seven years. Howard was a natural "fixer", and was very successful in the hobby business. In the meantime, three ear operations restored his hearing.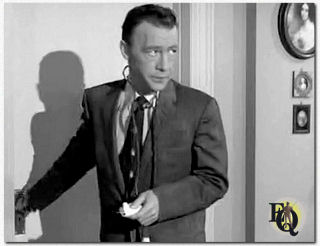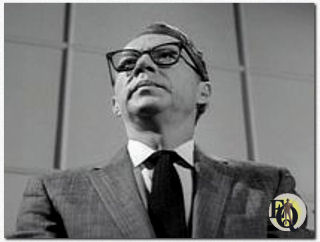 Above left: Culver as Dr. Bill Hawley in Perry Mason's "Case of The Crimson Kiss" (1957).
Above right: The Jury Foreman (Culver) in "Shadow Play" (1961) an episode from the legendary The Twilight Zone series.


In 1963, Howard joined the news staff of Radio Station KLAC in Los Angeles, and in 1969 he became news editor for Radio Station KGIL in the San Fernando Valley, where his close friend Frank Bingham was also working. All the while, he was working TV shows, doing voice-overs, narrations, and movies, which included Disney's The Computer Wore Tennis Shoes, Barefoot Executive, and Million Dollar Duck, as well as Shampoo, Bad News Bears, Cattle Drive, Halloween II.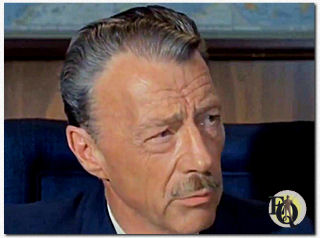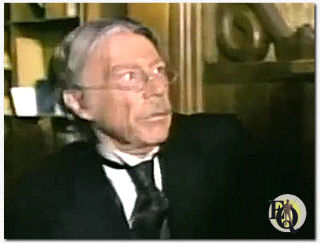 Above left: The reporter in Voyage to the Bottom of the Sea's "Man of Many Faces" (1967) was played by Howard Culver.
Above right: Culver was given a job in the TV version that extended through the entire duration of that series. He played ... the desk clerk (Howie Uzzell) at the Dodge House, seen here in an Gunsmoke episode from 1974 called "The Fourth Victim".


Culver seemed even more in demand as a character actor the more he matured. He retired in 1980, and only acted in a few pictures and TV shows which offered parts which he found interesting. This gave him time to do more stage plays in the local community theaters in the San Gabriel Valley, and he dedicated much time to reading and recording books for "Reading for the Blind" in Hollywood.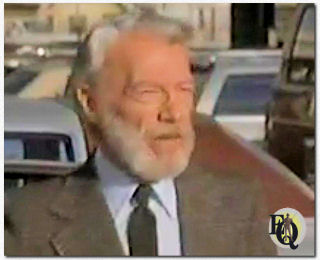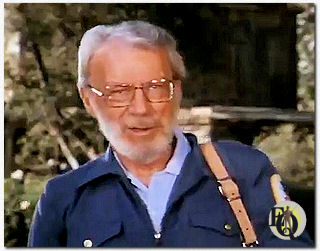 Above left: In the popular TV-series Chips one 1980 episode "The Strippers" had Howard playing an auctioneer.
Above right: In an episode from Buck Rogers in the 25th Century called "The Guardians" (1981), Howard played a mailman.


He and his wife were just completing a 3-week tour of China, when, on their way home he contracted a respiratory illness, and died in Hong Kong after a week's illness, in August 1984.

Lois, Howard Culver's widow, remained active in the OTR community as actress/historian. She passed on, on Friday, Aug. 5, 2011